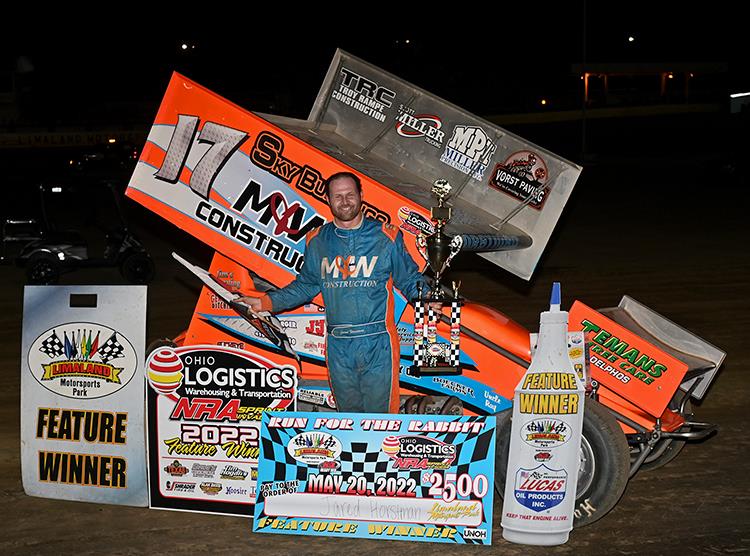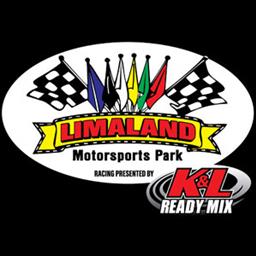 5/20/2022
Limaland Motorsports Park
---
Horstman wires field in NRA Sprints at Limaland. Mueller wins thriller in Thunderstocks, Sherman picks up Limaland career win #55 in UMP Modifieds
Limaland Motorsports Park swung open the gates on a hot Friday night as Mercy Health presented the 23rd Annual "Run for the Rabbit", honoring the memory of the late Travis "The Rabbit" Miller. Miller was a regular at Limaland behind the wheel of his brightly colored No. 17m sprint car until tragically losing his life in a motorcycle accident in 2000. In fitting fashion, another brightly colored No 17, driven by Cloverdale Ohio's Jared Horstman led wire to wire Friday night winning the 25 lap NRA Sprint Invader feature.
Horstman wasted no time grabbing the early lead from his pole starting position and appeared to be off to an easy win, until caution waved on lap 8 for No. 23 Devon Dobie doing a 360 and coming to a stop at the exit of turn 4. The caution closed the field back up and saw a hard charging No. 47x Dylan Westbrook making his way to 2nd on the restart. The leaders found themselves in lapped traffic on lap 15, and Horstman was able to maneuver through the traffic to the checkered flag, winning over Westbrook, No. 22H Randy Hannagan, No. 2 Ricky Peterson, and No. 27 Brad Lamberson.
Next up were the Lock Sixteen Thunderstocks in their 15 lap A Main. No. 74D Craig Dippman and No. 25 Nick Bowers would lead the field to green with Dippman grabbing the early advantage. No. 22T Tony Anderson would charge to 2nd early and battle with Dippman until lap 3, as Dippman began to stretch his lead. No. 4M Gabe Mueller would grab the second spot on lap 6 and set his sights on race leader Dippman. The pair would stay close thru 2 caution flags, setting up for a final 5 lap run to the finish. Mueller would battle to the inside of the track on lap 12 to grab the lead and go on to win over Dippman. Anderson would finish third, with Bowers fourth, and No. 72 Wayne Gibson completing the top 5.
Wrapping up racing action were the Norhtwest Physical Therapy DIRTcar UMP Modifieds in their 20 lap feature event. No. 65 Todd Sherman, and No. 3W Dylan Woodling would lead the field to the green flag, and the 2 would battle side by side for the first 3 laps before Sherman would secure the lead. Lima, Ohio's Jeff Koz in the Omnisource sponsored No. 16 would battle side by side with No. 9C Troy Cattarene for the first 3 laps as well before settling in the third position. No. 4L Mike Learman would begin moving up thru the field on lap 7, taking fourth from Catterene, then getting past Koz for 3rd on lap 12, and making his way past Woodling on lap 15. Sherman would prove to be the class of the field, however, leading green to checkered, winning over Learman, Woodling, Koz, and No. 22T Tony Anderson.
Limaland Motorsports Park is back in action next Friday night May 27th as Tim Hogan Carpets presents the 24th Annual Memorial Cup. In action will be the Ohio Logistics NRA 360 Sprint Invaders competing for $2500 to win, the Northwest Physical Therapy DIRTcar UMP Modifieds, and the Lock Sixteen Thunderstocks. Pit Gates open at 4PM, Grandstand gates open at 5PM, Hot Laps at 6:30PM, and Racing at 7:30 PM. Adult General admission is $15 for ages 16 and older, ages 11 to 15 admitted for $7, and kids ages 10 and under admitted FREE with paying adult. Pit passes for all ages are $30. For more info on this and all events at Limaland Motorsports Park, check us out on Facebook, or visit www.limaland.com.
Ohio Logistics NRA 360 Sprint Invaders
A Feature 1 (25 Laps): 1. 17-Jared Horstman[1]; 2. 47X-Dylan Westbrook[5]; 3. 22H-Randy Hannagan[8]; 4. 2-Ricky Peterson[3]; 5. 27-Brad Lamberson[6]; 6. 24D-Danny Sams III[2]; 7. 71H-Max Stambaugh[4]; 8. 7T-Jake Hesson[7]; 9. 28-Shawn Valenti[12]; 10. 11G-Luke Griffith[15]; 11. 66-Chase Dunham[9]; 12. 22M-Dan McCarron[16]; 13. 85-Dustin Daggett[19]; 14. 2S-Kyle Sauder[10]; 15. 23-Devon Dobie[17]; 16. 24-Kobe Allison[18]; 17. 5NC-Jac Nickles[14]; 18. 16C-Tylar Rankin[11]; 19. 16B-Craig Ronk[20]; 20. 70-Eli Lakin[13]
B Feature 1 (10 Laps): 1. 22M-Dan McCarron[2]; 2. 23-Devon Dobie[8]; 3. 24-Kobe Allison[11]; 4. 85-Dustin Daggett[5]; 5. 16B-Craig Ronk[3]; 6. 37-Noah Dunlap[9]; 7. 11H-Caleb Harmon[7]; 8. 86-Keith Sheffer Jr[1]; 9. 0-Brayton Phillips[6]; 10. 11N-Ed Neumeister[4]; 11. 6-Jimmie Ward Jr[12]; 12. 55-Matt Cogley[10]
Heat 1 (8 Laps): 1. 27-Brad Lamberson; 2. 71H-Max Stambaugh; 3. 2S-Kyle Sauder; 4. 28-Shawn Valenti; 5. 11G-Luke Griffith; 6. 16B-Craig Ronk; 7. 0-Brayton Phillips; 8. 37-Noah Dunlap; 9. 6-Jimmie Ward Jr
Heat 2 (8 Laps): 1. 17-Jared Horstman[4]; 2. 2-Ricky Peterson[2]; 3. 66-Chase Dunham[1]; 4. 16C-Tylar Rankin[5]; 5. 5NC-Jac Nickles[8]; 6. 22M-Dan McCarron[3]; 7. 85-Dustin Daggett[6]; 8. 23-Devon Dobie[7]; 9. 24-Kobe Allison[9]
Heat 3 (8 Laps): 1. 24D-Danny Sams III; 2. 47X-Dylan Westbrook; 3. 22H-Randy Hannagan; 4. 7T-Jake Hesson; 5. 70-Eli Lakin; 6. 86-Keith Sheffer Jr; 7. 11N-Ed Neumeister; 8. 11H-Caleb Harmon; 9. 55-Matt Cogley
Qualifying (2 Laps): 1. 47X-Dylan Westbrook, 00:13.366; 2. 17-Jared Horstman, 00:13.443; 3. 27-Brad Lamberson, 00:13.616; 4. 7T-Jake Hesson, 00:13.642; 5. 22M-Dan McCarron, 00:13.869; ; 6. 11G-Luke Griffith, 00:13.963; 7. 70-Eli Lakin, 00:14.012; 8. 2-Ricky Peterson, 00:14.077; 9. 16B-Craig Ronk, 00:14.075; 10. 24D-Danny Sams III, 00:14.081; 11. 66-Chase Dunham, 00:14.090; 12. 2S-Kyle Sauder, 00:14.113; 13. 86-Keith Sheffer Jr, 00:14.187; 14. 16C-Tylar Rankin, 00:14.228; 15. 0-Brayton Phillips, 00:14.280; 16. 55-Matt Cogley, 00:14.296; 17. 85-Dustin Daggett, 00:14.302; 18. 28-Shawn Valenti, 00:14.396; 19. 11H-Caleb Harmon, 00:14.409; 20. 23-Devon Dobie, 00:14.432; 21. 37-Noah Dunlap, 00:14.472; 22. 22H-Randy Hannagan, 00:14.565; 23. 5NC-Jac Nickles, 00:14.595; 24. 71H-Max Stambaugh, 00:14.602; 25. 11N-Ed Neumeister, 00:14.843; 26. 24-Kobe Allison, 00:14.867; 27. 6-Jimmie Ward Jr, 00:15.273
NORTHWEST PHYSICAL THERAPY DIRTcar UMP MODIFIEDS
A Feature 1 (20 Laps): 1. 65-Todd Sherman[1]; 2. 4L-Mike Learman[5]; 3. 3W-Dylan Woodling[2]; 4. 16-Jeff Koz[3]; 5. 22T-Tony Anderson[7]; 6. 114-Clayton Bryant[12]; 7. 17N-Dillon Nusbaum[13]; 8. 9C-Troy Cattarene[4]; 9. 5A-Frank Paladino[6]; 10. 36-Brandon Vaughan[8]; 11. 9PG-Ryan Sutter[14]; 12. 100-Randy Giroux[10]; 13. 2-James Watters[17]; 14. 34X-Shane O'Connor[11]; 15. 01S-Colton Shaw[9]; 16. 56-Matt Twining[19]; 17. 82-Dalton Lane[15]; 18. 32-Scott Boyd Jr[16]; 19. 9R-Garrett Rons[18]; 20. 71T-Chris Hicks[22]; 21. 4G-Bill Griffith[20]; 22. 79-Bruce Hile[21]
Heat 1 (8 Laps): 1. 16-Jeff Koz; 2. 5A-Frank Paladino; 3. 01S-Colton Shaw; 4. 114-Clayton Bryant; 5. 82-Dalton Lane; 6. 9R-Garrett Rons; 7. 79-Bruce Hile
Heat 2 (8 Laps): 1. 65-Todd Sherman[2]; 2. 4L-Mike Learman[6]; 3. 36-Brandon Vaughan[1]; 4. 34X-Shane O'Connor[3]; 5. 9PG-Ryan Sutter[4]; 6. 2-James Watters[5]; 7. 4G-Bill Griffith[7]
Heat 3 (8 Laps): 1. 3W-Dylan Woodling; 2. 9C-Troy Cattarene; 3. 22T-Tony Anderson; 4. 100-Randy Giroux; 5. 17N-Dillon Nusbaum; 6. 32-Scott Boyd Jr; 7. 56-Matt Twining; 8. 71T-Chris Hicks
LOCK SIXTEEN THUNDERSTOCKS
A Feature 1 (15 Laps): 1. 4MG-Gabe Mueller[5]; 2. 74D-Craig Dippman[1]; 3. 22T-Tony Anderson[3]; 4. 25-Nick Bowers[2]; 5. 72-Wayne Gibson[8]; 6. 7W-Dan Wooten[11]; 7. 87-Andy Welch[4]; 8. 26-Justin Long[9]; 9. 1-Sean Verwys[13]; 10. 27-Frank Paladino[10]; 11. 1W-Mark Wooten[16]; 12. 17J-Jarrod Klay[6]; 13. 82-Chris Douglas[14]; 14. 00-Dylan Henkins[12]; 15. 92-Brandon McDaries[18]; 16. 89-Keith Shockency[7]; 17. 97D-Taylor Dippman[15]
Heat 1 (8 Laps): 1. 22T-Tony Anderson; 2. 17J-Jarrod Klay; 3. 26-Justin Long; 4. 7W-Dan Wooten; 5. 82-Chris Douglas; 6. 4M-Dustin Moore
Heat 2 (8 Laps): 1. 74D-Craig Dippman[5]; 2. 4MG-Gabe Mueller[6]; 3. 72-Wayne Gibson[1]; 4. 27-Frank Paladino[2]; 5. 1-Sean Verwys[3]; 6. 1W-Mark Wooten[4]
Heat 3 (8 Laps): 1. 25-Nick Bowers; 2. 87-Andy Welch; 3. 89-Keith Shockency; 4. 92-Brandon McDaries; 5. 00-Dylan Henkins; 6. 97D-Taylor Dippman
---
Article Credit: Gerry Keysor
Back to News