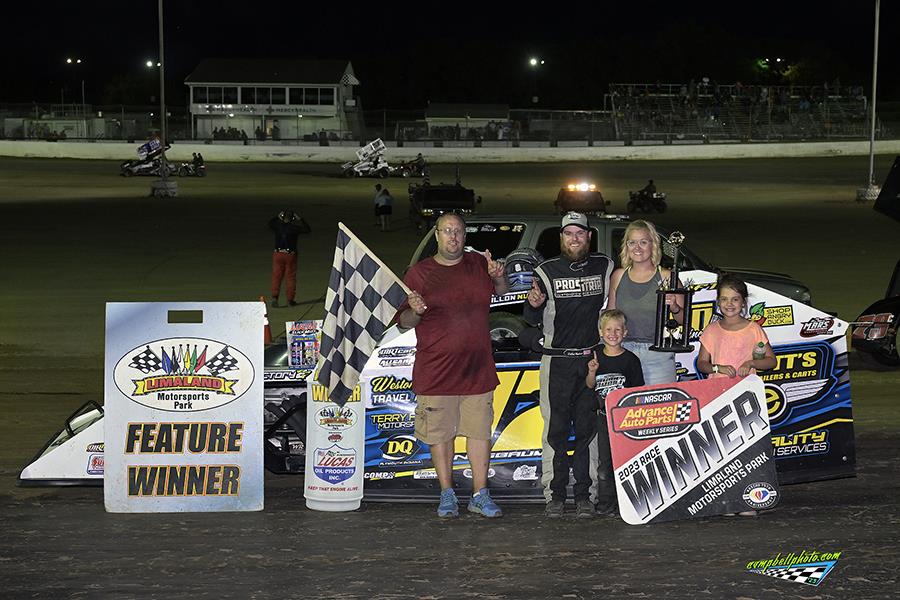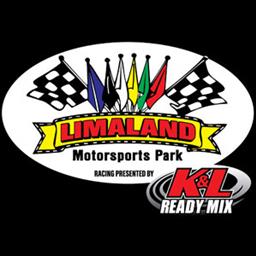 7/14/2023
Limaland Motorsports Park
---
Klay, Nusbaum, and Griffith each pick up their second wins of the season at Limaland
Limaland Motorsports Park roared back to action after a scheduled week off with Meet The Drivers Night presented by Stolly Insurance Group. A great crowd witness some of the best racing of the season as No. 17J Jarrod Klay picked up the Lock Sixteen Thunderstock feature win, No. 17N Dillon Nusbaum won the Midwest Shooting Center DIRTcar UMP Modified A Main, and No. 11G Luke Griffith won the NRA Sprint Invader feature event. It was the second feature win for each of the 3 drivers on the 2023 season at Limaland
The Lock Sixteen Thunderstocks kicked off A Main action in their 15 lap feature. No. 27 Frank Paladino and No. 28V Shawn Valenti led the field to green with Paladino grabbing the early lead. Jarrod Klay found some traction up on the high side of the race track early, and charged to the point. UNOH Racer Brayden Weller also took a liking to the top of the racetrack and used it come forward from his 10th starting position in the UNOH No. 11. No. 18 Brendan Rassel charged to 2nd on lap 10 and did all he could to try and get around Klay, but Klay would hold on to pick up an emotional victory over Rassel. No. 22T Tony Anderson, Valenti, and Weller completed the top 5.
Next up were the Midwest Shooting Center DIRTcar UMP Modifieds in their 20 lap feature, with No. 463 Daniel Sanchez and No. 17N Dillon Nusbaum bringing the field to the initial green flag. Sanchez would lead into turns 1 and 2, but Nusbaum was quick to charge to the lead. No. 114 Clayton Bryant from Yoder, IN made his way to the 2nd position on lap 3 and would battle with Nusbaum briefly, before Nusbaum pulled away. No. 57 Jeffrey Jessup would bring out the only caution flag, spinning his car while moving high out of the groove as the leaders approached. Nusbaum would pull away with the lead on the restart and pick up the win over Bryant, No. 22T Tony Anderson beat No. 9C Troy Cattarene by a nose for third, as Cattarene would finish fourth, with No. 25 Josh Lolmaugh just nipping defending track champion Todd Sherman at the line for fifth.
Completing the nights racing were the NRA Sprint Invaders under the banner of the Great Lakes Super Sprints. No. 11G Luke Griffith and No. 7C Phil Gressman would make up the front row for the 25 lap feature, with Griffith grabbing the early lead. In a green to checkered feature event, the action was hot and heavy throughout the race with the leaders hitting lapped traffic on lap 10. Gressman would pull off a big slide job in turns 3 and 4 to grab the lead for a moment, as Griffith would cross over to regain the lead. No. 17 Jared Horstman would use the same maneuver on Gressman, but both drivers got snookered by No. 22H Randy Hannagan who was able to slip by on the inside and set his sights on race leader Griffith on lap 11. No. 24 Kobe Allison enjoyed a tremendous run, battling with Hannagan in the closing laps for the second position. In the end Griffith would pick up his second win of the season over Hannagan, Allison, Horstman, and Gressman.
Limaland Motorsports Park is back in action next Friday July 21st for the annual K&L Ready Mix Clash. In action will be the NRA Sprint Invaders, under the banner of the Great Lakes Super Sprints. Also in competition in the NASCAR Advance Auto Parts Weekly Racing Series will be the Midwest Shooting Center DIRTcar UMP Modifieds and Lock Sixteen Thunderstocks. Just announced this morning, UNOH and Longhorn Chassis have teamed to create the UNOH Celebrity Dollar Double Dash presented by Longhorn Chassis. In a 10 lap exhibition next Friday July 21, X Games Legend Travis Pastrana, NASCAR Craftsman Truck Series champ Matt Crafton, Stuntman Jim York and UMP Modified racer Michael Leach will compete for a grand prize of $1.00 and a traveling trophy. This is addition to the already packed racing program. General admission is just $12 for ages 16 and older, Ages 11 to 15 admitted for $6, and kids 10 and under admitted FREE. Pit passes for all ages are $30. Pit gates open at 4:30PM, Grandstand gates open at 5PM, Hot laps at 6:30PM, and racing at 7:30PM. For more details on this and all action at Limaland Motorsports Park, visit our website at Limaland.com or check us out on Facebook.
14 entries
LOCK SIXTEEN THUNDERSTOCKS
A Feature 1 (15 Laps): 1. 17J-Jarrod Klay[4]; 2. 18-Brenden Rassel[3]; 3. 22T-Tony Anderson[7]; 4. 28V-Shawn Valenti[2]; 5. 11-Brayden Weller[10]; 6. 7W-Dan Wooten[9]; 7. 17-Jeremy Creech[5]; 8. 82-Chris Douglas[6]; 9. 27-Frank Paladino[1]; 10. 26-Justin Long[11]; 11. 92-Brandon McDaries[14]; 12. 89-Keith Shockency[8]; 13. 87-Andy Welch[12]; 14. 00-Tom Evers[13]
Heat 1 (8 Laps): 1. 28V-Shawn Valenti[1]; 2. 18-Brenden Rassel[3]; 3. 17-Jeremy Creech[2]; 4. 22T-Tony Anderson[4]; 5. 7W-Dan Wooten[6]; 6. 26-Justin Long[5]; 7. 00-Tom Evers[7]
Heat 2 (8 Laps): 1. 27-Frank Paladino[2]; 2. 17J-Jarrod Klay[4]; 3. 82-Chris Douglas[3]; 4. 89-Keith Shockency[6]; 5. 11-Brayden Weller[5]; 6. 87-Andy Welch[1]; 7. 92-Brandon McDaries[7]
Qualifying 1: 1. 22T-Tony Anderson, 00:15.626[13]; 2. 17J-Jarrod Klay, 00:15.652[7]; 3. 18-Brenden Rassel, 00:15.668[5]; 4. 82-Chris Douglas, 00:15.729[12]; 5. 17-Jeremy Creech, 00:15.769[6]; 6. 27-Frank Paladino, 00:15.965[14]; 7. 28V-Shawn Valenti, 00:16.044[1]; 8. 87-Andy Welch, 00:16.052[2]; 9. 26-Justin Long, 00:16.070[10]; 10. 11-Brayden Weller, 00:16.140[9]; 11. 7W-Dan Wooten, 00:16.234[11]; 12. 89-Keith Shockency, 00:16.335[3]; 13. 00-Tom Evers, 00:17.248[4]; 14. 92-Brandon McDaries, 00:17.400[8]
29 entries
MIDWEST SHOOTING CENTER UMP MODIFIEDS
A Feature (20 Laps): 1. 17N-Dillon Nusbaum[2]; 2. 114-Clayton Bryant[6]; 3. 22T-Tony Anderson[3]; 4. 9C-Troy Cattarene[7]; 5. 25-Josh Lolmaugh[12]; 6. 65-Todd Sherman[8]; 7. 21C-Drew Charlson[4]; 8. 16-Jeff Koz[11]; 9. 463-Daniel Sanchez[1]; 10. 4-Jason Kinney[14]; 11. 5X-Jerry Bowersock[18]; 12. 1-Randy Giroux[15]; 13. 82-Dalton Lane[9]; 14. 82B-Brennan Sherman[16]; 15. 9PG-Percy Gendreau[5]; 16. 57-Jeffery Jessup[20]; 17. 0-Sean Verwys[10]; 18. 71T-Chris Hicks[19]; 19. 34X-Shane O'Connor[17]; 20. 35-David Stremme[13]
B Feature 1 (8 Laps): 1. 34X-Shane O'Connor[4]; 2. 5X-Jerry Bowersock[1]; 3. 71T-Chris Hicks[3]; 4. 57-Jeffery Jessup[5]; 5. 9R-Garrett Rons[2]; 6. 36-Brandon Vaughan[9]; 7. 316-Devon Hower[8]; 8. 32-Scott Boyd Jr[13]; 9. C4-Alex Siefer[11]; 10. 17-Nick Rosselit[6]; 11. 79-Bruce Hile[7]; 12. 1X-Jerry Butler[10]; 13. (DNS) 89-Bobby Rose
Heat 1 (8 Laps): 1. 21C-Drew Charlson[3]; 2. 9PG-Percy Gendreau[1]; 3. 82-Dalton Lane[5]; 4. 35-David Stremme[4]; 5. 5X-Jerry Bowersock[8]; 6. 57-Jeffery Jessup[7]; 7. 36-Brandon Vaughan[2]; 8. 32-Scott Boyd Jr[6]
Heat 2 (8 Laps): 1. 22T-Tony Anderson[2]; 2. 114-Clayton Bryant[4]; 3. 0-Sean Verwys[1]; 4. 4-Jason Kinney[3]; 5. 9R-Garrett Rons[5]; 6. 17-Nick Rosselit[7]; 7. 1X-Jerry Butler[6]
Heat 3 (8 Laps): 1. 17N-Dillon Nusbaum[4]; 2. 9C-Troy Cattarene[1]; 3. 16-Jeff Koz[3]; 4. 1-Randy Giroux[2]; 5. 71T-Chris Hicks[6]; 6. 79-Bruce Hile[7]; 7. C4-Alex Siefer[5]
Heat 4 (8 Laps): 1. 463-Daniel Sanchez[1]; 2. 65-Todd Sherman[3]; 3. 25-Josh Lolmaugh[5]; 4. 82B-Brennan Sherman[2]; 5. 34X-Shane O'Connor[4]; 6. 316-Devon Hower[6]; 7. 89-Bobby Rose[7]
Qualifying 1: 1. 35-David Stremme, 00:14.380[21]; 2. 114-Clayton Bryant, 00:14.395[24]; 3. 17N-Dillon Nusbaum, 00:14.408[27]; 4. 34X-Shane O'Connor, 00:14.461[10]; 5. 21C-Drew Charlson, 00:14.521[1]; 6. 4-Jason Kinney, 00:14.524[23]; 7. 16-Jeff Koz, 00:14.546[6]; 8. 65-Todd Sherman, 00:14.558[13]; 9. 36-Brandon Vaughan, 00:14.640[15]; 10. 22T-Tony Anderson, 00:14.653[8]; 11. 1-Randy Giroux, 00:14.776[2]; 12. 82B-Brennan Sherman, 00:14.785[22]; 13. 9PG-Percy Gendreau, 00:14.791[14]; 14. 0-Sean Verwys, 00:14.825[3]; 15. 9C-Troy Cattarene, 00:14.839[17]; 16. 463-Daniel Sanchez, 00:14.886[16]; 17. 82-Dalton Lane, 00:14.919[11]; 18. 9R-Garrett Rons, 00:14.933[4]; 19. C4-Alex Siefer, 00:15.118[5]; 20. 25-Josh Lolmaugh, 00:15.202[18]; 21. 32-Scott Boyd Jr, 00:15.324[28]; 22. 1X-Jerry Butler, 00:15.334[12]; 23. 71T-Chris Hicks, 00:15.561[20]; 24. 316-Devon Hower, 00:15.594[25]; 25. 57-Jeffery Jessup, 00:15.627[9]; 26. 17-Nick Rosselit, 00:15.811[7]; 27. 79-Bruce Hile, 00:16.108[29]; 28. 89-Bobby Rose, 00:16.333[26]; 29. 5X-Jerry Bowersock, 00:16.715[19]
25 entries
NRA SPRINT INVADERS
A Feature (25 Laps): 1. 11G-Luke Griffith[1]; 2. 22H-Randy Hannagan[7]; 3. 24-Kobe Allison[3]; 4. 17-Jared Horstman[4]; 5. 7C-Phil Gressman[2]; 6. 23-Devon Dobie[5]; 7. 83-Adam Cruea[11]; 8. 73C-Cody Fendley[9]; 9. 22M-Dan McCarron[8]; 10. 71H-Max Stambaugh[10]; 11. X-Mike Keegan[6]; 12. 31-Jac Nickles[12]; 13. G5-Gunnar Setser[18]; 14. 16C-Tylar Rankin[15]; 15. 0-Brayton Phillips[16]; 16. 97-Kyle Peters[14]; 17. 78-Austin Black[17]; 18. 37-Noah Dunlap[13]; 19. 97H-Ryan Harrison[19]; 20. 13S-Drew Siferd[20]
B Feature (12 Laps): 1. 0-Brayton Phillips[1]; 2. 78-Austin Black[2]; 3. G5-Gunnar Setser[4]; 4. 97H-Ryan Harrison[3]; 5. 13S-Drew Siferd[7]; 6. 11H-Caleb Harmon[9]; 7. 10TS-Tyler Schiets[10]; 8. 99-Steve Niese[5]; 9. 2S-Jackson Sebetto[6]; 10. (DNS) 97X-Rodney Hurst
Heat 1 (8 Laps): 1. 24-Kobe Allison[2]; 2. 17-Jared Horstman[1]; 3. 22H-Randy Hannagan[4]; 4. 71H-Max Stambaugh[3]; 5. 37-Noah Dunlap[7]; 6. 0-Brayton Phillips[5]; 7. G5-Gunnar Setser[6]; 8. 13S-Drew Siferd[9]; 9. 10TS-Tyler Schiets[8]
Heat 2 (8 Laps): 1. 7C-Phil Gressman[1]; 2. 23-Devon Dobie[4]; 3. 22M-Dan McCarron[3]; 4. 83-Adam Cruea[5]; 5. 97-Kyle Peters[2]; 6. 78-Austin Black[6]; 7. 99-Steve Niese[8]; 8. 97X-Rodney Hurst[7]
Heat 3 (8 Laps): 1. 11G-Luke Griffith[2]; 2. X-Mike Keegan[4]; 3. 73C-Cody Fendley[6]; 4. 31-Jac Nickles[5]; 5. 16C-Tylar Rankin[3]; 6. 97H-Ryan Harrison[7]; 7. 2S-Jackson Sebetto[8]; 8. 11H-Caleb Harmon[1]
Qualifying (6 Laps): 1. 22H-Randy Hannagan, 00:12.613[1]; 2. 23-Devon Dobie, 00:12.716[3]; 3. X-Mike Keegan, 00:12.719[6]; 4. 71H-Max Stambaugh, 00:12.843[2]; 5. 22M-Dan McCarron, 00:12.904[17]; 6. 16C-Tylar Rankin, 00:12.934[14]; 7. 24-Kobe Allison, 00:12.937[19]; 8. 97-Kyle Peters, 00:12.961[4]; 9. 11G-Luke Griffith, 00:13.038[18]; 10. 17-Jared Horstman, 00:13.147[12]; 11. 7C-Phil Gressman, 00:13.191[22]; 12. 11H-Caleb Harmon, 00:13.289[10]; 13. 0-Brayton Phillips, 00:13.361[8]; 14. 83-Adam Cruea, 00:13.379[5]; 15. 31-Jac Nickles, 00:13.433[20]; 16. G5-Gunnar Setser, 00:13.473[24]; 17. 78-Austin Black, 00:13.560[7]; 18. 73C-Cody Fendley, 00:13.594[16]; 19. 37-Noah Dunlap, 00:13.611[23]; 20. 97X-Rodney Hurst, 00:13.791[9]; 21. 97H-Ryan Harrison, 00:13.866[13]; 22. 10TS-Tyler Schiets, 00:13.906[11]; 23. 99-Steve Niese, 00:14.187[25]; 24. 2S-Jackson Sebetto, 00:14.333[21]; 25. (DNS) 13S-Drew Siferd, 00:14.334
---
Article Credit: Gerry Keysor
Article Media
Back to News