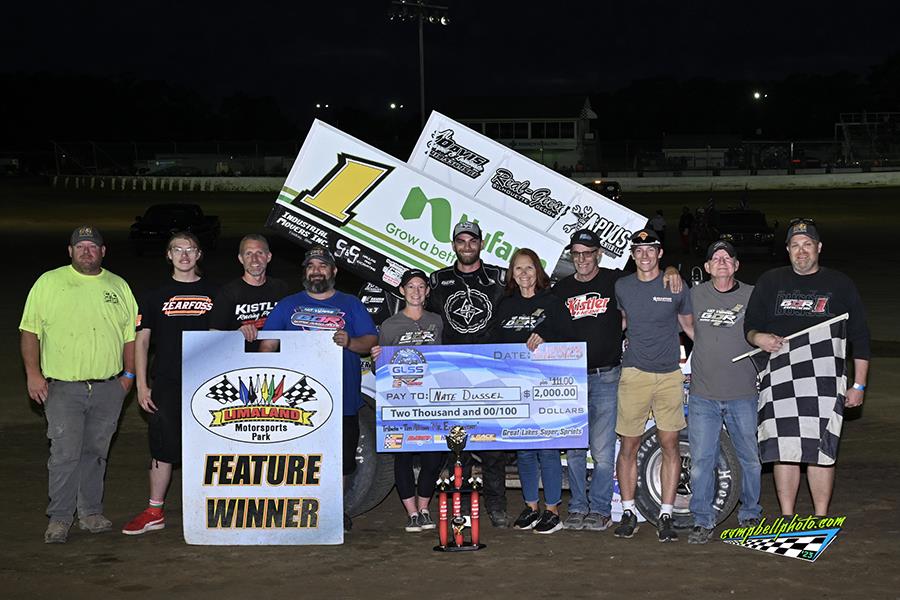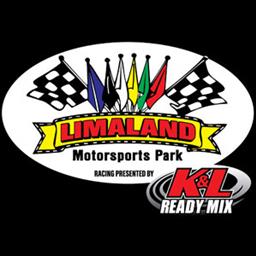 6/23/2023
Limaland Motorsports Park
---
Dussel wins Allison Memorial, Sherman and Catterene split Modified features, and Rassel wins 3rd stock feature in a row at Limaland
The skies looked gloomy all day until the gates opened at Limaland Motorsports Park on Friday for the 3rd Annual Tribute to Mr. Excitement Tim Allison presented by Tim Hogan Carpet. As racing started the clouds parted and the sun shined bright especially on the NRA Sprint Invader feature winner No 1. Nate Dussel.
In the Midwest Shooting Center DIRTcar UMP Modifieds make up feature from May 12th, Todd Sherman picked up the win in the Sherman Enterprises No. 65.
In Lock Sixteen Thunderstock action it was No. 18 Brendan Rassel rattling off his 3rd consecutive feature win and his 4th of the 2023 season.
Wrapping up the night was the regular Midwest Shooting Center DIRTcar UMP Modified A Main. Sherman led the the opening laps and seemed to be on his way to doubling up on the night, but it was No. 9C Troy Catterene picking up his second feature win of the year over Sherman in an exciting green-white-checkered finish.
Limaland Motorsports Park is back in action next Friday June 30th for "Firecracker Friday" presented by T&D Interiors. Pit gates open at 4:30PM, Grandstand gates open at 5PM, Hotlaps at 6:30 and Racing at 7:30. General Admission is $12 for ages 16 and older, $6 for ages 11-15, and kids 10 and under are admitted FREE. Pit passes for all ages are $30. For details on this and all events at Limaland, visit Limaland.com, or check out our page on Facebook.
MIDWEST SHOOTING CENTER UMP MODIFIEDS make up feature from May 12.
A Feature (20 Laps): 1. 65-Todd Sherman[1]; 2. 1-Randy Giroux[5]; 3. 5X-Jerry Bowersock[9]; 4. 36-Brandon Vaughan[12]; 5. 34X-Shane O'Connor[20]; 6. 22T-Tony Anderson[6]; 7. 9R-Garrett Rons[8]; 8. 82B-Brennan Sherman[16]; 9. 1X-Jerry Butler[13]; 10. 0-Dylan Murray[15]; 11. 4M-Dustin Moore[18]; 12. 9C-Troy Cattarene[2]; 13. 71T-Chris Hicks[11]; 14. 32-Scott Boyd Jr[21]; 15. C4-Alex Siefer[22]; 16. 29C-Chris Bitters[19]; 17. (DNF) 316-Devon Hower[17]; 18. (DNF) 9PG-Percy Gendreau[3]; 19. (DNF) 16-Jeff Koz[4]; 20. (DNS) 22C-Chad Coleman; 21. (DNS) 82-Dalton Lane; 22. (DNS) 4L-Mike Learman
NRA SPRINT INVADERS 20 entries
A Feature 1 (25 Laps): 1. 1-Nate Dussel[4]; 2. 17-Jared Horstman[8]; 3. 71H-Max Stambaugh[6]; 4. 24-Kobe Allison[9]; 5. 11N-Harli White[1]; 6. 23-Devon Dobie[3]; 7. 22M-Dan McCarron[11]; 8. 7C-Phil Gressman[5]; 9. 11G-Luke Griffith[13]; 10. 35-Ron Blair[10]; 11. X-Mike Keegan[7]; 12. 31-Jac Nickles[19]; 13. 73C-Cody Fendley[2]; 14. 2-Kyle Sauder[12]; 15. 5J-Jake Hesson[14]; 16. 49T-Gregg Dalman[16]; 17. 16C-Tylar Rankin[20]; 18. 0-Brayton Phillips[17]; 19. 11H-Caleb Harmon[18]; 20. 2B-Noah Dunlap[15]
Heat 1 (8 Laps): 1. 73C-Cody Fendley[2]; 2. 11N-Harli White[4]; 3. 17-Jared Horstman[3]; 4. 22M-Dan McCarron[1]; 5. 11G-Luke Griffith[7]; 6. 49T-Gregg Dalman[6]; 7. 31-Jac Nickles[5]
Heat 2 (8 Laps): 1. 1-Nate Dussel[2]; 2. 71H-Max Stambaugh[4]; 3. 24-Kobe Allison[1]; 4. 2-Kyle Sauder[3]; 5. 5J-Jake Hesson[7]; 6. 0-Brayton Phillips[6]; 7. 16C-Tylar Rankin[5]
Heat 3 (8 Laps): 1. 23-Devon Dobie[2]; 2. 7C-Phil Gressman[1]; 3. 35-Ron Blair[3]; 4. X-Mike Keegan[4]; 5. 2B-Noah Dunlap[6]; 6. 11H-Caleb Harmon[5]
Qualifying 1: 1. 11N-Harli White, 00:11.988[17]; 2. 71H-Max Stambaugh, 00:12.056[20]; 3. X-Mike Keegan, 00:12.201[15]; 4. 17-Jared Horstman, 00:12.208[4]; 5. 2-Kyle Sauder, 00:12.220[1]; 6. 35-Ron Blair, 00:12.273[9]; 7. 73C-Cody Fendley, 00:12.301[16]; 8. 1-Nate Dussel, 00:12.305[10]; 9. 23-Devon Dobie, 00:12.311[8]; 10. 22M-Dan McCarron, 00:12.314[2]; 11. 24-Kobe Allison, 00:12.335[18]; 12. 7C-Phil Gressman, 00:12.364[3]; 13. 31-Jac Nickles, 00:12.373[12]; 14. 16C-Tylar Rankin, 00:12.446[5]; 15. 11H-Caleb Harmon, 00:12.448[11]; 16. 49T-Gregg Dalman, 00:12.504[7]; 17. 0-Brayton Phillips, 00:12.561[19]; 18. 2B-Noah Dunlap, 00:12.575[13]; 19. 11G-Luke Griffith, 00:12.576[6]; 20. 5J-Jake Hesson, 00:12.687[14]
MIDWEST SHOOTING CENTER UMP MODIFIEDS -27 entries
A Feature (20 Laps): 1. 9C-Troy Cattarene[3]; 2. 65-Todd Sherman[2]; 3. 5X-Jerry Bowersock[1]; 4. 82B-Brennan Sherman[11]; 5. 4-Jason Kinney[7]; 6. 36-Brandon Vaughan[4]; 7. 34X-Shane O'Connor[8]; 8. 21-Bill Griffith[13]; 9. 9R-Garrett Rons[10]; 10. 0-Dylan Murray[9]; 11. 1-Randy Giroux[15]; 12. 71T-Chris Hicks[14]; 13. 32-Scott Boyd Jr[20]; 14. 57-Jeffery Jessup[5]; 15. 463-Daniel Sanchez[6]; 16. 1X-Jerry Butler[17]; 17. 4M-Dustin Moore[19]; 18. 11G-Kevin Grilliot[16]; 19. LB4-Logan Beckwith IV[12]; 20. 22T-Tony Anderson[18]
B Feature 1 (8 Laps): 1. 11G-Kevin Grilliot[2]; 2. 1X-Jerry Butler[9]; 3. 22T-Tony Anderson[8]; 4. 4M-Dustin Moore[5]; 5. 32-Scott Boyd Jr[12]; 6. 316-Devon Hower[11]; 7. 89-Bobby Rose[1]; 8. 29C-Chris Bitters[6]; 9. C4-Alex Siefer[4]; 10. (DNS) 9PG-Percy Gendreau; 11. (DNS) 16-Jeff Koz; 12. (DNS) 19-Ryan Ordway
Heat 1 (8 Laps): 1. 65-Todd Sherman[1]; 2. 36-Brandon Vaughan[3]; 3. 4-Jason Kinney[9]; 4. 9R-Garrett Rons[5]; 5. 21-Bill Griffith[7]; 6. 89-Bobby Rose[6]; 7. C4-Alex Siefer[8]; 8. (DNF) 9PG-Percy Gendreau[4]; 9. (DNS) 16-Jeff Koz
Heat 2 (8 Laps): 1. 5X-Jerry Bowersock[3]; 2. 57-Jeffery Jessup[1]; 3. 34X-Shane O'Connor[4]; 4. 82B-Brennan Sherman[9]; 5. 71T-Chris Hicks[6]; 6. 11G-Kevin Grilliot[2]; 7. 4M-Dustin Moore[7]; 8. 22T-Tony Anderson[5]; 9. (DNS) 316-Devon Hower
Heat 3 (8 Laps): 1. 9C-Troy Cattarene[1]; 2. 463-Daniel Sanchez[7]; 3. 0-Dylan Murray[2]; 4. LB4-Logan Beckwith IV[3]; 5. 1-Randy Giroux[4]; 6. (DNF) 19-Ryan Ordway[9]; 7. (DNF) 29C-Chris Bitters[8]; 8. (DNF) 1X-Jerry Butler[5]; 9. (DNS) 32-Scott Boyd Jr
Qualifying 1: 1. 9PG-Percy Gendreau, 00:14.890[21]; 2. 34X-Shane O'Connor, 00:14.973[1]; 3. 1-Randy Giroux, 00:15.033[3]; 4. 36-Brandon Vaughan, 00:15.072[16]; 5. 5X-Jerry Bowersock, 00:15.093[11]; 6. LB4-Logan Beckwith IV, 00:15.130[17]; 7. 16-Jeff Koz, 00:15.202[15]; 8. 11G-Kevin Grilliot, 00:15.225[8]; 9. 0-Dylan Murray, 00:15.236[4]; 10. 65-Todd Sherman, 00:15.248[14]; 11. 57-Jeffery Jessup, 00:15.311[20]; 12. 9C-Troy Cattarene, 00:15.353[18]; 13. 9R-Garrett Rons, 00:15.383[25]; 14. 22T-Tony Anderson, 00:15.423[13]; 15. 1X-Jerry Butler, 00:15.548[22]; 16. 89-Bobby Rose, 00:15.720[27]; 17. 71T-Chris Hicks, 00:15.734[26]; 18. 32-Scott Boyd Jr, 00:15.770[19]; 19. 21-Bill Griffith, 00:15.879[7]; 20. 4M-Dustin Moore, 00:15.884[24]; 21. 463-Daniel Sanchez, 00:15.899[6]; 22. C4-Alex Siefer, 00:15.976[23]; 23. 19-Ryan Ordway, 00:16.071[5]; 24. 316-Devon Hower, 00:16.087[10]; 25. 29C-Chris Bitters, 00:16.325[9]; 26. 4-Jason Kinney, 00:16.456[2]; 27. (DNS) 82B-Brennan Sherman, 00:16.456
LOCK SIXTEEN THUNDERSTOCKS - 13 entries
A Feature 1 (15 Laps): 1. 18-Brenden Rassel[2]; 2. 17J-Jarrod Klay[1]; 3. 7W-Dan Wooten[3]; 4. 00-Brayden Weller[10]; 5. 11-Sean Verwys[7]; 6. 22T-Tony Anderson[6]; 7. 28V-Shawn Valenti[4]; 8. 92-Brandon McDaries[11]; 9. 87-Andy Welch[9]; 10. 27-Frank Paladino[8]; 11. (DNF) 82-Chris Douglas[5]; 12. (DNF) 26-Justin Long[12]; 13. (DNS) 1W-Mark Wooten
Heat 1 (8 Laps): 1. 22T-Tony Anderson[2]; 2. 28V-Shawn Valenti[3]; 3. 18-Brenden Rassel[4]; 4. 11-Sean Verwys[5]; 5. 87-Andy Welch[1]; 6. (DNF) 92-Brandon McDaries[6]; 7. (DNS) 1W-Mark Wooten
Heat 2 (8 Laps): 1. 82-Chris Douglas[2]; 2. 7W-Dan Wooten[1]; 3. 17J-Jarrod Klay[4]; 4. 27-Frank Paladino[3]; 5. 00-Brayden Weller[6]; 6. (DNF) 26-Justin Long[5]
Qualifying 1: 1. 18-Brenden Rassel, 00:15.646[13]; 2. 17J-Jarrod Klay, 00:15.804[12]; 3. 28V-Shawn Valenti, 00:15.897[10]; 4. 27-Frank Paladino, 00:16.005[8]; 5. 22T-Tony Anderson, 00:16.022[9]; 6. 82-Chris Douglas, 00:16.119[6]; 7. 87-Andy Welch, 00:16.224[3]; 8. 7W-Dan Wooten, 00:16.304[7]; 9. 11-Sean Verwys, 00:16.317[11]; 10. 26-Justin Long, 00:16.319[4]; 11. 92-Brandon McDaries, 00:16.721[2]; 12. 00-Brayden Weller, 00:16.855[5]; 13. 1W-
---
Article Credit: Gerry Keysor
Article Media
Back to News