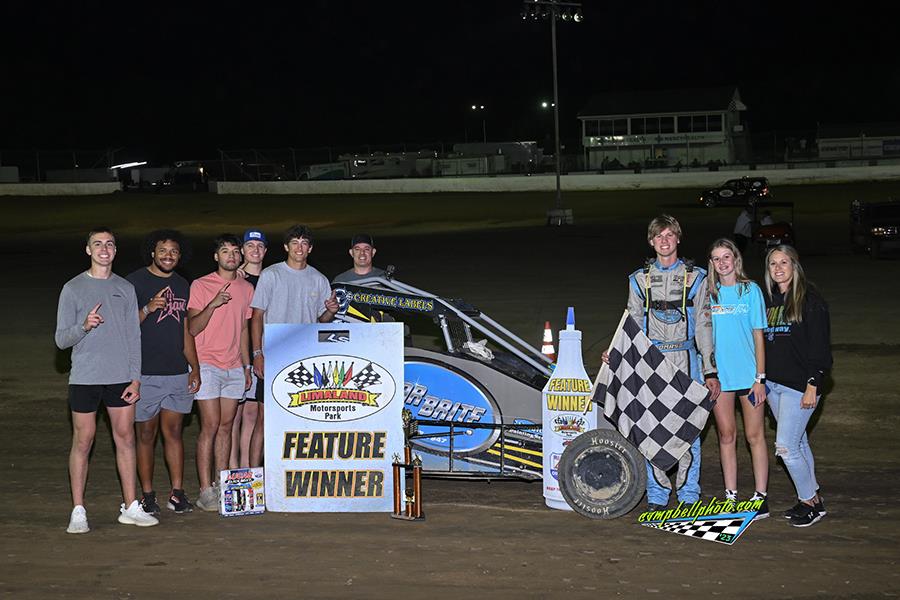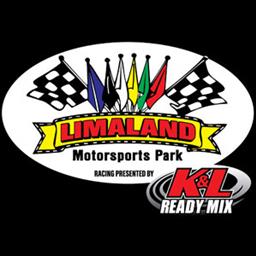 6/16/2023
Limaland Motorsports Park
---
Wigal wins postponed Streicher Memorial, Heyder and Anderson split Truck features, Vaughan wins Modified A Main, and Rassel picks up 3rd Thunderstock
A great crowd was on hand at Limaland Motorsports Park on Friday for Family Fun Night presented by the University of Northwestern Ohio. They were treated to a great night of racing with 6 features on the schedule with make up features from May 12th's rain shortened Mike Streicher Memorial.
It was No 18 Zach Wigal of Belpre, Ohio winning a thrilling 20 lap Mike Streicher Memorial feature in the USAC Midwest Thunder Midgets.
In the makeup Dirt Track Truck Series feature, it was a special A Main sponsored by Bach Promotional Products at it was the series 50th feature. No. 10 Rolly Heyder picked up the victory and the special hood trophy commemorating the 50th series feature.
As the regular program picked up the Midwest Shooting Center DIRTcar UMP Modifieds were first on the track in their 20 lap A Main. It was Spencerville, Ohio's Brandon Vaughan picking up the win in the No 36, dedicating the win to his late father in victory lane.
In the Lock Sixteen Thunderstocks, it was a duel between No. 18 Brendan Rassel, and Fostoria, Ohio's Shawn Valenti for nearly the entire 15 lap feature. Rassel would pick up the win over Valenti and a hard charging Tony Anderson would finish 3rd in the No. 22T
In the regular USAC Midwest Thunder Midget feature, Matt Lux looked to be the car to beat, but No. 35 Bryce Massingill would charge to the front and pick up an exciting win over No. 18 Zach Wigal.
Rounding out the night was the Dirt Track Truck Series in their 15 lap A Main. Rolly Heyder tool off with the early race lead, but No. 22T Tony Anderson would make a decisive move going 4 wide in lapped traffic to take the lead and pick up the win. This made the 398th win of Anderson's storied racing career, which is still going strong.
Next Friday night, June 23rd, Limaland Motorsports Park welcomes back the NRA Sprint Invaders, as Tim Hogan's Carpet presents the 3rd Annual Tribute to Mr. Excitement Tim Allison. The night is dedicated to the memory of the legendary driver of the No. 11 in the NRA series. Also in action are the Midwest Shooting Center DIRTcar UMP Modifieds, and Lock Sixteen Thunderstocks. Pit gates open at 4:30, Grandstand Gagtes open at 5PM. Hot laps at 6:30 PM, and racing at 7:30PM. General admission for ages 16 and older is $12. Ages 11 to 15 $6, and Kids 10 and under admitted FREE. Pit passes for all ages are $30.
For more information visit limaland.com, or check us out on Facebook
USAC D2 MIDGETS 3rd Annual Mike Streicher Memorial(makeup from May 12)
A Feature 1 (20 Laps): 1. 18-Zach Wigal[1]; 2. 22-Gunnar Lucius[4]; 3. 74-Drew Rader[7]; 4. 16Y-Josh Yenser[15]; 5. 21W-Alex Watson[21]; 6. 71-Stratton Briggs[8]; 7. 36-Ian Creager[3]; 8. 44JB-Jakeb Boxell[12]; 9. 5M-Michael Magic[11]; 10. 7M-Cole Morgan[16]; 11. 55S-Brayden Schwartz[18]; 12. 55-Page Perrine[19]; 13. 10C-Chett Gehrke[20]; 14. 4K-Kayla Roell[13]; 15. 10-Tyler Nelson[10]; 16. 35-Bryce Massingill[5]; 17. 3-Cale Coons[17]; 18. 5KB-Matt Lux[2]; 19. 11H-Abby Hohlbein[6]; 20. 01-Ryan Moran[9]; 21. 23D-Bryce Dues[14]
DIRT TRACK TRUCK SERIES(makeup from May 12)
A Feature 1 (15 Laps): 1. 10-Rolly Heyder[3]; 2. 22T-Tony Anderson[9]; 3. 29C-Chris Bitters[10]; 4. 78-Dan Ramey[2]; 5. 17-Phil Hicks[5]; 6. 9-Jamie Heiser[13]; 7. 9R-Justin Rapp[4]; 8. 82T-Eddie Tucker Jr[7]; 9. 499-Dustin Cover[6]; 10. 21-Caitlyn Wagoner[8]; 11. 711-Dallas Geckle[1]; 12. 2-Dustin Ratliff[11]; 13. 44W-Vincent Wagoner[12]
MIDWEST SHOOTING CENTER UMP MODIFIEDS
A Feature (20 Laps): 1. 36-Brandon Vaughan[2]; 2. 17N-Dillon Nusbaum[5]; 3. 22T-Tony Anderson[1]; 4. 3W-Dylan Woodling[4]; 5. 34X-Shane O'Connor[8]; 6. 9C-Troy Cattarene[9]; 7. 65-Todd Sherman[6]; 8. 5X-Jerry Bowersock[7]; 9. 9PG-Percy Gendreau[10]; 10. 57-Jeffery Jessup[11]; 11. 1-Randy Giroux[13]; 12. 32-Scott Boyd Jr; 13. 82B-Brennan Sherman[15]; 14. 82-Dalton Lane[3]; 15. 1X-Jerry Butler[14]; 16. 4-Jason Kinney[18]; 17. 9R-Garrett Rons[12]; 18. 0-Dylan Murray[16]; 19. C4-Alex Siefer[17]; 20. 463-Daniel Sanchez[19]; 21. (DNS) 29C-Chris Bitters
B Feature 1 (8 Laps): 1. 0-Dylan Murray[1]; 2. C4-Alex Siefer[4]; 3. 4-Jason Kinney[11]; 4. 463-Daniel Sanchez[3]; 5. 29C-Chris Bitters[5]; 6. 32-Scott Boyd Jr[6]; 7. 4M-Dustin Moore[9]; 8. 21-Roger South[7]; 9. 89-Bobby Rose[8]; 10. 71T-Chris Hicks[2]
Heat 1 (8 Laps): 1. 65-Todd Sherman[4]; 2. 82-Dalton Lane[2]; 3. 5X-Jerry Bowersock[3]; 4. 9PG-Percy Gendreau[5]; 5. 1-Randy Giroux[6]; 6. 0-Dylan Murray[1]; 7. C4-Alex Siefer[8]; 8. 21-Roger South[9]; 9. 16-Jeff Koz[7]
Heat 2 (8 Laps): 1. 17N-Dillon Nusbaum[4]; 2. 36-Brandon Vaughan[1]; 3. 34X-Shane O'Connor[3]; 4. 57-Jeffery Jessup[6]; 5. 1X-Jerry Butler[5]; 6. 71T-Chris Hicks[7]; 7. 29C-Chris Bitters[8]; 8. 89-Bobby Rose[9]
Heat 3 (8 Laps): 1. 3W-Dylan Woodling[3]; 2. 22T-Tony Anderson[1]; 3. 9C-Troy Cattarene[2]; 4. 9R-Garrett Rons[6]; 5. 82B-Brennan Sherman[4]; 6. 463-Daniel Sanchez[5]; 7. 32-Scott Boyd Jr[7]; 8. 4M-Dustin Moore[8]
LOCK SIXTEEN THUNDERSTOCKS
A Feature 1 (15 Laps): 1. 18-Brenden Rassel[2]; 2. 28V-Shawn Valenti[1]; 3. 22T-Tony Anderson[4]; 4. 17J-Jarrod Klay[3]; 5. 7W-Dan Wooten[6]; 6. 27-Frank Paladino[5]; 7. 87-Andy Welch[8]; 8. 11-Sean Verwys[7]; 9. 82-Chris Douglas[10]; 10. 26-Justin Long[9]; 11. 1W-Mark Wooten[11]; 12. 00-Brayden Weller[13]; 13. 92-Brandon McDaries[14]; 14. (DNS) 89-Keith Shockency
Heat 1 (8 Laps): 1. 18-Brenden Rassel[4]; 2. 17J-Jarrod Klay[3]; 3. 27-Frank Paladino[1]; 4. 11-Sean Verwys[2]; 5. 26-Justin Long[5]; 6. 1W-Mark Wooten[7]; 7. 00-Brayden Weller[6]
Heat 2 (8 Laps): 1. 28V-Shawn Valenti[3]; 2. 22T-Tony Anderson[4]; 3. 7W-Dan Wooten[5]; 4. 87-Andy Welch[2]; 5. 89-Keith Shockency[7]; 6. 82-Chris Douglas[1]; 7. 92-Brandon McDaries[6]
Qualifying 1: 1. 18-Brenden Rassel, 00:14.920[12]; 2. 22T-Tony Anderson, 00:15.148[8]; 3. 17J-Jarrod Klay, 00:15.246[5]; 4. 28V-Shawn Valenti, 00:15.251[13]; 5. 27-Frank Paladino, 00:15.401[11]; 6. 11-Sean Verwys, 00:15.528[1]; 7. 87-Andy Welch, 00:15.534[3]; 8. 82-Chris Douglas, 00:15.567[10]; 9. 89-Keith Shockency, 00:15.601[6]; 10. 26-Justin Long, 00:15.781[7]; 11. 7W-Dan Wooten, 00:15.868[4]; 12. 00-Brayden Weller, 00:16.363[14]; 13. 92-Brandon McDaries, 00:16.548[2]; 14. 1W-Mark Wooten, 00:16.601[9]
USAC D2 MIDGETS
A Feature 1 (20 Laps): 1. 35-Bryce Massingill[4]; 2. 18-Zach Wigal[3]; 3. 5KB-Matt Lux[1]; 4. 74-Luke Hall[2]; 5. 11H-Abby Hohlbein[5]; 6. 22-Gunnar Lucius[8]; 7. 44JB-Jakeb Boxell[9]; 8. 36-Ian Creager[6]; 9. 21-Alex Watson[7]; 10. 71-Stratton Briggs[11]; 11. 34-Tate Martz[10]; 12. 16Y-Josh Yenser[13]; 13. 11T-Kyle Ford[12]; 14. 23D-Bryce Dues[20]; 15. 01-Ryan Moran[18]; 16. 4T-Cody Dye[15]; 17. 7M-Cole Morgan[19]; 18. 2B-Thomas Bigelow[14]; 19. 4K-Kayla Roell[17]; 20. 5M-Michael Magic[16]
B Feature 1 (10 Laps): 1. 4K-Kayla Roell[4]; 2. 01-Ryan Moran[9]; 3. 7M-Cole Morgan[12]; 4. 23D-Bryce Dues[3]; 5. 33L-Lucas Lemons[8]; 6. 55S-Brayden Schwartz[1]; 7. 97-Jim Jones[5]; 8. 10G-Chett Gehrke[2]; 9. 97T-Travis Walters[6]; 10. (DNS) 3D-Cody Downard; 11. (DNS) 10-Tyler Nelson; 12. (DNS) 55-Page Perrine; 13. (DNS) 3-Logan Prickett
Heat 1 (8 Laps): 1. 18-Zach Wigal[2]; 2. 5KB-Matt Lux[3]; 3. 44JB-Jakeb Boxell[4]; 4. 16Y-Josh Yenser[1]; 5. 55S-Brayden Schwartz[5]; 6. 97-Jim Jones[7]; 7. 01-Ryan Moran[6]; 8. 3D-Cody Downard[8]
Heat 2 (8 Laps): 1. 35-Bryce Massingill[3]; 2. 21-Alex Watson[2]; 3. 34-Tate Martz[4]; 4. 2B-Thomas Bigelow[6]; 5. 10G-Chett Gehrke[7]; 6. 97T-Travis Walters[5]; 7. (DNS) 55-Page Perrine
Heat 3 (8 Laps): 1. 22-Gunnar Lucius[1]; 2. 11H-Abby Hohlbein[4]; 3. 71-Stratton Briggs[5]; 4. 4T-Cody Dye[6]; 5. 23D-Bryce Dues[7]; 6. (DNS) 10-Tyler Nelson; 7. (DNS) 3-Logan Prickett
Heat 4 (8 Laps): 1. 74-Luke Hall[3]; 2. 36-Ian Creager[4]; 3. 11T-Kyle Ford[1]; 4. 5M-Michael Magic[2]; 5. 4K-Kayla Roell[7]; 6. 33L-Lucas Lemons[5]; 7. 7M-Cole Morgan[6]
Qualifying 2 (2 Laps): 1. 34-Tate Martz, 00:13.846[2]; 2. 35-Bryce Massingill, 00:13.903[5]; 3. 21-Alex Watson, 00:13.999[6]; 4. 55-Page Perrine, 00:15.130[4]; 5. 97T-Travis Walters, 00:15.355[7]; 6. 2B-Thomas Bigelow, 00:15.537[3]; 7. (DNS) 10G-Chett Gehrke, 00:15.537
Qualifying 3 (2 Laps): 1. 11H-Abby Hohlbein, 00:13.759[4]; 2. 10-Tyler Nelson, 00:13.783[1]; 3. 3-Logan Prickett, 00:14.021[5]; 4. 22-Gunnar Lucius, 00:14.179[7]; 5. 71-Stratton Briggs, 00:14.190[2]; 6. 4T-Cody Dye, 00:14.636[3]; 7. 23D-Bryce Dues, 00:14.640[6]
Qualifying 4 (2 Laps): 1. 36-Ian Creager, 00:13.861[3]; 2. 74-Luke Hall, 00:13.970[7]; 3. 5M-Michael Magic, 00:13.989[4]; 4. 11T-Kyle Ford, 00:14.488[1]; 5. 33L-Lucas Lemons, 00:14.525[6]; 6. 7M-Cole Morgan, 00:14.913[2]; 7. (DNS) 4K-Kayla Roell, 00:14.913
DIRT TRACK TRUCK SERIES
A Feature 1 (15 Laps): 1. 22T-Tony Anderson[2]; 2. 10-Rolly Heyder[1]; 3. 78-Dan Ramey[3]; 4. 29C-Chris Bitters[4]; 5. 44W-Vincent Wagoner[8]; 6. 9-Jamie Heiser[6]; 7. 82T-Eddie Tucker Jr[5]; 8. 499-Dustin Cover[10]; 9. 18-Jonathan Coffee[15]; 10. 21-Caitlyn Wagoner[7]; 11. 9C-Curtis Heiser[12]; 12. 9R-Justin Rapp[9]; 13. (DNS) 17-Phil Hicks; 14. (DNS) 2-Dustin Ratliff; 15. (DNS) 711-Dallas Geckle
Heat 1 (8 Laps): 1. 22T-Tony Anderson[1]; 2. 78-Dan Ramey[4]; 3. 82T-Eddie Tucker Jr[7]; 4. 21-Caitlyn Wagoner[2]; 5. 9R-Justin Rapp[6]; 6. 17-Phil Hicks[3]; 7. 2-Dustin Ratliff[5]
Heat 2 (8 Laps): 1. 10-Rolly Heyder[3]; 2. 29C-Chris Bitters[6]; 3. 9-Jamie Heiser[2]; 4. 44W-Vincent Wagoner[1]; 5. 499-Dustin Cove
---
Article Credit: Gerry Keysor
Article Media
Back to News