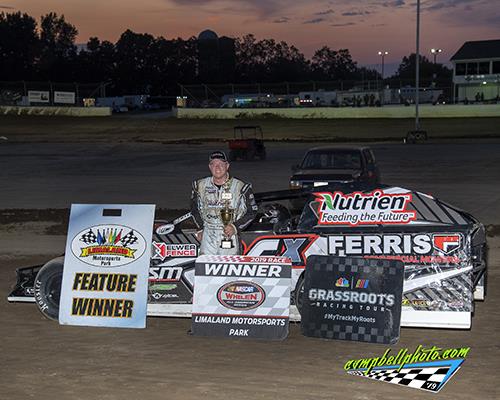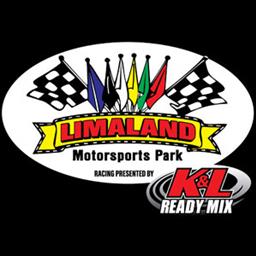 7/27/2019
Limaland Motorsports Park
---
Horstman wins again, Anderson and O'Connor bag victories at Limaland.
July 26, 2019
Lima, OH
by Gerry Keysor
Perfect weather and a great crowd showed up at Limaland Motorsports Park on Friday night and were treated to an awesome night of racing action at the quarter mile bullring. Cloverdale, Ohio's Jared Horstman piloted the familiar orange Number 17 to his 4th victory in K&L Ready Mix NRA Sprint Invader action, while No. 34X Shane O'Connor picked up his first Northwest Physical Therapy UMP Modified A Main win of 2019, and No 22T Tony Anderson picked up his 2nd Bud Thunderstock victory of the 2019 season.
The Northwest Physical Therapy UMP Modfieds started the night with their 20 lap A Main. No. 11H Mike Hohlbein and No. 95J Jerry Bowersock would pace the field top the green flag with Bowersock grabbing the early point. No. 65 Todd Sherman battled his way to to second and set his sights on race leader Bowersock. The two would race wheel to wheel with only a lap 8 caution interrupting the battle. On the restart, O'Connor powered his way past Hohlbein and set his sight on the leaders. On lap 11, O'Connor would take the lead for good and win over Bowersock, Sherman, No. 22T Tony Anderson and Hohlbein.
Next up were the K&L Ready Mix NRA Sprint Invaders with their 25 lap A Main. No 12B Hud Horton and No 28H Hud Horton would bring the field to the green flag with Vandalia Ohio's Stinson leading lap number 1 aboard the Don "Bounce" Ryder owned, Lee Greenwood sponsored entry. No. 49 Shawn Dancer found the high side of the track to his liking and powered to the lead on lap 2 and began to pull away as No 17 Jared Horstman fought his way to 2nd. Horstman began to close on Dancer on lap 9 when Dancer bounced off the backstretch wall exiting turn 2. Dancer would then loop out his number 49 car in turn 2 the next time around, bringing out the caution. Meanwhile, Ludlow Falls Ohio's Luke Hall had fought his way up to 6th from the tail, and on the restart made a huge move to 4th on the the top of the track. Caution would slow the field one final time on lap 17, but it didn't matter to Horstman, who would win his 4th Limaland feature of the year and his 5th NRA victory over No. 22 Randy Hannagan, Hall, Stinson, and No. 66 Chase Dunham.
Wrapping the evening's action were the Bud Thunderstocks in their 15 lap A Main. No. J1 Jeff Matheny and No. 463 Daniel Sanchez would make up the front row, with Sanchez grabbing the early lead. Behind them, the action was hot and heavy with No. 22T Tony Anderson, No 57 Jeff Jessup, and No 7C Jordan Conover battling for 3rd, going 3 wide at times through the middle of the event. Caution would wave on lap 6 for No. 01 Leighton Clift spinning in turn 4, and on the restart, a pileup would ensue in turn 2 involving Matheny, No. 17 Jeremy Creech, No. 82 Chris Douglas, Jessup, No. 17H Devon Helmig, and No. 1W Mark Wooten. Anderson would show the nose of his No 22T to Sanchez as the leaders completed lap 7 and finally make the pass for the lead on lap 10. Anderson would continue to his 2nd victory of the season over Conover, Sanchez, No. J2 Rob Trent, and No. 89 Keith Shockency.
Limaland Motorsports Park roars back to action on Friday August 2nd when Alexander and Bebout presents the 22nd Annual Limaland Season Point Championships and Meet the Drivers night, featuring the always exciting Non Wing Sprint Cars, Northwest Physical Therapy UMP Modifieds, and Bud Thunderstocks. General Admission is $12 for ages 16 and older, $6 for ages 11-15, and kids 10 and under are admitted FREE. Pit passes for all ages are $30. Grandstand Gates Open at 5:00pm, Pit Gates Open 4:30pm–8:00pm, Warm Ups @ 6:30pm, Racing @ 7:30pm.
Limaland Motorsports Park - 7/26/2019
K&L Ready Mix Clash
Northwest Physical Therapy UMP Modifieds
Heat 1 - (8 Laps - Top 8 Transfer)
1. 95J-Jerry Bowersock; 2. 22T-Tony Anderson; 3. 16-Jeff Koz; 4. 1-Brenden Rassel; 5. 9C-Troy Cattarene; 6. 463-Daniel Sanchez; 7. 9PG-Percy Gendreau; 8. 17F-Nick Felkey
Heat 2 - (8 Laps - Top 8 Transfer)
1. 11H-Mike Hohlbein; 2. 34X-Shane O'Connor; 3. 7-Drew Smith; 4. 71-Scott Fritz; 5. 20K-Bill Keeler; 6. 18-Ryan Sutter; 7. 10L-Nathon Loney
Heat 3 - (8 Laps - Top 8 Transfer)
1. 65-Todd Sherman; 2. 3W-Dylan Woodling; 3. M1G-Matt Twining; 4. 36V-Brandon Vaughan; 5. 71H-Chris Hicks; 6. 12-Tom Jacobs; 7. 92-Kyle Shaffer
A-Main - (20 Laps) [#]-Starting Position
1. 34X-Shane O'Connor[5]; 2. 95J-Jerry Bowersock[2]; 3. 65-Todd Sherman[3]; 4. 22T-Tony Anderson[4]; 5. 11H-Mike Hohlbein[1]; 6. 10L-Nathon Loney[20]; 7. 7-Drew Smith[8]; 8. 3W-Dylan Woodling[6]; 9. 1-Brenden Rassel[10]; 10. 9C-Troy Cattarene[13]; 11. M1G-Matt Twining[9]; 12. 20K-Bill Keeler[14]; 13. 71-Scott Fritz[11]; 14. 12-Tom Jacobs[18]; 15. 16-Jeff Koz[7]; 16. 463-Daniel Sanchez[16]; 17. 92-Kyle Shaffer[21]; 18. 36V-Brandon Vaughan[12]; 19. 71H-Chris Hicks[15]; 20. 9PG-Percy Gendreau[19]
K&L Ready Mix NRA Sprint Invaders
Qualifying -
1. 2-Kyle Sauder, 11.763; 2. 28H-Hud Horton, 11.770; 3. 66-Chase Dunham, 11.808; 4. 17H-Jared Hortsman, 11.811; 5. 49-Shawn Dancer, 11.938; 6. 22H-Randy Hannagan, 12.050; 7. 12S-Jimmy Stinson, 12.131; 8. 24-Kobe Allison, 12.146; 9. 11-Tim Allison, 12.181; 10. 14-Luke Daugherty, 12.234; 11. 23-Devon Dobie, 12.250; 12. 5W-Jeff Williams, 12.293; 13. 34-Luke Hall, 12.301; 14. 37-Noah Dunlap, 12.427
Heat 1 - (8 Laps - Top 8 Transfer)
1. 49-Shawn Dancer; 2. 12S-Jimmy Stinson; 3. 2-Kyle Sauder; 4. 66-Chase Dunham; 5. 23-Devon Dobie; 6. 11-Tim Allison; 7. 34-Luke Hall
Heat 2 - (8 Laps - Top 8 Transfer)
1. 17H-Jared Hortsman; 2. 28H-Hud Horton; 3. 22H-Randy Hannagan; 4. 24-Kobe Allison; 5. 5W-Jeff Williams; 6. 37-Noah Dunlap; 7. 14-Luke Daugherty
A-Main - (25 Laps) [#]-Starting Position
1. 17H-Jared Hortsman[3]; 2. 22H-Randy Hannagan[6]; 3. 34-Luke Hall[13]; 4. 12S-Jimmy Stinson[1]; 5. 66-Chase Dunham[7]; 6. 5W-Jeff Williams[10]; 7. 28H-Hud Horton[2]; 8. 49-Shawn Dancer[4]; 9. 23-Devon Dobie[9]; 10. 2-Kyle Sauder[5]; 11. 11-Tim Allison[11]; 12. 24-Kobe Allison[8]; 13. 14-Luke Daugherty[14]
Bud Thunderstocks
Heat 1 - (8 Laps - Top 7 Transfer)
1. 463-Daniel Sanchez; 2. 11-Bryce Nichols; 3. 7C-Jordan Conover; 4. 27-Frank Paladino; 5. 17H-Devon Helmig; 6. O1-Leighton Clift; 7. 1-Chad Coleman
Heat 2 - (8 Laps - Top 7 Transfer)
1. J1-Jeff Matheny; 2. 57-Jeffery Jessup; 3. 1W-Mark Wooten; 4. 89-Keith Shockency; 5. 82-Chris Douglas; 6. OO-Brandon Pralle; 7. 77-Corey Wooten
Heat 3 - (8 Laps - Top 7 Transfer)
1. 17-Jeremy Creech; 2. 22T-Tony Anderson; 3. J2-Rob Trent; 4. 23-Casey Barr; 5. 87-Andy Welch; 6. 88-Tod Sturgeon; 7. 7W-Dan Wooten
A-Main - (15 Laps) [#]-Starting Position
1. 22T-Tony Anderson[6]; 2. 7C-Jordan Conover[7]; 3. 463-Daniel Sanchez[2]; 4. J2-Rob Trent[9]; 5. 89-Keith Shockency[11]; 6. 7W-Dan Wooten[21]; 7. OO-Brandon Pralle[17]; 8. 23-Casey Barr[12]; 9. 87-Andy Welch[15]; 10. 82-Chris Douglas[14]; 11. 27-Frank Paladino[10]; 12. 77-Corey Wooten[20]; 13. O1-Leighton Clift[16]; 14. 11-Bryce Nichols[4]; 15. 17-Jeremy Creech[3]; 16. 1-Chad Coleman[19]; 17. 57-Jeffery Jessup[5]; 18. J1-Jeff Matheny[1]; 19. 17H-Devon Helmig[13]; 20. 1W-Mark Wooten[8]; 21. 88-Tod Sturgeon[18]
Back to News