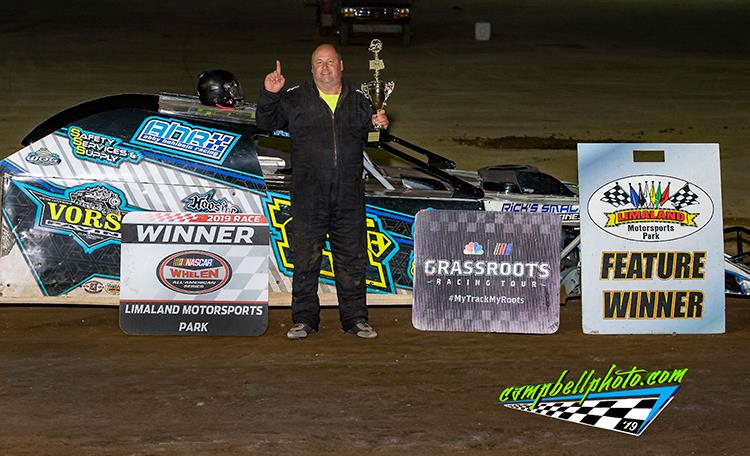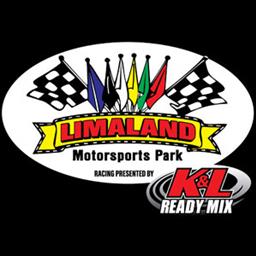 7/6/2019
Limaland Motorsports Park
---
Hohlbein and Jessup grab first career wins, Horstman continues dominance at Limaland.
July 5, 2019
by Gerry Keysor

Lima, OH

Limaland Motorsports Park celebrated the Independence Day weekend by opening the gates for Firecracker Friday, presented by T&D Interiors.  No. 17 Jared Horstman picked up another feature win in K&L Ready Mix NRA Sprint Invader competition, with No. 11H Mike Hohlbein grabbing his first career feature win in Northwest Physical Therapy UMP Modifies, and No. 57 Jeff Jessup of Union City, IN winning his first career feature in Bud Thunderstock action.

Kicking off the night were the K&L Ready Mix NRA Sprint Invaders in their 25 lap A Main. No 22H Randy Hannagan, and No. 5W Jeff Williams would lead the field to green with Hannagan getting the early advantage.  Horstman quickly dispatched Williams and set his sights on Hannagan, but the caution flag would wave before the battle could begin.  On the restart, Hannagan would continue to lead with Horstman in tow until lap 11, when Horstman executed a slide job in turns 1 and 2 to take the lead for good. Hannagan fell to a full straghtaway behind Horstman before the caution flag waved one final time on lap 23, for the No. 49 of Shawn Dancer coming to a stop in turn 1. Horstman would power away on the restart for the victory over Hannagan, with No. 12S Jimmy Stinson finishing 3rd after starting 11th.  No 28H Hud Horton was 4th and No. 23 Devon Dobie completed the top 5.

In Northwest Physical Therapy UMP Modified action, Mike Hohlbein, and No. 22T Tony Anderson would make up the front row, with the pair battling for the lead for the first 2 laps.  Hohlbein would grab the point and try to get away, but caution would fly on lap 3 for No. 7 Drew Smith coming to a stop on the backstretch.  On the restart, Hohlbein would hold off Anderson and methodically stretch out his lead, winning by a full straightaway over Anderson. No. 10L Nathan Loney would finish 3rd after a great closing laps battle with No. 11* Kyle Moore who finished 4th, and Ryan Sutter rounded out the top 5.

In Bud Thunderstock feature action, No. J2 Rob Trent and No. 57 Jeff Jessup would bring the field to green.  Trent would grab the early lead but Jessup would make his way past. Jessup survived 5 cautions including a final lap yellow flag to pick up his first career feature win over No. 463 Daniel Sanchez, No. 22T Tony Anderson, Trent and No. 7C Jordan Conover.


Limaland Motorsports Park is closed next Friday July 12th, but will reopen on Friday July 19th for the UNOH 22nd Anniversary presented by Stolly Insurance Group.  In action will be the K&L Ready Mix NRA Sprint Invaders, Northwest Physical Therapy UMP Modifieds, and Bud Thunderstocks. General Admission is $12 for ages 16 and older, $6 for ages 11-15, and kids 10 and under are admitted FREE.  Pit passes for all ages are $30. Grandstand Gates Open at 5:00pm, Pit Gates Open 4:30pm–8:00pm, Warm Ups @ 6:30pm, Racing @ 7:30pm.



Limaland Motorsports Park - 7/5/2019
Firecracker Friday presented by T&D Interiors

K&L Ready Mix NRA Sprint Invaders
Qualifying -
1. 49-Shawn Dancer, 12.24; 2. 17-Jared Horstman, 12.27; 3.   28H-Hud Horton, 12.31; 4.   22H-Randy Hannagan, 12.32; 5. 24-Kobe Allison, 12.32; 6. 23-Devon Dobie, 12.42; 7.    5W-Jeff Williams, 12.44; 8. 14-Luke Daugherty, 12.46; 9. 34-Luke Hall, 12.49; 10. 11-Tim Allison, 12.55; 11.   12S-Jimmy Stinson, 12.58; 12.   16B-Ricky Peterson, 12.61; 13. 37-Noah Dunlap, 12.71; 14. 40-Jeff Wilson, 13.05; 15.    2X-Mike Grigsby, 13.23

Heat 1 -  (8 Laps - Top 8 Transfer)
1.    5W-Jeff Williams; 2. 49-Shawn Dancer; 3. 24-Kobe Allison; 4.   28H-Hud Horton; 5. 34-Luke Hall; 6.   12S-Jimmy Stinson; 7.    2X-Mike Grigsby; 8. 37-Noah Dunlap

Heat 2 -  (8 Laps - Top 8 Transfer)
1. 23-Devon Dobie; 2.   22H-Randy Hannagan; 3. 17-Jared Horstman; 4. 11-Tim Allison; 5. 14-Luke Daugherty; 6. 40-Jeff Wilson

A-Main -  (15 Laps) [#]-Starting Position
1. 17-Jared Horstman[3]; 2.   22H-Randy Hannagan[1]; 3.   12S-Jimmy Stinson[11]; 4.   28H-Hud Horton[7]; 5. 23-Devon Dobie[5]; 6. 11-Tim Allison[8]; 7.    5W-Jeff Williams[2]; 8. 37-Noah Dunlap[14]; 9.    2X-Mike Grigsby[13]; 10. 14-Luke Daugherty[10]; 11. 40-Jeff Wilson[12]; 12. 49-Shawn Dancer[4]; 13. 24-Kobe Allison[6]; 14. 34-Luke Hall[9]


Northwest Physical Therapy UMP Modifieds
Heat 1 -  (8 Laps - Top 4 Transfer)
1.   22T-Tony Anderson; 2. 41-Brad Goff; 3. 16-Jeff Koz; 4.   36V-Brandon Vaughan; 5.    M1G-Matt Twining; 6. 6-Ryan Dickey; 7. 1-Brenden Rassel; 8.   95J-Jerry Bowersock

Heat 2 -  (8 Laps - Top 4 Transfer)
1.   11H-Mike Hohlbein; 2.    2B-Darryl Banks; 3. 71-Scott Fritz; 4.   16W-Dillion Nusbaum; 5.   20K-Bill Keeler; 6. 975-Reed Hurst; 7. 463-Daniel Sanchez; 8.    9PG-Percy Gendreau

Heat 3 -  (8 Laps - Top 4 Transfer)
1.   10L-Nathon Loney; 2.     11M-Kyle Moore; 3. 65-Todd Sherman; 4.    3W-Dylan Woodling; 5. 7-Drew Smith; 6. 10-Scott Bowersock; 7.   58P-Jim Post; 8.   21C-Drew Charlson

Heat 4 -  (8 Laps - Top 4 Transfer)
1. 18-Ryan Sutter; 2.    9C-Troy Cattarene; 3.    4G-Bill Griffith; 4.   34X-Shane O'Connor; 5.   71H-Chris Hicks; 6.    MC5-Brian Hogan; 7. 92-Kyle Shaffer

B-Main #1 -  (8 Laps - Top 2 Transfer)
1.   95J-Jerry Bowersock; 2. 463-Daniel Sanchez; 3. 1-Brenden Rassel; 4.   20K-Bill Keeler; 5.    M1G-Matt Twining; 6. 6-Ryan Dickey; 7. 975-Reed Hurst; 8.    9PG-Percy Gendreau

B-Main #2 -  (8 Laps - Top 2 Transfer)
1. 7-Drew Smith; 2. 10-Scott Bowersock; 3.   58P-Jim Post; 4.   71H-Chris Hicks; 5.    MC5-Brian Hogan; 6. 92-Kyle Shaffer; 7.   21C-Drew Charlson

A-Main -  (20 Laps) [#]-Starting Position
1.   11H-Mike Hohlbein[1]; 2.   22T-Tony Anderson[2]; 3.   10L-Nathon Loney[3]; 4.     11M-Kyle Moore[7]; 5. 18-Ryan Sutter[4]; 6. 65-Todd Sherman[11]; 7.    2B-Darryl Banks[6]; 8. 16-Jeff Koz[9]; 9.    9C-Troy Cattarene[8]; 10.    4G-Bill Griffith[12]; 11.   34X-Shane O'Connor[16]; 12.    3W-Dylan Woodling[15]; 13.   36V-Brandon Vaughan[13]; 14.   95J-Jerry Bowersock[17]; 15. 71-Scott Fritz[10]; 16. 10-Scott Bowersock[20]; 17. 463-Daniel Sanchez[19]; 18. 41-Brad Goff[5]; 19.   16W-Dillion Nusbaum[14]; 20. 7-Drew Smith[18]


Bud Thunderstocks
Heat 1 -  (8 Laps - Top 7 Transfer)
1. 463-Daniel Sanchez; 2.    J2-Rob Trent; 3.   22T-Tony Anderson; 4. 1-Chad Coleman; 5. 88-Tod Sturgeon; 6.    J1-Jeff Matheny; 7. 23-Casey Barr

Heat 2 -  (8 Laps - Top 7 Transfer)
1. 82-Chris Douglas; 2. 87-Andy Welch; 3. 89-Keith Shockency; 4.    7W-Dan Wooten; 5.   O1-Leighton Clift; 6. 77-Corey Wooten; 7. 26-Justin Long

Heat 3 -  (8 Laps - Top 7 Transfer)
1. 57-Jeffery Jessup; 2. 11-Bryce Nichols; 3.   99J-Donny Jeschke; 4.     OO-Brandon Pralle; 5.    7C-Jordan Conover; 6.    1W-Mark Wooten

A-Main -  (15 Laps) [#]-Starting Position
1. 57-Jeffery Jessup[2]; 2. 463-Daniel Sanchez[4]; 3.   22T-Tony Anderson[7]; 4.    J2-Rob Trent[1]; 5.    7C-Jordan Conover[15]; 6. 82-Chris Douglas[3]; 7.   99J-Donny Jeschke[9]; 8.     OO-Brandon Pralle[12]; 9. 87-Andy Welch[5]; 10.   O1-Leighton Clift[14]; 11.    7W-Dan Wooten[11]; 12. 1-Chad Coleman[10]; 13. 23-Casey Barr[19]; 14.    J1-Jeff Matheny[16]; 15. 77-Corey Wooten[17]; 16. 11-Bryce Nichols[6]; 17. 89-Keith Shockency[8]
Back to News