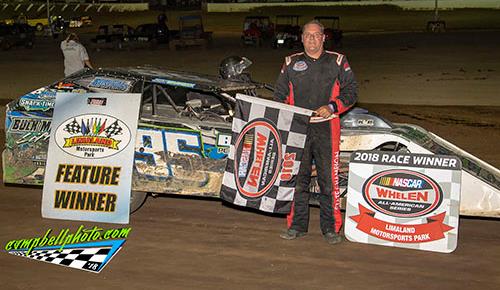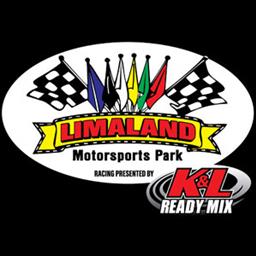 6/30/2018
Limaland Motorsports Park
---
Dobie and Bowersock grab first wins of 2018, and Sanchez picks up his 4th trophy at Limaland
Lima OH
June 29, 2018
by Gerry Keysor
After 2 straight rainouts, the weather finally took a turn for the good for the fans and teams at Limaland Motorsports Park as 90-degree temps and sunshine were a welcome change. Devon Dobie bagged his first feature win of 2018 in the K&L Ready Mix NRA Sprint feature, while Jerry Bowersock picked up the K&N Filters UMP Modified win, and Daniel Sanchez won his 4th Bud Thunderstock feature of 2018.
Kicking off the night were the K&L Ready Mix NRA Sprint Invaders with the 25 lap A Main. No. 23 Devon Dobie and No. 1-10 Jake Brown led the field to green with Dobie grabbing the early lead, hitting lapped traffic on lap 5 and seemingly setting sail, until No 22d Aaron Robnolte brought out the red flag on lap 10 by flipping in turns 1 and 2. Robnolte was able to walk away, but his race was over. On the restart, No. 5M Max Stambaugh got a great run and looked to make his way into the top 4 until hooking a rut in turn 4 and getting upside down, ending his night. The red flag flew one more time for a 4 car pile-up on the backstretch that saw No. 49 Shawn Dancer get upside down and No 2 Kyle Sauder get tangled up then hit by No. 24 Kobe Allison and No. 15 Brandon Ferguson. All drivers would walk away, but their cars were done for the night. Dobie would power away on the restart, and hold off Jake Brown for the win, with No. 17 Jared Horstman finishing 3rd, No. 87 Jason Barney finishing 4th, and No. 10 Mitch Brown completing the top 5. Heat Races were won by Barney, No B20 Butch Schroeder, and Jake Brown
Next up were the K&N Filters UMP Modifieds in their 20 lap A Main. No. 22T Tony Anderson and No. 65 Todd Sherman would make up the front row for the start, and it seemed like the 2 winningest drivers in modern Limaland history would be the ones to beat, No. 95J Jerry Bowersock showed that Sherman and Anderson weren't the only veterans that could get it done at Limaland. Bowersock would make his way to the front on lap 9 and set sail, winning over Sherman, No. 18 Ryan Sutter, Anderson, and No 3W Dylan Woodling. Heat Races were won by No. ZERO Brent Hole, Bowersock, and UNOH Racer Brendan Rassel in the No 1.
The Budweiser Thunderstocks completed the nights action with their 15-lap feature event with No. 463 Daniel Sanchez, and No. 87 Andy Welch on the front row. Sanchez would go wire to wire in the 15-lap feature with Welch staying close, but unable to make a move on the leader. It was Sanchez's 4th feature win of 2018, winning over Welch, No. 22T Tony Anderson, No. 15 Jordan Conover, and No. 26 Justin Long. Heat races were won by Anderson and Conover.
Limaland Motorsports Park will be closed on Friday July 6th, but will be back in action on Friday July 13th for FAST Friday II presented by the Homeland Technology Group. The JLH General Contractors FAST 305 Sprints will be in action along with the K&N Filters UMP Modifieds and Bud Thunderstocks. Pit gates open at 4:30, Grandstand gates open at 5PM, Hot laps at 6:30, and Racing at 7:30. General admission for ages 16 and older is $12, ages 11-15 are $6, and kids 10 and under get in FREE. Pit passes for all ages $25. Check out details on this and all events at Limaland by visiting www.limaland.com, or by checking us out on Facebook.
Limaland Motorsports Park - 6/29/2018
Fritchie Asphalt 360 SpeedWeekend
K&L Ready Mix NRA Sprints
Heat 1 - (8 Laps - Top 7 Transfer)
87-Jason Barney; 2. 23-Devon Dobie; 3. 11-Tim Allison; 4. 22D-Aaron Robnolte; 5. 24-Kobe Allison; 6. 37-Noah Dunlap; 7. 14-Bo Barber
Heat 2 - (8 Laps - Top 7 Transfer)
B20-Butch Schroeder; 2. 28H-Hud Horton; 3. 10-Mitch Brown; 4. 49-Shawn Dancer; 5. 22H-Randy Hannagan; 6. 10J-Jarrod Delong
Heat 3 - (8 Laps - Top 7 Transfer)
110-Jake Brown; 2. 15-Brandon Ferguson; 3. 17-Jared Horstman; 4. 5M-Max Stambaugh; 5. 2-Kyle Sauder; 6. 5W-Jeff Williams
A-Main - (25 Laps) [#]-Starting Position
23-Devon Dobie[1]; 2. 110-Jake Brown[2]; 3. 17-Jared Horstman[9]; 4. 87-Jason Barney[4]; 5. 10-Mitch Brown[8]; 6. 22H-Randy Hannagan[14]; 7. 5W-Jeff Williams[18]; 8. 11-Tim Allison[7]; 9. B20-Butch Schroeder[3]; 10. 28H-Hud Horton[6]; 11. 10J-Jarrod Delong[17]; 12. 37-Noah Dunlap[16]; 13. 14-Bo Barber[19]; 14. 49-Shawn Dancer[11]; 15. 2-Kyle Sauder[15]; 16. 24-Kobe Allison[13]; 17. 15-Brandon Ferguson[5]; 18. 5M-Max Stambaugh[12]; 19. 22D-Aaron Robnolte[10]
K&N Filters UMP Modifieds
Heat 1 - (8 Laps - Top 5 Transfer)
ZERO-Brent Hole; 2. 71-Will Norris; 3. 27-Frank Paladino; 4. 7-Jordan Conover; 5. 16-Jeff Koz; 6. 2B-Darryl Banks; 7. 17-Michael Tarlton; 8. 17F-Nick Felkey; 9. 58P-James Post
Heat 2 - (8 Laps - Top 5 Transfer)
95J-Jerry Bowersock; 2. 65-Todd Sherman; 3. 36-Brandon Vaughan; 4. 74-Lenny Guyton; 5. 4G-Bill Griffith; 6. 20K-Bill Keeler; 7. 9PG-Percy Gendreau; 8. 118-Gunnar Lucius
Heat 3 - (8 Laps - Top 5 Transfer)
1-Brenden Rassel; 2. 22T-Tony Anderson; 3. 3W-Dylan Woodling; 4. 18-Ryan Sutter; 5. 34X-Shane O'Connor; 6. 45P-Brian Post; 7. 9C-Troy Cattarene; 8. 45-Robby Henderson
B-Main - (8 Laps - Top 5 Transfer)
45P-Brian Post; 2. 20K-Bill Keeler; 3. 17-Michael Tarlton; 4. 9C-Troy Cattarene; 5. 9PG-Percy Gendreau; 6. 17F-Nick Felkey; 7. 118-Gunnar Lucius; 8. 2B-Darryl Banks; 9. 45-Robby Henderson; 10. 58P-James Post
A-Main - (20 Laps) [#]-Starting Position
95J-Jerry Bowersock[5]; 2. 65-Todd Sherman[2]; 3. 18-Ryan Sutter[10]; 4. 22T-Tony Anderson[1]; 5. 3W-Dylan Woodling[9]; 6. ZERO-Brent Hole[6]; 7. 36-Brandon Vaughan[8]; 8. 16-Jeff Koz[13]; 9. 1-Brenden Rassel[4]; 10. 45P-Brian Post[14]; 11. 34X-Shane O'Connor[15]; 12. 4G-Bill Griffith[12]; 13. 9C-Troy Cattarene[19]; 14. 71-Will Norris[3]; 15. 27-Frank Paladino[7]; 16. 17-Michael Tarlton[16]; 17. 74-Lenny Guyton[11]; 18. 9PG-Percy Gendreau[18]; 19. 17F-Percy Gendreau[20]; 20. 20K-Bill Keeler[17]
Bud Thunderstocks
Heat 1 - (8 Laps - Top 9 Transfer)
22T-Tony Anderson; 2. 463-Daniel Sanchez; 3. OO-Nick Ronnebaum; 4. 27-Frank Paladino; 5. 463X-Jeff Koz; 6. J2-Rob Trent; 7. 2-Brian Mohawk; 8. 7-Dan Wooten; 9. 1-Mason Bevard
Heat 2 - (8 Laps - Top 9 Transfer)
15-Jordan Conover; 2. 87-Andy Welch; 3. 89-Keith Shockency; 4. 26-Justin Long; 5. O1-Dawson Backer; 6. 1W-Mark Wooten; 7. 88-Tod Sturgeon; 8. 82-Chris Douglas
A-Main - (15 Laps) [#]-Starting Position
463-Daniel Sanchez[2]; 2. 87-Andy Welch[1]; 3. 22T-Tony Anderson[4]; 4. 15-Jordan Conover[3]; 5. 26-Justin Long[8]; 6. J2-Rob Trent[11]; 7. 27-Frank Paladino[7]; 8. O1-Dawson Backer[10]; 9. 89-Keith Shockency[6]; 10. 1W-Mark Wooten[12]; 11. 82-Chris Douglas[16]; 12. 2-Brian Mohawk[13]; 13. OO-Nick Ronnebaum[5]; 14. 88-Tod Sturgeon[14]; 15. 1-Mason Bevard[17]
Back to News