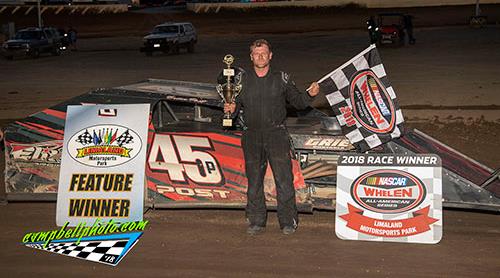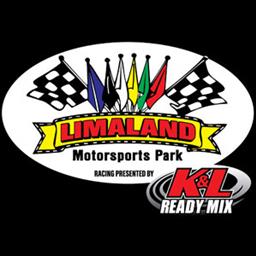 6/16/2018
Limaland Motorsports Park
---
Miller, Post, and Valenti take checkers at Limaland on FAST Friday Night
Lima OH
06/15/2018
by Gerry Keysor
Beautiful weather greeted the fans and teams at Limaland Motorsports Park on FAST Friday Night presented by the Stolly Insurance Group. The JLH General Contractors FAST 305 Championship Series presented by Engine Pro invaded the high banks of Limaland for the first time in 2018 with Fremont Ohio's Jamie Miller picking up the feature win in the Ryan French owned No. 26. In the K&N Filters UMP Modifieds, No. 45P Brian Post picked up his first career Limaland victory. Shawn Valenti made it 2 in a row in Bud Thunderstock competition, winning in the Jeff Babcock owned No. 7b.
The JLH General Contracting FAST 305 Sprint Cars kicked off the night with Jamie Miller and No. 99 Alvin Roepke on the front row for the 25 lap feature. Miller would take off to a 7 car length lead right away on a heavy "cowboy up" style track which saw the leaders get into lapped traffic on lap 8. On lap 13, Roepke would benefit from the lapped traffic and grab the lead, while No. 77i John Ivy would make his way to the 3rd spot after starting 12th. Caution would wave on lap 17 for No. 46 Stuart Williams making contact with the front stretch wall and grinding to a stop entering turn 1. On the restart, Miller would get back by Roepke for the lead. On lap 19, No. 66 Chase Dunham would get into the turn 4 wall and get upside down. Dunham walked away under his own power. That would set up the final restart with Miller able to get away for good over a hard charging Ivy who finished 2nd, Roepke finished 3rd with No. 21 Dustin Stroup and No. 29 Bryan Sebetto completing the top 5. Heat races were won by Ivy, Sebetto and No. 4* Tyler Street
Next up were the K&N Filters UMP Modifieds in their 20 lap A Main. UNOH Racer WIll Norris in the UNOH No 71 and No. 3W Dylan Woodling would lead the field to the green flag, with Norris grabbing the early point. Woodling, No. 20K Bill Keeler and No. 45P Brian Post would fall in line. Post would take 3rd on lap 3, and set his sights on Woodling and Norris. Post took the lead for good on lap 7, with Sutter battling his way to 3rd. Post would pick up his first career Limaland feature win over No. 95J Jerry Bowersock, Sutter, No. 65 Todd Sherman, and Keeler. Heat Races were won by Woodling, Norris, and Post.
Completing the nights racing action were the Budweiser Thunderstocks. No. 7W Dan Wooten and No. 7B Shawn Valenti brought the field to green in the 15 lap A feature. Valenti would take the early lead with several cautions keeping the field bunched up until a final green flag run on lap 10 saw Valenti hold off a charging No. 463 Daniel Sanchez, with No. 22T Tony Anderson 3rd, UNOH Racer Nick Ronnebaum finishing 4th and No. J2 Rob Trent completing the top 5. Heat races were won by Sanchez, No. 15 Jordan Conover, and Valenti.
Limaland Motorsports Park is back in action in a huge way next Friday June 22nd as Ohio Logistics presents Night #8 of the 36th Annual Ohio Sprint Speedweek presented by Cometic Gasket, featuring the Arctic Cat All Star Circuit of Champions. Also in action will be the K&N Filters UMP Modifieds. Pit gates open at 4:30PM, grandstand gates open at 5PM, Hot laps at 6:30PM, and racing at 7:30PM. General admission for ages 16 and older is $22, ages 11-15 $11, and kids 10 and under admitted FREE. Pit passes for all ages $35. Get the detail on this and all of the racing action at Limaland by visiting www.limaland.com or checking us out on Facebook.
Limaland Motorsports Park - 6/15/2018
FAST Friday Night presented by Stolly Insurance Group
JLH General Contractors FAST 305 presented by Engine Pro
Heat 1 - (8 Laps - Top 7 Transfer)
77I-John Ivy; 2. 14-Luke Daughtery; 3. 36-Seth Schnieder; 4. 7M-Brandon Moore; 5. 47-Matt Lucius; 6. 12-Kyle Capodice; 7. 61-Chuck May
Heat 2 - (8 Laps - Top 7 Transfer)
29-Bryan Sebetto; 2. 46-Stuart Williams; 3. 21-Dustin Stroup; 4. 99-Alvin Roepke; 5. 66-Chase Dunham; 6. Z10-Kevin Mingus; 7. 25-Jason Kekler
Heat 3 - (8 Laps - Top 7 Transfer)
4*-Tyler Street; 2. 8-Bobby Clark; 3. 26-Jamie Miller; 4. 97-Kyle Peters; 5. 9-Dustin Rall; 6. 11X-George Engler ; 7. 1W-Paul Weaver
A-Main - (25 Laps) [#]-Starting Position
26-Jamie Miller[1]; 2. 77I-John Ivy[12]; 3. 99-Alvin Roepke[2]; 4. 21-Dustin Stroup[10]; 5. 29-Bryan Sebetto[6]; 6. 7M-Brandon Moore[8]; 7. 97-Kyle Peters[3]; 8. 8-Bobby Clark[5]; 9. 36-Seth Schnieder[11]; 10. 12-Kyle Capodice[16]; 11. 4*-Tyler Street[7]; 12. 47-Matt Lucius[13]; 13. 11X-George Engler [18]; 14. 14-Luke Daughtery[9]; 15. 61-Chuck May[19]; 16. 66-Chase Dunham[14]; 17. 9-Dustin Rall[15]; 18. 46-Stuart Williams[4]; 19. 1W-Paul Weaver[21]; 20. 25-Jason Kekler[20]; 21. Z10-Kevin Mingus[17]
K&N Filters UMP Modifieds
Heat 1 - (8 Laps - Top 8 Transfer)
3W-Dylan Woodling; 2. 20K-Bill Keeler; 3. 36-Brandon Vaughan; 4. 16-Jeff Koz; 5. 1-Brenden Rassel; 6. 9C-Troy Cattarene; 7. 27-Frank Paladino
Heat 2 - (8 Laps - Top 8 Transfer)
71-Will Norris; 2. 20M-Josh Morton; 3. ZERO-Brent Hole; 4. 34X-Shane O'Connor; 5. 4G-Bill Griffith; 6. 9PG-Percy Gendreau; 7. O6-Tj Schulz; 8. 31D-Denny Morelock
Heat 3 - (8 Laps - Top 8 Transfer)
45P-Brian Post; 2. 95J-Jerry Bowersock; 3. 18-Ryan Sutter; 4. 65-Todd Sherman; 5. 19B-Brandon Ordway ; 6. 22T-Tony Anderson; 7. 17-Nick Rosselit
A-Main - (20 Laps) [#]-Starting Position
45P-Brian Post[3]; 2. 95J-Jerry Bowersock[6]; 3. 18-Ryan Sutter[9]; 4. 65-Todd Sherman[12]; 5. 20K-Bill Keeler[4]; 6. ZERO-Brent Hole[8]; 7. 71-Will Norris[1]; 8. 34X-Shane O'Connor[11]; 9. 22T-Tony Anderson[18]; 10. 36-Brandon Vaughan[7]; 11. 4G-Bill Griffith[14]; 12. 17-Nick Rosselit[21]; 13. O6-Tj Schulz[20]; 14. 9PG-Percy Gendreau[17]; 15. 20M-Josh Morton[5]; 16. 9C-Troy Cattarene[16]; 17. 3W-Dylan Woodling[2]; 18. 1-Brenden Rassel[13]; 19. 16-Jeff Koz[10]; 20. 19B-Brandon Ordway [15]; 21. 27-Frank Paladino[19]; 22. 31D-Denny Morelock[22]
Bud Thunderstocks
Heat 1 - (8 Laps - Top 6 Transfer)
463-Daniel Sanchez; 2. 7-Dan Wooten; 3. 27-Frank Paladino; 4. 1W-Mark Wooten; 5. 82-Chris Douglas; 6. 26-Justin Long
Heat 2 - (8 Laps - Top 6 Transfer)
15-Jordan Conover; 2. OO-Nick Ronnebaum; 3. 22T-Tony Anderson; 4. 89-Keith Shockency; 5. 88-Tod Sturgeon; 6. O1-Dawson Backer
Heat 3 - (8 Laps - Top 6 Transfer)
7B-Shawn Valenti; 2. 1-Mason Bevard; 3. J2-Rob Trent; 4. J42P-John Williams; 5. 2-Zach Griggs; 6. 463X-Jeff Koz
A-Main - (15 Laps) [#]-Starting Position
7B-Shawn Valenti[2]; 2. 463-Daniel Sanchez[4]; 3. 22T-Tony Anderson[8]; 4. OO-Nick Ronnebaum[5]; 5. J2-Rob Trent[9]; 6. 27-Frank Paladino[7]; 7. 2-Zach Griggs[15]; 8. O1-Dawson Backer[17]; 9. 82-Chris Douglas[13]; 10. 15-Jordan Conover[3]; 11. 89-Keith Shockency[11]; 12. 1-Mason Bevard[6]; 13. 26-Justin Long[16]; 14. 88-Tod Sturgeon[14]; 15. 1W-Mark Wooten[10]; 16. 7-Dan Wooten[1]; 17. J42P-John Williams[12]
Back to News