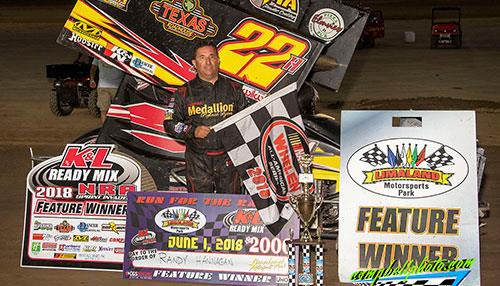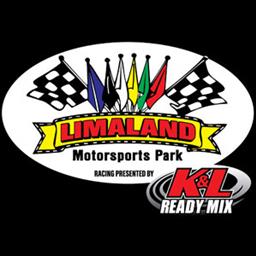 6/2/2018
Limaland Motorsports Park
---
Hannagan wins Run For the Rabbit at Limaland
June 1, 2018
Lima, OH
by Gerry Keysor
The skies parted just in time for a great night of racing at Limaland Motorsports Park as Lima Chevrolet Cadillac presented the "Run For the Rabbit" honoring the late Travis "The Rabbit" Miller. No. 22H Randy Hannagan grabbed the $2000 to win victory in the K&L Ready Mix NRA Sprint Invader feature event honoring Miller, with No. 18 Ryan Sutter grabbing his first ever Limaland feature win in the K&N Filters UMP Modified feature, and No. 7B Shawn Valenti made his way back to victory lane in the Budweiser Thunderstock A Main.
Kicking off the night were the K&L Ready Mix NRA Sprint Invaders with the Run For The Rabbit. After honoring the fans and "The Rabbit" with a 4 Abreast parade lap, the 21 competitors settled in for a barnburner of a feature. No. 2 Kyle Sauder and Hannagan would bring the field to green, with Sauder taking the early advantage. The leaders would set a blistering pace, getting deep into lapped traffic which set up Hannagan to grab the point on lap 10. Lapped traffic looked to cause problems for Hannagan on lap 17 as Sauder began to close back in, but the caution flag would wave for No. 10J Jarrod Delong making contact with the turn 4 wall and coming to a stop. Sauder looked to make a charge on the restart, but would spin exiting turn 2 on lap 19, bringing out the caution once again. On the restart, No. 5M Max Stambaugh would make the move to 2nd, with defending K&L Ready Mix NRA Sprint Invader champion No. 17 Jared Horsman charging to 3rd. Hannagan would hold on to win over Stambaugh, Horstman, No. 49 Shawn Dancer, and No. 18 Todd Heuerman completing the top 5. Heat races were won by Hannagan, No 7C Phil Gressman, and Dancer. Sauder set quick time in qualifying.
Next up were the K&N Filters UMP Modifieds in their 20 lap feature. No 65 Todd Sherman and No 18 Ryan Sutter would lead the field to green with Sutter grabbing the early lead over Sherman, and No. 3W Dylan Woodling. Woodling would get by Sherman on lap 10 and look to set his sights on race leader Sutter. No. 10L Nathan Loney would also get by Sherman and begin to battle with Woodling as the leaders worked their way through lapped traffic. Loney would make contact with the lapped car No. 19 Ryan Ordway, with Ordway spinning and causing a caution flag on lap 14. Sutter would resume his lead on the restart, with one more caution coming on lap 17 for Sherman making contact with the turn 4 wall. Sutter would survive the final 3 lap dash to the finish to grab the win over Woodling, Loney, No 18L Randy Lines, and No 95J Jerry Bowersock. Heat races were won by No. 34X Shane O'Connor, Woodling, and Sutter.
Closing out the night were the Budweiser Thunderstocks with their 15 lap feature. No. 7 Dan Wooten and No. 7B Shawn Valenti would pace the field to the green flag with Valenti taking the lead and never looking back. The field would fan out 3 and 4 wide behind him through lap 2, with No. 82 Chris Douglas powering his way to 2nd. Valenti cruised to a 1.5 second lead over Douglas, No. 463 Daniel Sanchez, No. 26 Justin Long, and No 22T Tony Anderson. Heat Races were won by Anderson and Douglas.
Limaland Motorsports Park is back in action next Friday night June 8th for the 17th Annual Keysor Memorial, featuring the Budweiser Thunderstocks competing for a top prize of $1000 to win. The B.O.S.S. Non Wing Sprints will be in action for their only visit in 2018, and the K&N Filters UMP Modifieds will also be in action. Pit gates open at 4:30, Grandstand gates open at 5PM, Hot laps at 6:30PM, and racing at 7:30. General admission for ages 16 and older $12, ages 11 to 15 for $6, and kids 10 and under get in FREE. Pit passes for all ages are $25. For details on this and all the great events at Limaland Motorsports Park, visit www.limaland.com or check us out on Facebook.
Limaland Motorsports Park - 6/1/2018
Run For the Rabbit presented by Lima Chevrolet Cadillac
K&L Ready Mix NRA Sprint Invaders
Heat 1 - (8 Laps - Top 7 Transfer)
22H-Randy Hannagan; 2. 2-Kyle Sauder; 3. 17H-Jared Horstman; 4. 33M-Matt Westfall; 5. 17A-Tim Allison; 6. 12H-Luke Hall; 7. 22D-Aaron Ronnolte
Heat 2 - (8 Laps - Top 7 Transfer)
7C-Phil Gressman; 2. 18-Todd Heuerman; 3. B20-Butch Schroeder; 4. 23-Devon Dobie; 5. 5W-Jeff Williams; 6. 37-Noah Dunlap; 7. 24-Kobe Allison
Heat 3 - (8 Laps - Top 7 Transfer)
49-Shawn Dancer; 2. 5M-Max Stambaugh; 3. 28H-Hud Horton; 4. 10J-Jarrod Delong; 5. 12-Kody Swanson; 6. 15-Brandon Ferguson; 7. 14-Luke Daughtery
A-Main - (25 Laps) [#]-Starting Position
22H-Randy Hannagan[2]; 2. 5M-Max Stambaugh[4]; 3. 17H-Jared Horstman[7]; 4. 49-Shawn Dancer[6]; 5. 18-Todd Heuerman[5]; 6. 7C-Phil Gressman[3]; 7. 23-Devon Dobie[11]; 8. 28H-Hud Horton[9]; 9. 17A-Tim Allison[13]; 10. 33M-Matt Westfall[10]; 11. B20-Butch Schroeder[8]; 12. 12-Kody Swanson[15]; 13. 2-Kyle Sauder[1]; 14. 5W-Jeff Williams[14]; 15. 22D-Aaron Ronnolte[19]; 16. 24-Kobe Allison[20]; 17. 15-Brandon Ferguson[18]; 18. 14-Luke Daughtery[21]; 19. 10J-Jarrod Delong[12]; 20. 12H-Luke Hall[16]; 21. 37-Noah Dunlap[17]
K&N Filters UMP Modifieds
Heat 1 - (8 Laps - Top 8 Transfer)
34X-Shane O'Connor; 2. 65-Todd Sherman; 3. 9C-Troy Cattarene; 4. ZERO-Brent Hole; 5. 11H-Mike Hohlbein; 6. 21JR-Tom Conrad; 7. 9PG-Percy Gendreau; 8. 18L-Randy Lines
Heat 2 - (8 Laps - Top 8 Transfer)
3W-Dylan Woodling; 2. 16-Jeff Koz; 3. 27-Frank Paladino; 4. 1-Brenden Rassel; 5. 4G-Bill Griffith; 6. 17F-Nick Felkey; 7. 19-Ryan Ordway
Heat 3 - (8 Laps - Top 8 Transfer)
18-Ryan Sutter; 2. 10L-Nathon Loney; 3. 95J-Jerry Bowersock; 4. 19B-Brandon Ordway ; 5. 22T-Tony Anderson; 6. 36-Brandon Vaughan; 7. 71-Will Norris
A-Main - (20 Laps) [#]-Starting Position
18-Ryan Sutter[2]; 2. 3W-Dylan Woodling[3]; 3. 10L-Nathon Loney[6]; 4. 18L-Randy Lines[22]; 5. 95J-Jerry Bowersock[9]; 6. ZERO-Brent Hole[10]; 7. 16-Jeff Koz[5]; 8. 19B-Brandon Ordway [12]; 9. 27-Frank Paladino[8]; 10. 22T-Tony Anderson[15]; 11. 1-Brenden Rassel[11]; 12. 71-Will Norris[21]; 13. 11H-Mike Hohlbein[13]; 14. 36-Brandon Vaughan[18]; 15. 4G-Bill Griffith[14]; 16. 9C-Troy Cattarene[7]; 17. 65-Todd Sherman[1]; 18. 21JR-Tom Conrad[16]; 19. 19-Ryan Ordway[20]; 20. 9PG-Percy Gendreau[19]; 21. 34X-Shane O'Connor[4]; 22. 17F-Nick Felkey[17]
Bud Thunderstocks
Heat 1 - (8 Laps - Top 9 Transfer)
22T-Tony Anderson; 2. 7B-Shawn Valenti; 3. 463-Daniel Sanchez; 4. 26-Justin Long; 5. 27-Frank Paladino; 6. O1-Matthew Gaughan; 7. 89-Keith Shockency; 8. OO-Scott Fritz; 9. 2-Zach Griggs
Heat 2 - (8 Laps - Top 9 Transfer)
82-Chris Douglas; 2. 7-Dan Wooten; 3. J2-Rob Trent; 4. 1W-Mark Wooten; 5. 1-Mason Bevard; 6. 88-Tod Sturgeon; 7. J42P-John Williams; 8. 15-Jordan Conover
A-Main - (15 Laps) [#]-Starting Position
7B-Shawn Valenti[2]; 2. 82-Chris Douglas[3]; 3. 463-Daniel Sanchez[5]; 4. 26-Justin Long[7]; 5. 22T-Tony Anderson[4]; 6. J2-Rob Trent[6]; 7. 27-Frank Paladino[9]; 8. O1-Matthew Gaughan[11]; 9. 1W-Mark Wooten[8]; 10. OO-Scott Fritz[15]; 11. 89-Keith Shockency[13]; 12. 2-Zach Griggs[17]; 13. 1-Mason Bevard[10]; 14. J42P-John Williams[14]; 15. 15-Jordan Conover[16]; 16. 88-Tod Sturgeon[12]; 17. 7-Dan Wooten[1]
Back to News