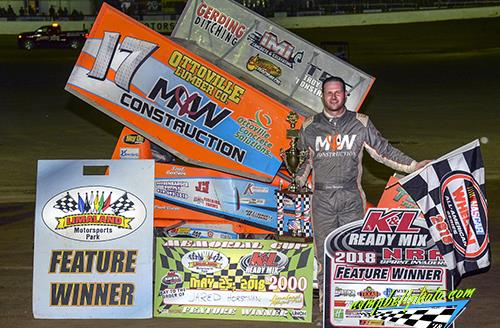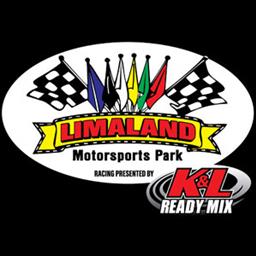 5/26/2018
Limaland Motorsports Park
---
Conover, Horstman, and Anderson start Memorial weekend with wins at Limaland
Lima, OH
5/25/18
by Gerry Keysor
Limaland Motorsports Park kicked off the Memorial Day weekend with a bang on Friday night, as Anheuser Busch Sales of Lima presented the 19th Annual Memorial Cup. The K&L Ready Mix NRA Sprint Invaders started their 3 day stretch of racing with No. 17 Jared Horstman picking up the A Main victory. No. 463X Jordan Conover won his first feature of 2018 in Bud Thunderstock action, and No 22T Tony Anderson returned to victory lane for the 47th time in his career in the K&N Filters UMP Modified feature.
Kicking off feature action were the Bud Thunderstocks. Teammates No. 463X Jordan Conover, and No. 463 Daniel Sanchez led the field to the green flag with Conover grabbing the early lead. No. 82 Chris Douglas settled into 3rd with No. 7B Jeff Babcock in 4th until Babcok cut a tire down on lap 7 and retired to the infield. Conover and Sanchez began to battle as the 2 worked their way into lapped traffic on lap 10, but the caution would fall for No. 7w Dan Wooten and No. 1 Mason Bevard getting together in turn 1. On the restart, Sanchez would throw a slide job on Conover for the lead and Conover grazed the turn 1 wall allowing Sanchez to get away by about 5 car lengths. Sanchez looked to be set to grab his 4th consecutive win, but would nearly spin in turn 1 the very next lap, allowing Conover to get by along with a charging No. 22T Tony Anderson. Conover would grab the win over Anderson, Sanchez, Douglas, and No. 27 Frank Paladino. Heat races were won by Douglas and Anderson.
Next up were the K&L Ready Mix NRA Sprint Invaders for their 25 lap A Main. Cloverdale Ohio's Jared Horstman would lead the field to green alongside No 7J Joe Swanson. Horstman would power to the early lead over Swanson, No. B20 Butch Schroeder, No. 49 Shawn Dancer, and No 2. Kyle Sauder. Caution would wave on lap 3 for No. 24 Kobe Allison looping it out in turn 2. On the restart Schroeder would make his way to 2nd until a final caution on lap 5 for the No. 22H of Randy Hannagan spinning exiting turn 2 and collecting No. 02 Brandon Long. The race would stay green to the end with Horstman working a masterful race through lapped traffic to pick up the win over Schroeder, Dancer, No. 23 Devon Dobie, and No. 5M Max Stambaugh. Heat races were won by Hannagan, No. 28H Hud Horton, and Dancer.
The K&N Filters UMP Modifieds would wrap up the night with their 20 lap A Main. No. 65 Todd Sherman and No. 3W Dylan Woodling would bring the field to green with Sherman taking the early advantage. Sherman, Woodling, No. 95J Jerry Bowersock, and No. 18 Ryan Sutter would exit turn 4 running 4 wide for the lead to complete lap 1. No 22T Tony Anderson would start to creep his way into the battle along with No. 34X Shane O'Connor. Caution would wave on lap 3 for Sherman spinning in turn 1, with the field narrowly avoiding him. On the restart Bowersock would take off with the lead, but the caution flag would wave one more time for No. 7 Jordan Conover spinning in turn 2. Bowersock, Sutter and Anderson would begin battling wheel to wheel for the lead on the restart, with Anderson and Bowersock getting away by a few car lengths. Anderson would grab the lead for good on lap 8 and roll to his first feature win of 2018, followed by Bowersock, Woodling, O'Connor and Sutter completing the top 5. Heat Races were won by No. 1 Brendan Rassel, Sutter, O'Connor, and Bowersock.
Limaland Motorsports Park is back in action next Friday Night June 1st when Lima Chevrolet Cadillac presents the Run for the Rabbit, featuring the K&L Ready Mix NRA Sprint Invaders competing for a top prize of $2000 in an event honoring the memory of Travis "The Rabbit" Miller. The K&N Filters UMP Modifieds and Bud Thunderstocks will also be in action. Pit Gates open at 4:30, grandstand gates open at 5PM, Hot laps at 6:30, and racing at 7:30. General admission $12 for ages 16 and older, ages 11-15 get in for $6 and kids 10 and under admitted FREE! Pit passes for all ages are $25. For details on this all events at Limaland Motorsports Park, visit limaland.com or check us out on Facebook.
Limaland Motorsports Park - 5/25/2018
19th Annual Memorial Cup presented by Anheuser Busch Sales of Lima
Bud Thunderstocks
Heat 1 - (8 Laps - Top 9 Transfer)
82-Chris Douglas; 2. 463X-Jordan Conover; 3. O1-Matthew Gaughan; 4. 27-Frank Paladino; 5. 2-Zach Griggs; 6. 1-Mason Bevard; 7. OO-Scott Fritz; 8. J42P-John Williams; 9. 1W-Mark Wooten
Heat 2 - (8 Laps - Top 9 Transfer)
22T-Tony Anderson; 2. 463-Daniel Sanchez; 3. 7B-Jeff Babcock; 4. 7-Dan Wooten; 5. 99-Andy King; 6. 89-Keith Shockency; 7. 26-Justin Long; 8. 83-Greg Marlow
A-Main - (15 Laps) [#]-Starting Position
463X-Jordan Conover[2]; 2. 22T-Tony Anderson[3]; 3. 463-Daniel Sanchez[1]; 4. 82-Chris Douglas[4]; 5. 27-Frank Paladino[7]; 6. 89-Keith Shockency[12]; 7. O1-Matthew Gaughan[5]; 8. 2-Zach Griggs[9]; 9. 7-Dan Wooten[8]; 10. OO-Scott Fritz[13]; 11. 1-Mason Bevard[11]; 12. 83-Greg Marlow[16]; 13. 99-Andy King[10]; 14. 26-Justin Long[14]; 15. J42P-John Williams[15]; 16. 7B-Jeff Babcock[6]; 17. 1W-Mark Wooten[17]
K&L Ready Mix NRA Sprints
Qualifying -
22H-Randy Hannagan, 11.858; 2. 17-Jared Horstman, 11.960; 3. 18-Todd Heuerman, 11.964; 4. 5M-Max Stambaugh, 11.969; 5. 2-Kyle Sauder, 12.029; 6. 23D-Devon Dobie, 12.103; 7. 7J-Joe Swanson, 12.110; 8. 28H-Hud Horton, 12.238; 9. B20-Butch Schroeder, 12.250; 10. 110-Jake Brown, 12.256; 11. 11-Tim Allison, 12.276; 12. 49-Shawn Dancer, 12.287; 13. 5W-Jeff Williams, 12.333; 14. O2-Brandon Long, 12.409; 15. 77X-Alex Hill, 12.456; 16. 10-Mitch Brown, 12.474; 17. 24-Kobe Allison, 12.527; 18. 77-Zane Devault, 12.655; 19. 33M-Matt Westfall, 12.668; 20. 22D-Aaron Robnolte, 12.777; 21. 66-Chase Dunham, 13.095; 22. 37-Noah Dunlap, 13.128; 23. 15-Brandon Ferguson, 13.203; 24. 51T-John Taylor, 14.187
Heat 1 - (8 Laps - Top 5 Transfer)
22H-Randy Hannagan; 2. 7J-Joe Swanson; 3. 110-Jake Brown; 4. 5M-Max Stambaugh; 5. 10-Mitch Brown; 6. 5W-Jeff Williams; 7. 37-Noah Dunlap; 8. 33M-Matt Westfall
Heat 2 - (8 Laps - Top 5 Transfer)
28H-Hud Horton; 2. 17-Jared Horstman; 3. 2-Kyle Sauder; 4. 11-Tim Allison; 5. O2-Brandon Long; 6. 24-Kobe Allison; 7. 22D-Aaron Robnolte; 8. 15-Brandon Ferguson
Heat 3 - (8 Laps - Top 5 Transfer)
49-Shawn Dancer; 2. B20-Butch Schroeder; 3. 23D-Devon Dobie; 4. 18-Todd Heuerman; 5. 77-Zane Devault; 6. 77X-Alex Hill; 7. 66-Chase Dunham; 8. 51T-John Taylor
B-Main - (10 Laps - Top 5 Transfer)
24-Kobe Allison; 2. 5W-Jeff Williams; 3. 66-Chase Dunham; 4. 77X-Alex Hill; 5. 33M-Matt Westfall; 6. 22D-Aaron Robnolte; 7. 37-Noah Dunlap; 8. 15-Brandon Ferguson; 9. 51T-John Taylor
A-Main - (25 Laps) [#]-Starting Position
17-Jared Horstman[5]; 2. B20-Butch Schroeder[6]; 3. 49-Shawn Dancer[2]; 4. 23D-Devon Dobie[9]; 5. 5M-Max Stambaugh[10]; 6. 2-Kyle Sauder[8]; 7. 33M-Matt Westfall[20]; 8. 28H-Hud Horton[3]; 9. 18-Todd Heuerman[12]; 10. 110-Jake Brown[7]; 11. 7J-Joe Swanson[1]; 12. 77-Zane Devault[15]; 13. 11-Tim Allison[11]; 14. 10-Mitch Brown[13]; 15. 5W-Jeff Williams[17]; 16. 77X-Alex Hill[19]; 17. O2-Brandon Long[14]; 18. 24-Kobe Allison[16]; 19. 66-Chase Dunham[18]; 20. 22H-Randy Hannagan[4]
K&N Filters UMP Modifieds
Heat 1 - (8 Laps - Top 4 Transfer)
1-Brenden Rassel; 2. 3W-Dylan Woodling; 3. 16-Jeff Koz; 4. 2B-Darryl Banks; 5. 9C-Troy Cattarene; 6. 1X-Jerry Butler; 7. 118-Gunnar Lucius
Heat 2 - (8 Laps - Top 4 Transfer)
18-Ryan Sutter; 2. 65-Todd Sherman; 3. 4G-Bill Griffith; 4. 44-Scott Boyd Sr; 5. 17F-Nick Felkey; 6. ZERO-Brent Hole; 7. 57-Tyler Johnson
Heat 3 - (8 Laps - Top 4 Transfer)
34X-Shane O'Connor; 2. 11H-Mike Hohlbein; 3. 2D-Curtis Deisenroth; 4. 19B-Brandon Ordway ; 5. 36-Brandon Vaughan; 6. 7-Jordan Conover; 7. 80-Cole Sink
Heat 4 - (8 Laps - Top 4 Transfer)
95J-Jerry Bowersock; 2. 22T-Tony Anderson; 3. T5X-Bub Roberts; 4. 27-Frank Paladino; 5. 71-Will Norris; 6. 19-Ryan Ordway; 7. 32-Scott Boyd Jr
B-Main #1 - (8 Laps - Top 2 Transfer)
9C-Troy Cattarene; 2. ZERO-Brent Hole; 3. 57-Tyler Johnson; 4. 1X-Jerry Butler; 5. 118-Gunnar Lucius; 6. 17F-Nick Felkey
B-Main #2 - (8 Laps - Top 2 Transfer)
36-Brandon Vaughan; 2. 7-Jordan Conover; 3. 71-Will Norris; 4. 19-Ryan Ordway; 5. 80-Cole Sink; 6. 32-Scott Boyd Jr
A-Main - (20 Laps) [#]-Starting Position
22T-Tony Anderson[8]; 2. 95J-Jerry Bowersock[3]; 3. 3W-Dylan Woodling[2]; 4. 34X-Shane O'Connor[4]; 5. 18-Ryan Sutter[5]; 6. 19B-Brandon Ordway [15]; 7. 1-Brenden Rassel[6]; 8. 11H-Mike Hohlbein[7]; 9. 4G-Bill Griffith[10]; 10. 2D-Curtis Deisenroth[11]; 11. 36-Brandon Vaughan[18]; 12. 65-Todd Sherman[1]; 13. 27-Frank Paladino[16]; 14. 16-Jeff Koz[9]; 15. 9C-Troy Cattarene[17]; 16. ZERO-Brent Hole[19]; 17. 7-Jordan Conover[20]; 18. T5X-Bub Roberts[12]; 19. 44-Scott Boyd Sr[14]; 20. 2B-Darryl Banks[13]
Back to News