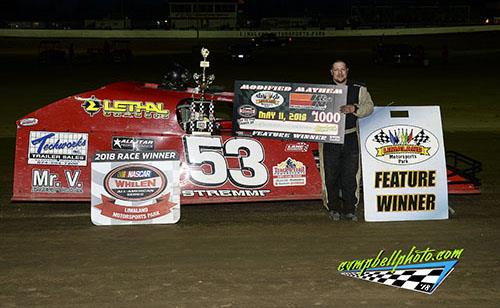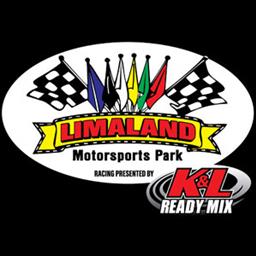 5/12/2018
Limaland Motorsports Park
---
Stremme, Fritter and Sanchez take checkers at Limaland.
Lima, OH
May 11, 2018
A cool spring evening made for a super-fast track on Friday night at Limaland Motorsports Park for the 18th Annual Running of Modified Mayhem. No. 53 Bobby Stremme joined his brother David as 2018 K&N Filters UMP Modified feature winners by grabbing the $1000 to win, 20 lap A Main victory. No. 59 Tracy Fritter would pick up the STARS Modified Lites feature, and No. 463 Daniel Sanchez made it 3 for 3 in Bud Thunderstock action.
Kicking off racing action were the K&N Filters UMP Modifieds. No. 16 Jeff Koz and Stremme would bring the field to green with chaos breaking out as the field exited turn 2. 7 cars would pile up, blocking the track and necessitating a red flag to clear the wreckage. On the restart, Stremme would power to the front with Koz in tow, and last week's feature winner, No. 3W Dylan Woodling close behind. Caution would wave again for No. 21JR Tom Conrad Jr. spinning at the end of the backstretch. As the race resumed, Woodling would make his way past Koz for 2nd and set his sights on Stremme. Stremme and Woodling would trade the lead on lap 13 before Stremme would pull ahead for good. Woodling would finish 2nd over Koz, No. 45p Brian Post, and No 71 Will Norris. Koz set quick time in qualifying with a lap of 14.332 seconds. Heat races were won by No. 65 Todd Sherman, Woodling, and Stremme.
Next up were the STARS Modified Lites. The mini mods would start their feature with No. 99T Tyler Riggs and No. 98 Matt Ward on the front row. Riggs wasted no time grabbing the lead and tried to set sail on the field, but a yellow flag on lap 3 would allow the field to close back in, and No. 59 Tracy Fritter would charge to the front. Riggs would stay close and peek to the inside of Fritter multiple times before nearly spinning on lap 10, allowing Fritter to get away by nearly a full straightaway. On lap 12, No. 55 Marty Lunsford would get upside down exiting turn 2, flipping end over end and bringing out the red flag. Lunsford would walk away under his own power. On the restart Riggs would make one final run at Fritter but Fritter would hold on to pick up the victory over Riggs, Matt Ward, No. 15 Chris Robinson, and No. 20 Vivian Jones. Heat races were won by Fritter and No. 16S Rob Jones.
COmpleting the nights action were the Budweiser Thunderstocks in their 15-lap feature event. No. 87 Andy Welch and No. 463X Jordan Conover paced the field to the green flag with Conover grabbing the early lead with teammate Daniel Sanchez close behind in the No. 463. No. 82 Chris Douglas would make his way past Welch to grab 3rd on lap 2, before a big pileup in turn 4 would stop the action with defending track champion No. 26 Justin Long spinning and collecting No. 7 Dan Wooten, No. 89 Keith Shockency, and No. 99 Andy King. on the restart, Sanchez and Douglas would battle for 2nd as Conover appeared to be setting sail, but Conovers ride would start overheating, forcing him to take his car to the infield, and handing the lead to Sanchez. Douglas would hound Sanchez the final 8 laps, but come up just short, finishing 2nd, with No. 22T Tony Anderson finishing a close 3rd. No. 27 Frank Paladino would finish 4th, and UNOH Racer Scott Fritz would complete the top five in the No. 00. Heat races were won by Paladino, Anderson and Douglas.
Limaland roars back to life next Friday night May 18th as Post Printing presents the Busch Clash, and Meet the Drivers night, featuring NASCAR legend Ken Schrader. In action will be the K&L Ready Mix NRA Sprint Invaders, Ken Schrader will compete against the K&N Filters UMP Modifieds, and the Budweiser Thunderstocks are back in action. Pit gates open at 4:30PM, Grand stand gates open at 5PM, Hot laps at 6:30 PM and racing starts at 7:30PM. General admission for ages 16 and older is $12, ages 11 to 15 $6 and Kids 10 and under get in FREE. Pit passes for all ages are $25. Get all the info on this and all of our events at www.limaland.com, or check us out on Facebook.
Limaland Motorsports Park - 5/11/2018
K&N Filters presents Modified Mayhem XVIII
K&N Filters UMP Modifieds
Qualifying -
16-Jeff Koz, 14.332; 2. 3W-Dylan Woodling, 14.343; 3. 53-Bobby Stremme, 14.399; 4. 20M-Josh Morton, 14.418; 5. 34X-Shane O'Connor, 14.427; 6. 95J-Jerry Bowersock, 14.518; 7. 65-Todd Sherman, 14.560; 8. 27-Frank Paladino, 14.583; 9. 7-Jordan Conover, 14.589; 10. 11H-Mike Hohlbein, 14.589; 11. 45P-Brian Post, 14.591; 12. 71-Will Norris, 14.605; 13. 18-Ryan Sutter, 14.624; 14. 19-Ryan Ordway, 14.637; 15. 21JR-Tom Conrad, 14.674; 16. 9PG-Percy Gendreau, 14.675; 17. 1-Brenden Rassel, 14.684; 18. 22T-Tony Anderson, 14.779; 19. 2B-Darryl Banks, 14.783; 20. 36-Brandon Vaughan, 14.814; 21. 4G-Bill Griffith, 14.933; 22. 20K-Bill Keeler, 15.048; 23. 58P-Jim Post, 15.128; 24. 5X-Trent Musk, 15.690; 25. 57-Tyler Johnson, 16.360; 26. 19B-Brandon Ordway , 99.991; 27. ZERO-Brent Hole, 99.999
Heat 1 - (8 Laps - Top 5 Transfer)
65-Todd Sherman; 2. 16-Jeff Koz; 3. 18-Ryan Sutter; 4. 20M-Josh Morton; 5. 2B-Darryl Banks; 6. 11H-Mike Hohlbein; 7. 20K-Bill Keeler; 8. 9PG-Percy Gendreau; 9. 57-Tyler Johnson
Heat 2 - (8 Laps - Top 5 Transfer)
3W-Dylan Woodling; 2. 45P-Brian Post; 3. 1-Brenden Rassel; 4. 36-Brandon Vaughan; 5. 19-Ryan Ordway; 6. 58P-James Post; 7. 27-Frank Paladino; 8. 34X-Shane O'Conner; 9. 19B-Brandon Ordway
Heat 3 - (8 Laps - Top 5 Transfer)
53-Bobby Stremme; 2. 95J-Jerry Bowersock; 3. 71-Will Norris; 4. 21JR-Tom Conrad; 5. 4G-Bill Griffith; 6. 22T-Tony Anderson; 7. 5X-Trent Musk; 8. 7-Jordan Conover
B-Main - (8 Laps - Top 5 Transfer)
22T-Tony Anderson; 2. 11H-Mike Hohlbein; 3. 34X-Shane O'Conner; 4. 58P-James Post; 5. 5X-Trent Musk; 6. 9PG-Percy Gendreau; 7. 57-Tyler Johnson; 8. 20K-Bill Keeler; 9. 27-Frank Paladino; 10. 7-Jordan Conover; 11. 19B-Brandon Ordway
A-Main - (20 Laps) [#]-Starting Position
53-Bobby Stremme[2]; 2. 3W-Dylan Woodling[3]; 3. 16-Jeff Koz[1]; 4. 45P-Brian Post[5]; 5. 71-Will Norris[9]; 6. 65-Todd Sherman[4]; 7. 36-Brandon Vaughan[11]; 8. 34X-Shane O'Conner[18]; 9. 22T-Tony Anderson[16]; 10. 18-Ryan Sutter[7]; 11. 1-Brenden Rassel[8]; 12. 11H-Mike Hohlbein[17]; 13. 4G-Bill Griffith[15]; 14. 58P-James Post[19]; 15. 19-Ryan Ordway[14]; 16. 5X-Trent Musk[20]; 17. 21JR-Tom Conrad[12]; 18. 95J-Jerry Bowersock[6]; 19. 20M-Josh Morton[10]; 20. 2B-Darryl Banks[13]
STARS Lite Modifeds
Heat 1 - (8 Laps - Top 6 Transfer)
59-Tracy Fritter; 2. 98-Matt Ward; 3. 15-Chris Robinson; 4. 20S-Brandon Shaw; 5. 55-Marty Lunsford; 6. 55M-Ed Mudrick
Heat 2 - (8 Laps - Top 6 Transfer)
16S-Rob Jones; 2. 99T-Tyler Riggs; 3. 862-Mitch Ward; 4. 20-Vivian Jones; 5. 42-Bobby Springer
A-Main - (15 Laps) [#]-Starting Position
59-Tracy Fritter[4]; 2. 99T-Tyler Riggs[1]; 3. 98-Matt Ward[2]; 4. 15-Chris Robinson[5]; 5. 20-Vivian Jones[8]; 6. 20S-Brandon Shaw[7]; 7. 55M-Ed Mudrick[11]; 8. 55-Marty Lunsford[9]; 9. 862-Mitch Ward[6]; 10. 16S-Rob Jones[3]
Bud Thunderstocks
Heat 1 - (8 Laps - Top 6 Transfer)
27-Frank Paladino; 2. 463-Daniel Sanchez; 3. 99-Andy King; 4. O1-Matthew Gaughan; 5. 2-Zach Griggs; 6. 1-Mason Bevard
Heat 2 - (8 Laps - Top 6 Transfer)
22T-Tony Anderson; 2. 463X-Jordan Conover; 3. 26-Justin Long; 4. J2-Rob Trent; 5. 1W-Mark Wooten; 6. J42P-John Williams
Heat 3 - (8 Laps - Top 6 Transfer)
82-Chris Douglas; 2. 87-Andy Welch; 3. 89-Keith Shockency; 4. OO-Scott Fritz; 5. 7-Dan Wooten; 6. 88-Tod Sturgeon
A-Main - (15 Laps) [#]-Starting Position
463-Daniel Sanchez[3]; 2. 82-Chris Douglas[4]; 3. 22T-Tony Anderson[5]; 4. 27-Frank Paladino[6]; 5. OO-Scott Fritz[12]; 6. O1-Matthew Gaughan[10]; 7. 2-Zach Griggs[13]; 8. 87-Andy Welch[1]; 9. J2-Rob Trent[11]; 10. J42P-John Williams[17]; 11. 463X-Jordan Conover[2]; 12. 26-Justin Long[8]; 13. 99-Andy King[7]; 14. 89-Keith Shockency[9]; 15. 7-Dan Wooten[15]; 16. 88-Tod Sturgeon[18]
©2018 - Results Provided by: Computer Man Inc. Fremont, OH
Back to News