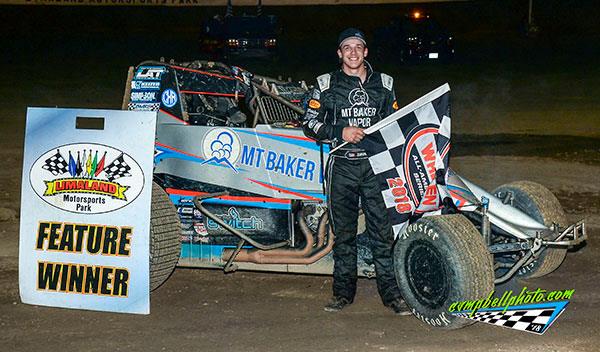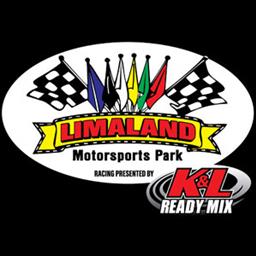 5/5/2018
Limaland Motorsports Park
---
Landon Simon wins Night of Non-Wings
May 4 2018
Lima OH
A great crowd and a great field of cars were on hand for the first of 3 Non Wing Sprint Car races in 2018 at Limaland Motorosports Park, with No. 24 Landon Simon grabbing the Non Wing Sprint Car feature win, No. 463 Daniel Sanchez picking up his 2nd straight Bud Thunderstock win, and No. 3W Dylan Woodling winning the K&N Filters UMP Modified feature.
Starting the night were the Non Wing Sprint Cars in their 25 lap feature event. No. 33M Matt Westfall and No. 18 Dallas Hewitt would bring the field to green with Westfall grabbing the early advantage. Westfall would hold a sizable advantage until caution waved on lap 10 for No. 87 Paul Dues spinning in turn 2. On the restart Westfall would resume his lead, but Landon Simon had different plans in his Mt. Baker Vapor sponsored 24. Simon would move to 2nd on lap 14, then stalk Westfall until making his move to the lead on lap 18. Simon would lead the final 6 laps with the battle for 2nd a barnburner with Westfall, Hewitt, No.77 Dustin Smith, and No. 9N Luke Hall battling right to the finish. Simon would grab the win over Westfall, Hall, Hewitt and Smith completing the top 5. Heat races were won by No. 2DI Dustin Ingle, Dustin Smith, and Dallas Hewitt.
Next up were the Budweiser Thunderstocks in their 15 lap A Main. No. 7 Dan Wooten, and No. J2 Rob Trent would lead the field to the green flag with those 2 battling side by side for the first 3 circuits. Wooten would gain the advantage with Trent 2nd, No 26 Justin Long, and No. 82 Chris Douglas in tow. The yellow flag would wave on lap 7 and again on lap 8 for debris, on the lap 8 restart, No. 463 Daniel Sanchez charged to lead with Dan Wooten slowing dramatically at the font of the field, collecting the No. 26 of Long, and ending both of their nights. Sanchez would pull away on the restart with Douglas in tow until lap 13, when Douglas spun in turns 3 and 4, bringing out one final caution. Rob Trent would challenge Sanchez on the restart, but Sanchez would be too fast on this night, winning over No. 27 Frank Paladino, Trent, No. 22T Tony Anderson, and No 89 Keith Shockency. Heat races were won by Douglas and Anderson
Wrapping up the night were the K&N Filters UMP Modifieds in their 20 lap feature. UNOH Racer Brendan Rassel in the UNOH No. 1 would lead the field to green alongside No. 16 Jeff Koz. Koz would take the early lead with Rassel and No. ZER0 Brent Hole in tow. Cautino would wave on lap 7 for No. 19 Ryan Ordway spinning in turns 1 and 2. On the restart, Rassel would challenge Koz for the point with No. 3W Dylan Woodling battling his way to 3rd. Woodling would battle past Rassel on lap 11 and set his sights on race leader Koz. Caution would pause the battle momentarily for the No. 20K of Bill Keeler going around in turns 1 and 2 and bringing out the caution. On the restart, Woodling would build momentum and throw a huge slide job on Koz, but Koz would cross over and battle back before slowing a lap later with a flat left rear tire. Woodling would lead to the finish, with No. 18 Ryan Sutter charging to finish 2nd, No. 95J Jerry Bowersock would finish 3rd, with Rassel 4th and Hole completing the top 5. Heat races were won by No. 11H Mike Hohlbein, Hole, Koz and Rassel
Limaland will be back in action next Friday Night May 11th when K&N Filters presents Modified Mayhem XVIII, featuring the K&N Filters UMP Modifieds, Budweiser Thunderstocks, and STARS Lite Modifieds. Pit gates open at 4:30, Grandstand gates open at 5:00, Hot laps at 6:30, and racing at 7:30. General admission for ages 16 and older $12, $6 for ages 11-15, and kids 10 and under get in FREE! Pit passes are $25 for all ages. For more details on this and all racing at Limaland Motorsports Park, please visit www.limaland.com or check us out on Facebook.
Limaland Motorsports Park - 5/4/2018
Night of Non Wings presented by Menke Brothers Construction
Non Wing Sprints
Heat 1 - (8 Laps - Top 7 Transfer)
2DI-Dustin Ingle; 2. 33M-Matt Westfall; 3. 23S-Kyle Simon; 4. 21-Travis Hery; 5. 53-Steve Little; 6. 87-Paul Dues; 7. 86-Rick Holley
Heat 2 - (8 Laps - Top 7 Transfer)
77-Dustin Smith; 2. 9N-Luke Hall; 3. 82-Mike Miller; 4. 26-John Watson; 5. 99-Gage Etgen; 6. 14-Chad Wilson; 7. 96-Riley Vanhise
Heat 3 - (8 Laps - Top 7 Transfer)
18-Dallas Hewitt; 2. 24-Landon Simon; 3. 42-Ty Tilton; 4. 1H-Korbyn Hayslett; 5. 24L-Lee Underwood; 6. 74-Drew Rader; 7. 71-Barney Craig
A-Main - (25 Laps) [#]-Starting Position
24-Landon Simon[6]; 2. 33M-Matt Westfall[1]; 3. 9N-Luke Hall[5]; 4. 18-Dallas Hewitt[2]; 5. 77-Dustin Smith[3]; 6. 23S-Kyle Simon[7]; 7. 82-Mike Miller[8]; 8. 42-Ty Tilton[9]; 9. 2DI-Dustin Ingle[4]; 10. 74-Drew Rader[18]; 11. 99-Gage Etgen[14]; 12. 24L-Lee Underwood[15]; 13. 26-John Watson[11]; 14. 21-Travis Hery[10]; 15. 87-Paul Dues[16]; 16. 14-Chad Wilson[17]; 17. 86-Rick Holley[19]; 18. 96-Riley Vanhise[20]; 19. 71-Barney Craig[21]; 20. 1H-Korbyn Hayslett[12]
Bud Thunderstocks
Heat 1 - (8 Laps - Top 9 Transfer)
82-Chris Douglas; 2. 463-Daniel Sanchez; 3. J2-Rob Trent; 4. 99-Andy King; 5. 89-Keith Shockency; 6. 87-Andy Welch; 7. 463X-Jordan Conover; 8. J42P-John Williams
Heat 2 - (8 Laps - Top 9 Transfer)
22T-Tony Anderson; 2. 26-Justin Long; 3. 7-Dan Wooten; 4. 1W-Mark Wooten; 5. OO-Scott Fritz; 6. 27-Frank Paladino; 7. 1-Justin Hamilton; 8. O1-Matthew Gaughan
A-Main - (15 Laps) [#]-Starting Position
463-Daniel Sanchez[4]; 2. 27-Frank Paladino[12]; 3. J2-Rob Trent[2]; 4. 22T-Tony Anderson[5]; 5. 89-Keith Shockency[9]; 6. OO-Scott Fritz[10]; 7. 99-Andy King[7]; 8. 1-Justin Hamilton[14]; 9. 87-Andy Welch[11]; 10. 82-Chris Douglas[6]; 11. O1-Matthew Gaughan[16]; 12. 1W-Mark Wooten[8]; 13. J42P-John Williams[15]; 14. 7-Dan Wooten[1]; 15. 26-Justin Long[3]
K&N Filters UMP Modifieds
Heat 1 - (8 Laps - Top 4 Transfer)
11H-Mike Hohlbein; 2. 22T-Tony Anderson; 3. 65-Todd Sherman; 4. 71-Will Norris; 5. 21JR-Tom Conrad; 6. 9-Garrett Rons; 7. 32-Scott Boyd Jr
Heat 2 - (8 Laps - Top 4 Transfer)
ZERO-Brent Hole; 2. 18-Ryan Sutter; 3. 17N-Diilon Nusbaum; 4. 4G-Bill Griffith; 5. 19-Ryan Ordway; 6. 20K-Bill Keeler; 7. 7-Jordan Conover
Heat 3 - (8 Laps - Top 4 Transfer)
16-Jeff Koz; 2. 3W-Dylan Woodling; 3. 36-Brandon Vaughan; 4. 27-Frank Paladino; 5. 9C-Troy Cattarene; 6. 41-Jason Mccoy; 7. 34X-Shane O'Conner
Heat 4 - (8 Laps - Top 4 Transfer)
1-Brenden Rassel; 2. 95J-Jerry Bowersock; 3. 2D-Curtis Deisenroth; 4. 9PG-Percy Gendreau; 5. 20M-Josh Morton; 6. 17-Michael Tarlton
B-Main - (8 Laps - Top 4 Transfer)
20M-Josh Morton; 2. 19-Ryan Ordway; 3. 20K-Bill Keeler; 4. 9C-Troy Cattarene; 5. 9-Garrett Rons; 6. 41-Jason Mccoy; 7. 7-Jordan Conover; 8. 32-Scott Boyd Jr; 9. 21JR-Tom Conrad; 10. 17-Michael Tarlton; 11. 34X-Shane O'Conner
A-Main - (20 Laps) [#]-Starting Position
3W-Dylan Woodling[7]; 2. 18-Ryan Sutter[6]; 3. 95J-Jerry Bowersock[8]; 4. 1-Brenden Rassel[1]; 5. ZERO-Brent Hole[3]; 6. 71-Will Norris[13]; 7. 11H-Mike Hohlbein[4]; 8. 17N-Diilon Nusbaum[10]; 9. 22T-Tony Anderson[5]; 10. 4G-Bill Griffith[14]; 11. 27-Frank Paladino[15]; 12. 36-Brandon Vaughan[11]; 13. 20M-Josh Morton[17]; 14. 9C-Troy Cattarene[20]; 15. 19-Ryan Ordway[18]; 16. 65-Todd Sherman[9]; 17. 9PG-Percy Gendreau[16]; 18. 20K-Bill Keeler[19]; 19. 16-Jeff Koz[2]; 20. 2D-Curtis Deisenroth[12]
Back to News