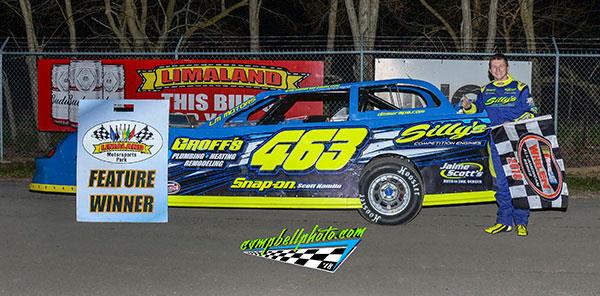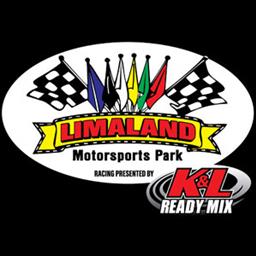 4/28/2018
Limaland Motorsports Park
---
Horstman, Stremme, and Sanchez claim opening night wins at Limaland
April 27, 2018
Lima, OH
After a long cold winter, fans and teams were chomping at the bit to start the 2018 season at Limaland Motorsports Park. A great crowd and awesome racing filled the evening at Limaland with No. 17 Jared Horstman grabbing the victory in the K&L Ready Mix NRA Sprint Invader feature, David Stremme winning the K&N Filters UMP Modified A Main, and Daniel Sanchez picking up the Budweiser Thunderstock feature win.
Starting off the night were the K&L Ready Mix NRA Sprint Invaders in their 25 lap A Main. No. 23 Devon Dobie and No. 16B Steve Irwin would bring the field to green with Irwin grabbing the lead but the start would be marred by a red flag for No 22D Aaron Robnolte getting banged around like a pinball exiting turn 2 and several cars nearly getting upside down. On the restart Dobie would charge to the point, but once again caution would wave for Irwin slowing to a stop on the backstretch. Dobie would lead again on the restart, but defending NRA champ Jared Horstman in the family owned No. 17 would charge to the front and start to leave the field. Caution would wave one more time for the No. 24 of Kobe Allison spinning in turn 2. Horstman would set sail from there picking up the win over No. 77 Zane Devault, No. 28 Phil Gressman, Dobie, and No. 11 Tim Allison. Heat races were won by Irwin, Gressman and Dobie.
Next up were the K&N Filters UMP Modifieds in their 20 lap feature. No. 27 Frank Paladino and No. 16 Jeff Koz made up the front row as the green flag flew with Koz grabbing the lead. Koz would lead the first 12 laps until the yellow flag would fly for No. 4L Mike Learman spinning exiting turn 2. Koz would be challenged immediately on the restart by No. 24 Justin Haley, but Haley had jumped the restart. Haley would lead the remaining 7 laps but would be docked 2 spots at the finish for the jump. No. 35 David Stremme would battle with Koz the next couple laps before getting by to set his sights on Haley. Stremme would be credited with the win with No. 21 Taylor Cook charging from 8th to 2nd, Haley would be scored 3rd, with Koz 4th and No. 3W Dylan Woodling completing the top 5. Heat races were won by No. 162 Logan Moody, No. 18 Ryan Sutter , Haley, and No. 1 Bendan Rassel.
Closing out the night would be the Budweiser Thunderstocks in their 15 lap feature. No. 463 Daniel Sanchez would lead the field to green along side No. 99 Andy King, with Sanchez grabbing the early lead. Caution would wave on lap 2 for Lake Helen, Florida's Justin Hamilton spinning exiting turn 2. On the restart, Sanchez would resume his lead by 3 car lengths over King, No. 26 Justin Long, and No. 27 Frank Paladino. Long would make his way to the 2nd spot with No. 22T Tony Anderson battling his way to 3rd on lap 12. Caution would wave one more time again for Hamilton, setting up a one lap dash to the finish. Sanchez, the Averill Park, NY native would hang on to grab the feature victory over Long, Anderson, Paladino, and No. 7 Dan Wooten. Heat reaces were won by Anderson and Long.
Limaland Motorsports Park roars back to life next Friday, May 4th as Menke Brothers Construction presents the "Night of Non-Wings", featuring the 410 Non Wing Sprint Cars, K&N Filter UMP Modifieds, and Budweiser Thunderstocks. For more information on this and all the action at Limaland, visit limaland.com, or check us out on Facebook.
Limaland Motorsports Park - 4/27/2018
Spring Fling presented by S&S Volvo
K&L Ready Mix NRA Sprint Invaders
Qualifying -
17-Jared Horstman, 11.715; 2. 11-Tim Allison, 11.720; 3. B20-Butch Schroeder, 11.736; 4. 2-Kyle Sauder, 11.759; 5. 49-Shawn Dancer, 11.877; 6. 5W-Jeff Williams, 11.969; 7. 16B-Steve Irwin, 12.045; 8. 28-Phil Gressman, 12.055; 9. 23-Devon Dobie, 12.070; 10. 7J-Joe Swanson, 12.096; 11. 77-Zane Devault, 12.210; 12. 77I-John Ivy, 12.210; 13. 22D-Aaron Robnolte, 12.221; 14. 15-Brandon Ferguson, 12.285; 15. 37-Noah Dunlap, 12.334; 16. 24-Kobe Allison, 12.519; 17. 66-Chase Dunham, 12.527; 18. 2F-Matt Foos, 12.547; 19. 14-Luke Daugherty, 12.649; 20. 18-Todd Heuerman, 99.99*; 21. 10J-Jarrod Delong, 99.99*; 22. 21M-Chris Olding, 99.99*
*Heuerman, Delong, Olding times disallowed due to not going to scale after qualifying.
Heat 1 - (8 Laps - Top 8 Transfer)
16B-Steve Irwin; 2. 17-Jared Horstman; 3. 7J-Joe Swanson; 4. 22D-Aaron Robnolte; 5. 14-Luke Daugherty; 6. 21M-Chris Olding; 7. 24-Kobe Allison; 8. 2-Kyle Sauder
Heat 2 - (8 Laps - Top 8 Transfer)
28-Phil Gressman; 2. 77-Zane Devault; 3. 11-Tim Allison; 4. 49-Shawn Dancer; 5. 18-Todd Heuerman; 6. 15-Brandon Ferguson; 7. 66-Chase Dunham
Heat 3 - (8 Laps - Top 8 Transfer)
23-Devon Dobie; 2. 77I-John Ivy; 3. 5W-Jeff Williams; 4. B20-Butch Schroeder; 5. 2F-Matt Foos; 6. 10J-Jarrod Delong; 7. 37-Noah Dunlap
A-Main - (20 Laps) [#]-Starting Position
17-Jared Horstman[4]; 2. 77-Zane Devault[5]; 3. 28-Phil Gressman[6]; 4. 23-Devon Dobie[1]; 5. 11-Tim Allison[8]; 6. 77I-John Ivy[3]; 7. 18-Todd Heuerman[14]; 8. 49-Shawn Dancer[11]; 9. B20-Butch Schroeder[12]; 10. 5W-Jeff Williams[9]; 11. 66-Chase Dunham[20]; 12. 15-Brandon Ferguson[17]; 13. 37-Noah Dunlap[21]; 14. 21M-Chris Olding[16]; 15. 24-Kobe Allison[19]; 16. 7J-Joe Swanson[7]; 17. 16B-Steve Irwin[2]; 18. 22D-Aaron Ronnolte[10]; 19. 14-Luke Daughtery[13]; 20. 2F-Matt Foos[15]; 21. 10J-Jarrod Delong[18]
K&N Filter UMP Modifieds
Heat 1 - (8 Laps - Top 4 Transfer)
162-Logan Moody; 2. 16-Jeff Koz; 3. 19-Ryan Ordway; 4. 17-Michael Tarlton; 5. 71-Will Norris; 6. 34X-Shane O'Connor; 7. 20K-Bill Keeler; 8. 44-Scott Boyd Jr.; 9. 51-Rj Otto
Heat 2 - (8 Laps - Top 4 Transfer)
18-Ryan Sutter; 2. 27-Frank Paladino; 3. 2B-Darryl Banks; 4. 71D-Dan Davis; 5. 12-J.J. Nordman; 6. 20M-Josh Morton; 7. 9PG-Percy Gendreau; 8. 1X-JJ Butler; 9. 4G-Bill Griffith
Heat 3 - (8 Laps - Top 4 Transfer)
24-Justin Haley; 2. 35-David Stremme; 3. 95J-Jerry Bowersock; 4. 3W-Dylan Woodling; 5. 22T-Tony Anderson; 6. 11H-Mike Hohlbein; 7. ZERO-Brent Hole; 8. 7-Jordan Conover; 9. 19B-Brandon Ordway
Heat 4 - (8 Laps - Top 4 Transfer)
1-Brenden Rassel; 2. 21-Taylor Cook; 3. 4L-Mike Learman; 4. 15-David Baker Jr; 5. 65-Todd Sherman; 6. 36-Brandon Vaughan; 7. 9-Garrett Rons; 8. 9C-Troy Cattarene
B-Main #1 - (8 Laps - Top 2 Transfer)
71-Will Norris; 2. 51-Rj Otto; 3. 9PG-Percy Gendreau; 4. 20K-Bill Keeler; 5. 44-Scott Boyd Jr.; 6. 34X-Shane Oconner; 7. 12-J.J. Nordman; 8. 20M-Josh Morton; 9. 1X-JJ Butler; 10. 4G-Bill Griffith
B-Main #2 - (8 Laps - Top 2 Transfer)
22T-Tony Anderson; 2. 65-Todd Sherman; 3. 11H-Mike Hohlbein; 4. ZERO-Brent Hole; 5. 7-Jordan Conover; 6. 36-Brandon Vaughan; 7. 9-Garrett Rons; 8. 9C-Troy Cattarene; 9. 19B-Brandon Ordway
A-Main - (20 Laps) [#]-Starting Position
35-David Stremme[7]; 2. 21-Taylor Cook[8]; 3. 24-Justin Haley[4]; 4. 16-Jeff Koz[2]; 5. 3W-Dylan Woodling[15]; 6. 27-Frank Paladino[1]; 7. 1-Brenden Rassel[3]; 8. 162-Logan Moody[6]; 9. 18-Ryan Sutter[5]; 10. 95J-Jerry Bowersock[11]; 11. 15-David Baker Jr[16]; 12. 2B-Darryl Banks[10]; 13. 17-Michael Tarlton[13]; 14. 65-Todd Sherman[20]; 15. 19-Ryan Ordway[9]; 16. 22T-Tony Anderson[18]; 17. 71-Will Norris[17]; 18. 71D-Dan Davis[14]; 19. 4L-Mike Learman[12]; 20. 51-Rj Otto[19]
Budweiser Thunderstocks
Heat 1 - (8 Laps - Top 8 Transfer)
22T-Tony Anderson; 2. 1-Justin Hamilton; 3. 99-Andy King; 4. 89-Keith Shockency; 5. O1-Matthew Gaughan; 6. J42P-John Williams; 7. 463X-Jordan Conover; 8. OO-Scott Fritz
Heat 2 - (8 Laps - Top 8 Transfer)
26-Justin Long; 2. 27-Frank Paladino; 3. 463-Daniel Sanchez; 4. 7-Dan Wooten; 5. 82-Chris Douglas; 6. 1W-Mark Wooten; 7. 88-Tod Sturgeon
A-Main - (15 Laps) [#]-Starting Position
463-Daniel Sanchez[1]; 2. 26-Justin Long[5]; 3. 22T-Tony Anderson[6]; 4. 27-Frank Paladino[3]; 5. 7-Dan Wooten[8]; 6. 99-Andy King[2]; 7. 82-Chris Douglas[10]; 8. O1-Matthew Gaughan[9]; 9. OO-Scott Fritz[15]; 10. 89-Keith Shockency[7]; 11. 1-Justin Hamilton[4]; 12. 1W-Mark Wooten[12]; 13. J42P-John Williams[11]
Back to News