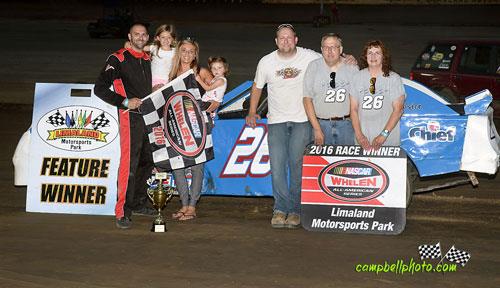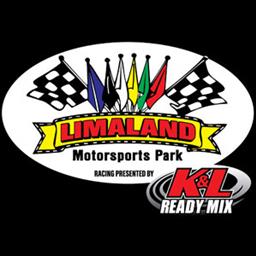 8/6/2016
Limaland Motorsports Park
---
Philo, Long, Anderson notch wins on Championship night at Limaland
Lima, OH
August 5, 2016
The only thing hotter than the weather Friday night, was the action on the track at Limaland Motorsports Park. No. 26 Justin Long bagged his 1st careetr feature win in the Bud Thunderstocks, No. 5T Travis Philo bagged his first ever K&L Ready Mix NRA Sprint Invader A Main, and No.22T won the K&N Filters UMP Modifieds A Main.
Starting off the night were the K&L Ready Mix NRA Sprint Invaders in the Mc Donalds Dash for Cash. No. 35 Ronnie Blair, took off and hid in the 5 lap dash, winning over No. 10J Jarrod DeLong, and No. 22R Kevin Roberts Jr.
Kicking off feature action were the Bud Thunderstocks.  Lima Ohio's Justin Long avenged his string of bad luck in 2016 by grabbing his first ever feature win over No. 82 Chris Douglas after being stalked by Douglas the entire feature.  No. 19 Bill Reimund came home 3rd, No. 22T Tony Anderson finished 4th and claimed the 2016 Bud Thunderstock Track Championship.  No. 27 Frank Paladino completed the top 5.
Next up were the K&L Ready Mix NRA Sprint Invaders in their 25 lap A Main.  Waterville Ohio's Travis Philo charged to the early lead in the family owned No. 5T, and ran away on the high side for his first career NRA feature win.  The red flag waved on lap 5 when No. 10J Jarrod Delong, No B20 Butch Schroeder, No. 12 Nick Roberts, and No. 49 Shawn Dancer tangled in turn 4.  Dancer's car tipped over in the melee, but all drivers would walk away, but their night was over.  No. 5M Max Stambaugh, who came in to the night 2nd in points and trying to catch Jared Horstman, went to the work area during the caution with some top wing damage, made it back out and finished 11th.  In the end it was Philo winning over a hard charging Horstman, who would seal up his 2nd consecutive K&L Ready Mix NRA Points Championship, in second.  No 6S JR Stewart would finish 3rd, with No. 30 Hud Horton 4th, and No. 33M Matt Westfall finishing 5th.
Wrapping up the night were the K&N Filters UMP Modifieds in their 20 lap A Main.  Tony Anderson came into the feature with a 6 point lead for the season championship over No. 65 Todd Sherman, which meant Anderson had to finish at least 3 spots ahead in the feature to wrap up the 2016 title.  Anderson would do better than that, winning his 2nd K&N Filters UMP Modified feature over No. 95J "Jedi" Jerry Bowersock, No. 10 Scott Bowersock would be 3rd with Sherman coming home 4th, and No. 3W Dylan Woodling rounding out the top 5.
Limaland Motorsports Park will complete its season in grand fashion next Friday night, August 12th, as Childers Media Group presents the 2016 Awards Celebration Night.  Team Dillon is sponsoring special invitational events for all 3 classes, with NASCAR Young Gun Ty Dillon on hand to present the winners trophies.  Also, Tim Hogan Carpet Outlet in Lima Ohio presents a special 15 lap race for the NRA Sprintn Invader competitors who have competed in all the events in 2016.  Awards will presented to the top 15 in points, with special awards distributed, as well.  92.1 The Frog presents the Bud Thunderstock King of the Quarter-Mile race, 93.1 The Fan presents the K&N Filters UMP Modified King of the Quarter-Mile race, and 104.9 The Eagle presents the K&L Ready Mix NRA Sprint Invader King of the Quarter-Mile race.  Wrapping up the night will be the 2016 Pit Party Celebration presented by Ohio State Beauty Academy, where the pits will be open to all, and food and drink will be provided as the drivers and teams will be on hand to ceebrate and hang out with fans.  Special start time of 7:15PM for racing.  Check out all the details at www.limaland.com
Limaland Motorsports Park - 8/5/2016
UNOH 19th Annual Limaland Season Championship Night
Bud Thunderstocks
Heat 1 -  (8 Laps - Top 8 Transfer)
  22T-Tony Anderson; 2. 82-Chris Douglas; 3. 67-Eddie Shaner; 4. 7-Jordon Conover; 5. 27-Frank Paladino; 6. 1-Justin Hamilton; 7.   21H-David Hollon; 8. 89-Keith Shockency
Heat 2 -  (8 Laps - Top 8 Transfer)
19-Bill Reimund; 2. 26-Justin Long; 3.     OO-Blake Spalding; 4. 99-Andy King; 5. 11-Shayne Meadows; 6. 2-Brendon Rassel; 7. 54-Dan Wooten; 8.    1W-Mark Wooten
A-Main -  (15 Laps) [#]-Starting Position
26-Justin Long[1]; 2. 82-Chris Douglas[2]; 3. 19-Bill Reimund[3]; 4.   22T-Tony Anderson[4]; 5. 27-Frank Paladino[9]; 6. 67-Eddie Shaner[5]; 7. 11-Shayne Meadows[10]; 8. 7-Jordon Conover[7]; 9.     OO-Blake Spalding[6]; 10. 99-Andy King[8]; 11. 1-Justin Hamilton[11]; 12. 54-Dan Wooten[14]; 13.   21H-David Hollon[13]; 14. 2-Brendon Rassel[12]; 15.    1W-Mark Wooten[16]
K&L Ready Mix NRA Sprints
Heat 1 -  (8 Laps - Top 7 Transfer)
11-Tim Allison; 2.   33M-Matt Westfall; 3. 17-Jared Horstman; 4. 49-Shawn Dancer; 5. 38-Dean Jacobs; 6.   22R-Kevin Roberts Jr; 7.   63D-Curtis Muhlenkamp
Heat 2 -  (8 Laps - Top 7 Transfer)
   6S-Jr Stewart; 2. 12-Nick Roberts; 3. 30-Hud Horton; 4.    5M-Max Stambaugh; 5.   10J-Jarrod Delong; 6.    7K-Robert Bulloch
Heat 3 -  (8 Laps - Top 7 Transfer)
   5T-Travis Philo; 2.   35R-Ron Blair; 3.    5W-Jeff Williams; 4.   17X-Steve Bendele; 5.   B20-Butch Schroeder; 6. 6-Sean Hosey
A-Main -  (25 Laps) [#]-Starting Position
   5T-Travis Philo[2]; 2. 17-Jared Horstman[7]; 3.    6S-Jr Stewart[3]; 4. 30-Hud Horton[8]; 5.   33M-Matt Westfall[1]; 6.    5W-Jeff Williams[9]; 7.    5M-Max Stambaugh[11]; 8.   35R-Ron Blair[6]; 9.    7K-Robert Bulloch[17]; 10. 11-Tim Allison[4]; 11. 38-Dean Jacobs[13]; 12.   63D-Curtis Muhlenkamp[19]; 13.   22R-Kevin Roberts Jr[16]; 14. 12-Nick Roberts[5]; 15.   10J-Jarrod Delong[14]; 16.   B20-Butch Schroeder[15]; 17. 49-Shawn Dancer[10]; 18.   17X-Steve Bendele[12]
K&N Filters UMP Modifieds
Heat 1 -  (8 Laps - Top 5 Transfer)
  95J-Jerry Bowersock; 2. 65-Todd Sherman; 3.   18S-Ryan Sutter; 4.   22X-Frank Paladino; 5.   34X-Andy Bibler; 6. 50-Buzz Jacobs; 7.   O1-Jared Spalding; 8.   11H-Mike Hoblein
Heat 2 -  (8 Laps - Top 5 Transfer)
  17T-Mike Tarlton; 2.   22T-Tony Anderson; 3.    3W-Dylan Woodling; 4. 18-Randy Lines; 5. 1-Will Norris; 6.   19B-Brandon Ordway; 7. 19-Ryan Ordway; 8. 41-Jason Mccoy
Heat 3 -  (8 Laps - Top 5 Transfer)
36-Brandon Vaughon; 2.   10B-Scott Bowersock; 3.   18N-Derrick Noffsinger; 4.    4G-Bill Griffith; 5. 7-Jeff Geis; 6. 92-Kyle Shaffer; 7.   12B-Kelly Bowlby
B-Main -  (8 Laps - Top 5 Transfer)
  O1-Jared Spalding; 2. 50-Buzz Jacobs; 3. 19-Ryan Ordway; 4.   19B-Brandon Ordway; 5.   12B-Kelly Bowlby; 6.   11H-Mike Hoblein; 7. 41-Jason Mccoy; 8. 92-Kyle Shaffer
A-Main -  (20 Laps) [#]-Starting Position
  22T-Tony Anderson[2]; 2.   95J-Jerry Bowersock[6]; 3.   10B-Scott Bowersock[1]; 4. 65-Todd Sherman[3]; 5.    3W-Dylan Woodling[8]; 6.   18N-Derrick Noffsinger[9]; 7. 18-Randy Lines[11]; 8.   18S-Ryan Sutter[7]; 9. 36-Brandon Vaughon[4]; 10.   17T-Mike Tarlton[5]; 11.   22X-Frank Paladino[10]; 12.    4G-Bill Griffith[12]; 13.   O1-Jared Spalding[16]; 14. 1-Will Norris[14]; 15.   19B-Brandon Ordway[19]; 16.   12B-Kelly Bowlby[20]; 17. 50-Buzz Jacobs[17]; 18. 19-Ryan Ordway[18]; 19. 7-Jeff Geis[15]; 20.   34X-Andy Bibler[13]
Back to News