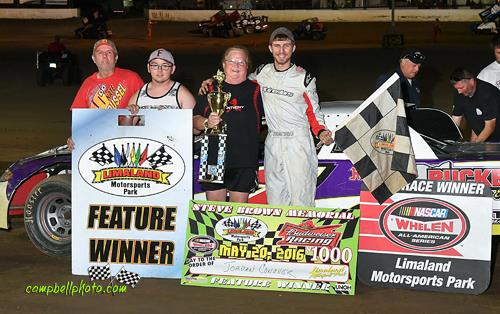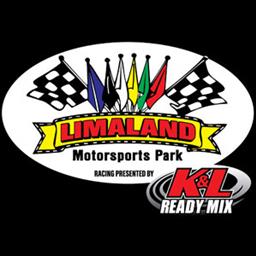 7/2/2016
Limaland Motorsports Park
---
Conover, Horstman, Koz winners on Firecracker Friday
July 1, 2016
Lima, OH
Beautiful weather and a lightning fast racetrack greeted the fans on Friday night at Limaland motorsports Park for the Independence Day weekend tradion of Firecracker Friday. All the fireworks were on the track with No. 7 Jordan Conover grabbing the win in the Bud Thunderstocks feature, No. 17 Jared Horstman winning the K&L ready Mix NRA Sprint Invaders A Main, and No.16 Jeff Koz winning the K&N Filters UMP Modified feature.
The night kicked off with the weekly McDonalds Dash for Cash sponsored by Lewis Family McDonalds. The NRA Sprint Invaders had this weeks dash, and No. 22H Randy Hannagan appeared to continue his winning ways, grabbing the $100 win in the dash followed by No. B20 Butch Schroeder, and No. 12 Nick Roberts
In feature action, the Bud Thunderstocks would start the night with the 17th Annual Steve Brown Memorial, which had been rescheduled from May 20th due to rain. No. 67 "Chili Dog" Eddie Shaner would lead the field to green, but No. 22T Tony Anderson would shoot to the lead briefly before Shaner would battle back to the point. Jordan Conover would make his way to 3rd by lap 6, and use a lap 8 slide job to get by Anderson for 2nd. On lap 13, Conover would make a power move to the lead, charging past Shaner exiting turn 2 on the high side. Shaner and Anderson would do their best to try to close on Conover, with Shaner trying a slide job on the final lap, but Conover was too much on this night, picking up the $1000 win over Shaner, Anderson, No. 00 Blake Spalding with a great 4th place run, and No.27 Frank Paladino completing the top 5.
Next up were the K&L Ready Mix NRA Sprint Invaders in their 25 lap A Main. Delphos, Ohio's Shawn Dancer would lead the field to green in the Dancer Logistics No. 49. Dancer would use the high side of the racetrack to charge to a big lead early, but lapped traffic proved to be his undoing as No. 5M "Mad" Max Stambaugh, and No.17 Jared Horstman would make their moves as the trio battled thru lapped traffic. Stambaugh made a daring move to get by Dancer on lap 18, and Horstman would use a big slide job to get by Stambaugh on lap 21 and never look back. Stambaugh would hold on for 2nd, with Dancer 3rd, Hannagan 4th, and No. 2 Kyle Sauder completing the top 5.
Rounding out the night were the K&N Filters UMP Modifieds with a wild 20 lap feature that saw No. 45P Brian Post and No. 22T tony Anderson lead the field to green. Anderson would grab the early lead, but No. 18 Randy Lines of Marion Indiana would charge to the lead on lap 2. Meanwhile, Jeff Koz began his assault on the field, closing on Post on lap 3, and then passing Anderson on lap 6. Koz would tail Lines for several laps before making his move on lap 14 with a slide job in turns 1 and 2. Lines crossed over and battled back until caution flew for debris on lap 18. On the restart, Lines took one more shot at Koz, firing a big slider in turns 3 and 4, but Koz was able to crossover, regain the lead and cruise to victory over Lines, Post, Anderson and No. 3W Dylan Woodling.
Limaland is idle next Friday July 8th, but will be back in action on Friday July 15th for the "K&L Ready Mix Open Wheel Clash" featuring the K&L Ready Mix NRA Sprint Invaders competing for a top prize of $3000. Also in action will be the F.A.S.T. 305 Sprints with a rare appearance at the Limaland bullring. The K&N Filters UMP Modifieds comlete the all open wheel card. Don't miss out on this great night of action at Limaland Motorsports Park. Check us out online at limaland.com, and on Facebook.
Limaland Motorsports Park - 7/1/2016
Lewis Family McDonalds Night
K&L Ready Mix NRA Sprint Invaders
Heat 1 - (8 Laps - All Transfer)
10J-Jarrod Delong; 2. 5M-Max Stambaugh; 3. 57-Mike Dunlap; 4. 22H-Randy Hannagan; 5. 23-Devon Dobie; 6. 5W-Jeff Williams; 7. 23M-Jack Miller
Heat 2 - (8 Laps - All Transfer)
49-Shawn Dancer; 2. 17-Jared Horstman; 3. 33M-Matt Westfall; 4. 35R-Ron Blair; 5. 6S-Jr Stewart; 6. 22R-Kevin Roberts Jr; 7. 12-Nick Roberts
Heat 3 - (8 Laps - All Transfer)
11-Tim Allison; 2. 2-Kyle Sauder; 3. 30-Hud Horton; 4. B20-Butch Schroeder; 5. 6-Sean Hosey; 6. 27K-Brad Wickham
A-Main - (25 Laps) [#]-Starting Position
17-Jared Horstman[5]; 2. 5M-Max Stambaugh[4]; 3. 49-Shawn Dancer[1]; 4. 22H-Randy Hannagan[10]; 5. 2-Kyle Sauder[6]; 6. 11-Tim Allison[3]; 7. 35R-Ron Blair[11]; 8. 30-Hud Horton[9]; 9. 57-Mike Dunlap[7]; 10. 6S-Jr Stewart[14]; 11. B20-Butch Schroeder[12]; 12. 10J-Jarrod Delong[2]; 13. 33M-Matt Westfall[8]; 14. 6-Sean Hosey[15]; 15. 23-Devon Dobie[13]; 16. 22R-Kevin Roberts Jr[17]; 17. 5W-Jeff Williams[16]; 18. 23M-Jack Miller[19]; 19. 12-Nick Roberts[20]; 20. 27K-Brad Wickham[18]
Bud Thunderstocks
Qualifying -
17-Jeremy Creech, 15.53; 2. 22T-Tony Anderson, 15.56; 3. 27-Frank Paladino, 15.70; 4. 7-Jordon Conover, 15.82; 5. 17J-Jarrod Klay, 15.88; 6. 67-Eddie Shaner, 15.90; 7. 82-Chris Douglas, 16.01; 8. OO-Blake Spalding, 16.08; 9. 1J-Jason Jimison, 16.10; 10. 26-Justin Long, 16.11; 11. 17H-Todd Harvey, 16.12; 12. 1-Justin Hamilton, 16.15; 13. 89-Keith Shockency, 16.25; 14. 19-Bill Reimund, 16.27; 15. 11-Shayne Meadows, 16.32; 16. 54-Dan Wooten, 16.56; 17. 2-Matt Gaughan, 16.64; 18. O9-Dane Arvin, 16.82; 19. 21H-Brad Conover, 16.87; 20. 1W-Mark Wooten, 17.09; 21. 22X-R.K. Smith, 17.69; 22. T18-Thomas Foust, No Time
Heat 1 - (8 Laps - All Transfer)
26-Justin Long; 2. 17-Jeremy Creech; 3. 7-Jordon Conover; 4. 82-Chris Douglas; 5. 89-Keith Shockency; 6. 21H-Brad Conover; 7. 54-Dan Wooten; 8. T18-Thomas Foust
Heat 2 - (8 Laps - All Transfer)
22T-Tony Anderson; 2. OO-Blake Spalding; 3. 17J-Jarrod Klay; 4. 19-Bill Reimund; 5. 2-Matt Gaughan; 6. 1W-Mark Wooten; 7. 17H-Todd Harvey
Heat 3 - (8 Laps - All Transfer)
1J-Jason Jimison; 2. 67-Eddie Shaner; 3. 27-Frank Paladino; 4. 11-Shayne Meadows; 5. 1-Justin Hamilton; 6. O9-Dane Arvin; 7. 22X-R.K. Smith
A-Main - (15 Laps) [#]-Starting Position
7-Jordan Conover[8]; 2. 67-Eddie Shaner[1]; 3. 22T-Tony Anderson[3]; 4. OO-Blake Spalding[2]; 5. 27-Frank Paladino[7]; 6. 11-Shayne Meadows[15]; 7. O9-Dane Arvin[18]; 8. 1-Justin Hamilton[12]; 9. 89-Keith Shockency[13]; 10. 21H-Brad Conover[19]; 11. 26-Justin Long[4]; 12. 19-Bill Reimund[14]; 13. 1J-Jason Jimison[5]; 14. 2-Matt Gaughan[17]; 15. 82-Chris Douglas[10]; 16. 17J-Jarrod Klay[9]; 17. 17-Jeremy Creech[6]; 18. 54-Dan Wooten[16]; 19. T18-Thomas Foust[22]; 20. 22X-R.K. Smith[21]
K&N Filters UMP Modifieds
Heat 1 - (8 Laps - Top 4 Transfer)
3W-Dylan Woodling; 2. 22T-Tony Anderson; 3. 36-Brandon Vaughon; 4. L5-Casey Luedeke; 5. 20K-Bill Keeler; 6. 61-Jon Horner; 7. 53-Brad Johnson; 8. 31M-Ed Minnich; 9. 16W-Steven Hogue
Heat 2 - (8 Laps - Top 4 Transfer)
O1-Jared Spalding; 2. 45P-Brian Post; 3. 10B-Scott Bowersock; 4. 18S-Ryan Sutter; 5. 22L-Bill Lewis; 6. 16K-Randy Shilling; 7. T5X-Doug Hewitt Jr; 8. 17R-Nick Rosselit
Heat 3 - (8 Laps - Top 4 Transfer)
18-Randy Lines; 2. ZERO-Brent Hole; 3. 21F-Hillard W. Miller; 4. 58P-Jim Post; 5. 92-Corey Shaffer; 6. 12B-Kelly Bowlby; 7. 11H-Mike Hoblein; 8. 97A-Rodney Hurst
Heat 4 - (8 Laps - Top 4 Transfer)
16-Jeff Koz; 2. 17T-Mike Tarlton; 3. 34X-Andy Bibler; 4. 18N-Derrick Noffsinger; 5. 4-Mike Learman; 6. 1-Will Norris; 7. 65-Todd Sherman; 8. 4G-Bill Griffith
B-Main #1 - (8 Laps - Top 2 Transfer)
20K-Bill Keeler; 2. 17R-Nick Rosselit; 3. 16W-Steven Hogue; 4. T5X-Doug Hewitt Jr; 5. 16K-Randy Shilling; 6. 53-Brad Johnson; 7. 22L-Bill Lewis; 8. 31M-Ed Minnich; 9. 61-Jon Horner
B-Main #2 - (8 Laps - Top 2 Transfer)
65-Todd Sherman; 2. 11H-Mike Hoblein; 3. 4-Mike Learman; 4. 1-Will Norris; 5. 4G-Bill Griffith; 6. 97A-Rodney Hurst; 7. 92-Corey Shaffer; 8. 12B-Kelly Bowlby
A-Main - (20 Laps) [#]-Starting Position
16-Jeff Koz[3]; 2. 18-Randy Lines[4]; 3. 45P-Brian Post[1]; 4. 22T-Tony Anderson[2]; 5. 3W-Dylan Woodling[6]; 6. 17T-Mike Tarlton[8]; 7. 36-Brandon Vaughon[9]; 8. ZERO-Brent Hole[7]; 9. 65-Todd Sherman[18]; 10. 10B-Scott Bowersock[10]; 11. 21F-Hillard W. Miller[11]; 12. 18S-Ryan Sutter[14]; 13. 11H-Mike Hoblein[20]; 14. O1-Jared Spalding[5]; 15. 20K-Bill Keeler[17]; 16. 18N-Derrick Noffsinger[16]; 17. L5-Casey Luedeke[13]; 18. 17R-Nick Rosselit[19]; 19. 34X-Andy Bibler[12]; 20. 58P-Jim Post[15]
Back to News