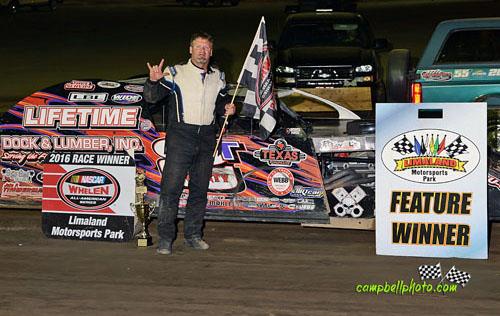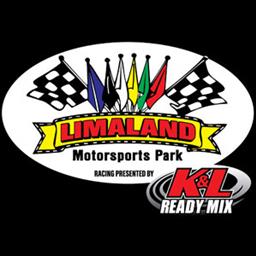 6/4/2016
Limaland Motorsports Park
---
Anderson doubles up on Four Banger Friday at Limaland.
Lima OH
06/03/2016
Warm and dry weather greeted a great crowd at Limaland Motorsports Park on Friday night to take in the first of 2 Four Banger Fridays at the 1/4 mile bullring, as St Rita's health System presented the event featuring 4 classes of racing action. Tony Anderson of Lima, Ohio would win features in both the K&N Modifieds and Bud Thunderstocks, while Devon Dobie woud get his first Limaland feature win in the K&L Ready Mix NRA Sprint Invaders A Main, and Mike Hicks would win the Tuff Truck feature.
Racing action commenced with the McDonald's Dash for Cash, featuring the K&L Ready Mix Sprint Invaders. Delphos, Ohio's Shawn Dancer would win the winner take all 5 lap dash in the Dancer Logistics sponsore No. 49, followed by No. 23 Devon Dobie, #11 Tim Allison, and #30 Hud Horton.
Starting off feature action were the K&N Filters UMP Modifieds. Lima, Ohio's Mike Hohlbein in the No. 11H would lead the first couple laps of the 20 lap affair, with No. 3W Dylan Woodling, No. 18S Ryan Sutter, and No. 22T Tony Anderson in tow. Caution would wave on lap 3 for a crash involving No. 17 Michael Tarlton and No. 1 Will Norris, with Norris' night ending due to the damage. On the restart. Anderson began his assault on the lead, running side by side with Hohlbein for 5 laps before caution would wave once again, this time for No. 19B Brandon Ordway and No. P0 Brody Pompe. On the restart Anderson would be assigned the lead due to having crossed the start/finish line .002 second ahead of Hohlbein on the lap prior to the caution. That advantage would set the stage for the finish, as Anderson would win his first ever Limaland UMP Modified feature over Hohlbein, No. 65 Todd Sherman, No. 36 Brandon Vaughan, and Woodling would complete the top 5.
Next up were the K&L ready Mix NRA Sprint Invaders in their 25 lap A Main. Wapak, Ohio's Devon Dobie would take the early lead in the Ferris Commercial Mowers #23 over No. 30 Hud Horton, No. 6S JR Stewart, and #17 Jared Horstman. By Lap 6, Stewart had fought his way to the 2nd spot and began to set his sights on Dobie. On lap 12, Stewart would attempt to make his move on Dobie on the bottom of turn 3, but the pair would make contact and spin, but Dobie was able to stay in the throttle and keep his car moving as Stewart would come to a stop, bringing out a caution flag. As the race resumed, Horstman would begin to close on Dobie, making his way past Horton and going for his 4th win of 2016, but Dobie would hold off Horstman thru traffic to grab his first ever Limaland NRA victory over Horstman, No. B20 Butch Schroeder, Horton, and Stewart would complete the top 5 afgter battling back from the tail after the lap 12 spin.
The Bud Thunderstocks were third on the docket, with No. 89 Keith Shockency, and No. 1J Jason Jimison leading the field to green. No. 22T Tony Anderson would waste no time going to the front from his starting spot inside row 2 and would never look back. No. 82 Chris Douglas would thread his way to 2nd and moved all over the track trying to find a line to gain on Anderson. Meanwhile further back, Forest Ohio's Brad Conover returned to take the wheel of the No. 21H Nightmare Chassis car, but reliable sources stated that this was a one time deal, and Brad plans to return to semi-retirement, at least for the time being. In the end, Anderson would win by half a straightaway over Douglas, followed by No. 7 Jordan Conover, No. 67 Eddie Shaner, and No. 09 Dane Arvin would round out the top five.
Wrapping up the nights action were the 4 Cylinder Tuff Trucks, sponsored by Ulms Inc. No. 51 Erik "Squirrel" Wolleson, and No. 33 Mike Hicks would lead the field to the green flag. Mike would jump out to the early lead with Wolleson left to battle with No. 71 Chris Hicks for 2nd. Chris would make his way past and set his sights on his brother Mike. Chris would close to within a truck length while making their way thru lapped traffic, which included rookie Dave Pinks, in the Hertz Car Rental, 15th Annual Keysor Memorial tribute No. RK-1 truck. Mike would hold off Chris in the end, with Wolleson coming home 3rd, No. 20K Bill Keeler 4th, and No. 17D Chris Anderson completing the top 5.
Limaland Motorsports Park roars back to life next Friday June 11th, as Stolly Insurance Group presents the 15th Annual Keysor Memorial, with special guest Kenny Wallace. The Bud Thunderstocks will compete for a top prize of $1000 in an event honoring the memory of 1990 Limaland Stock Car Champion Bobby Keysor, and his Father, long time competitor and multiple time winner at Limaland, Bill Keysor. Also in action will be the Rick's Truck and Equipment Buckeye Outlaw Sprint Series. It will be the only chance to see the Non Wing sprint cars at Limaland in 2016! The K&N Filters Modifieds will be in action along with special guest, NASCAR superstar Kenny Wallace. Visit limaland.com for full details on this and all events at Limaland Motorsport Park.
Limaland Motorsports Park - 6/3/2016
St. Rita's Health Partners Night
K&N UMP Modifieds
Heat 1 - (4 Laps - Top 5 Transfer)
65-Todd Sherman; 2. 18S-Ryan Sutter; 3. 17N-Dillon Nusbaum; 4. O1-Jared Spalding; 5. 1-Will Norris; 6. 92-Corey Shaffer; 7. PO-Brody Pompe; 8. 4G-Bill Griffith; 9. 7-Jeff Geis
Heat 2 - (4 Laps - Top 5 Transfer)
36-Brandon Vaughon; 2. 3W-Dylan Woodling; 3. 10L-Nathon Loney; 4. 4-Mike Learman; 5. 96-Pete Wormcastle; 6. 22L-Bill Lewis; 7. 17T-Mike Tarlton; 8. 41-Jason Mccoy
Heat 3 - (4 Laps - Top 5 Transfer)
22T-Tony Anderson; 2. 11H-Mike Hoblein; 3. 20K-Bill Keeler; 4. 12B-Kelly Bowlby; 5. 19B-Brandon Ordway; 6. 34X-Andy Bibler; 7. 19-Ryan Ordway; 8. 16-Jeff Koz
B-Main - (8 Laps - Top 5 Transfer)
PO-Brody Pompe; 2. 17T-Mike Tarlton; 3. 4G-Bill Griffith; 4. 22L-Bill Lewis; 5. 19-Ryan Ordway; 6. 7-Jeff Geis; 7. 92-Corey Shaffer; 8. 34X-Andy Bibler; 9. 41-Jason Mccoy; 10. 16-Jeff Koz
A-Main - (20 Laps) [#]-Starting Position
22T-Tony Anderson[4]; 2. 11H-Mike Hoblein[1]; 3. 65-Todd Sherman[6]; 4. 36-Brandon Vaughon[5]; 5. 3W-Dylan Woodling[2]; 6. 18S-Ryan Sutter[3]; 7. 12B-Kelly Bowlby[12]; 8. 10L-Nathon Loney[8]; 9. 17N-Dillon Nusbaum[7]; 10. 96-Pete Wormcastle[14]; 11. PO-Brody Pompe[16]; 12. 17T-Mike Tarlton[17]; 13. 20K-Bill Keeler[9]; 14. 19-Ryan Ordway[20]; 15. 4G-Bill Griffith[18]; 16. 4-Mike Learman[11]; 17. O1-Jared Spalding[10]; 18. 19B-Brandon Ordway[15]; 19. 22L-Bill Lewis[19]; 20. 1-Will Norris[13]
K&L Ready Mix NRA Sprints
Heat 1 - (8 Laps - Top 7 Transfer)
17-Jared Horstman; 2. 30-Hud Horton; 3. 11-Tim Allison; 4. 10J-Jarrod Delong; 5. 5W-Jeff Williams; 6. 15-Brandon Ferguson; 7. 57-Mike Dunlap
Heat 2 - (8 Laps - Top 7 Transfer)
6S-Jr Stewart; 2. 22R-Kevin Roberts Jr; 3. B20-Butch Schroeder; 4. 35R-Ron Blair; 5. 27K-Ben Rutan; 6. 12-Nick Roberts
Heat 3 - (8 Laps - Top 7 Transfer)
23-Devon Dobie; 2. 49-Shawn Dancer; 3. 6-Sean Hosey; 4. 23J-Zane Devault; 5. 7-Joe Swanson; 6. 5M-Max Stambaugh
A-Main - (25 Laps) [#]-Starting Position
23-Devon Dobie[2]; 2. 17-Jared Horstman[4]; 3. B20-Butch Schroeder[8]; 4. 30-Hud Horton[1]; 5. 6S-Jr Stewart[3]; 6. 5M-Max Stambaugh[18]; 7. 35R-Ron Blair[11]; 8. 11-Tim Allison[7]; 9. 22R-Kevin Roberts Jr[5]; 10. 6-Sean Hosey[9]; 11. 57-Mike Dunlap[19]; 12. 5W-Jeff Williams[13]; 13. 23J-Zane Devault[12]; 14. 10J-Jarrod Delong[10]; 15. 7-Joe Swanson[15]; 16. 12-Nick Roberts[17]; 17. 15-Brandon Ferguson[16]; 18. 49-Shawn Dancer[6]; 19. 27K-Ben Rutan[14]
Bud Thunderstocks
Heat 1 - (8 Laps - Top 8 Transfer)
82-Chris Douglas; 2. 22T-Tony Anderson; 3. OOP-Dean Pitts; 4. 19-Bill Reimund; 5. 67-Eddie Shaner; 6. OO-Daniel Sanchez; 7. 1-Justin Hamilton; 8. 21-Brad Conover
Heat 2 - (8 Laps - Top 8 Transfer)
17J-Jarrod Klay; 2. 1J-Jason Jimison; 3. 69-Rob Trent; 4. 32-Scott Boyd Jr.; 5. 54-Dan Wooten; 6. O1-Dalton Bayer; 7. 1W-Mark Wooten
Heat 3 - (8 Laps - Top 8 Transfer)
7-Jordon Conover; 2. 89-Keith Shockency; 3. 27-Frank Paladino; 4. O9-Dane Arvin; 5. 2-Blake Spalding; 6. 23-Casey Barr; 7. 26-Justin Long
A-Main - (15 Laps) [#]-Starting Position
22T-Tony Anderson[3]; 2. 82-Chris Douglas[6]; 3. 7-Jordon Conover[4]; 4. 67-Eddie Shaner[13]; 5. O9-Dane Arvin[12]; 6. OO-Daniel Sanchez[16]; 7. 1J-Jason Jimison[2]; 8. 23-Casey Barr[18]; 9. 27-Frank Paladino[9]; 10. 2-Blake Spalding[15]; 11. 26-Justin Long[21]; 12. 21-Brad Conover[22]; 13. OOP-Dean Pitts[7]; 14. 32-Scott Boyd Jr.[11]; 15. 17J-Jarrod Klay[5]; 16. 89-Keith Shockency[1]; 17. 19-Bill Reimund[10]; 18. 1W-Mark Wooten[20]; 19. 54-Dan Wooten[14]; 20. 69-Rob Trent[8]; 21. 1-Justin Hamilton[19]; 22. O1-Dalton Bayer[17]
Tuff Trucks
Heat 1 - (8 Laps - Top 7 Transfer)
33-Mike Hicks; 2. 17D-Chris Anderson; 3. 37J-Roy Miller; 4. 82J-Andy King; 5. 17H-Kelcey Helmig; 6. 11-Tony Boneta; 7. 22-Aaron Myers
Heat 2 - (8 Laps - Top 7 Transfer)
51-Eric Wolleson; 2. 20K-Bill Keeler; 3. 316-Ben Hower; 4. 67-Kyle Fieldo; 5. 24F-Frankie White; 6. O1H-Randy Hamp; 7. RK1-David Pinks
Heat 3 - (8 Laps - Top 7 Transfer)
71-Chris Hicks; 2. 24C-Neal Carter; 3. 1W-Matt Twinng; 4. O-John Sanford; 5. OH-Derrick Hole; 6. O8-Jay Roop; 7. 87-Frank Paladino
A-Main - (15 Laps) [#]-Starting Position
33-Mike Hicks[2]; 2. 71-Chris Hicks[3]; 3. 51-Erik Wolleson[1]; 4. 20K-Bill Keeler[5]; 5. 17D-Chris Anderson[4]; 6. 37J-Roy Miller[7]; 7. 316-Ben Hower[8]; 8. 24C-Neal Carter[6]; 9. 1W-Matt Twinng[9]; 10. 24F-Frankie White[14]; 11. 17H-Kelcey Helmig[13]; 12. O-John Sanford[12]; 13. O1H-Randy Hamp[17]; 14. RK1-David Pinks[20]; 15. 11-Tony Boneta[16]; 16. 82J-Andy King[10]; 17. 67-Kyle Fieldo[11]; 18. 22-Aaron Myers[19]; 19. OH-Derrick Hole[15]; 20. O8-Jay Roop[18]; 21. 87-Frank Paladino[21]
Back to News