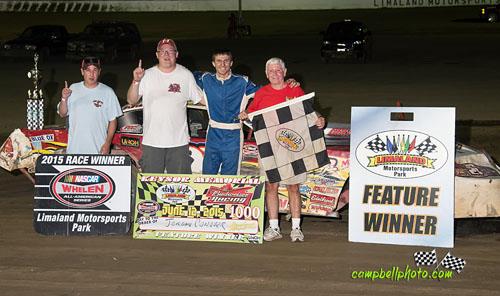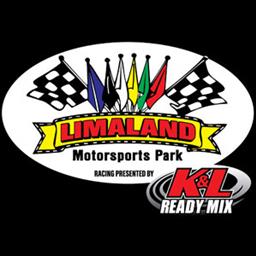 8/1/2015
Limaland Motorsports Park
---
Conover Captures Keysor Memorial for Stocks
(7/31/15) – For the second consecutive week a moist gripping racing surface greeted competitors and it produced a thrilling night of action for the usual large crowd gathered at Limaland Motorsports Park.
The 14th Annual Keysor Memorial race with the Budweiser Thunderstocks started the evening and from the drop of the green flag it was evident that the track would allow for excellent handling with the cars. Chris Douglas took his outside front row starting position to the front, although he, Barney Craig and Jordon Conover all were dueling in search of a preferred racing line.
The veteran Craig seemed to be the first to settle on a high side racing groove with Conover and Shawn Valenti following close behind. Following a restart on lap number 10 of the 18-lap feature, Conover took over the lead with a powerful pass on the inside of Craig. Craig and Valenti were in hot pursuit for the remainder of the race including a two-lap green/white/checkered shootout at the end. The youthful Conover held on for his second win of the season and first ever Keysor Memorial triumph.
"The cushion was a little rough, but to be here (winner's circle) with the Keysor Family is just great," said Conover afterward. Point's leader Tony Anderson finished eleventh in a loaner car after he was involved in a rollover incident in an earlier heat race. Point's runner-up Shawn Valenti finished third behind Craig.
When the K & N UMP Modifieds took to the track for their 20-lap feature, the anticipation for a real battle was strong as point's leader Jeff Koz started on the pole, but defending champion Todd Sherman was close behind starting from the third row. Koz roared to the front and used the high line around the ¼-mile oval. At the event mid-point Sherman and Scott Bowersock followed behind Koz.
The veteran Sherman wasn't able to get around Koz at the top of the track so he began to work on the inside and drove with abandon through turns three and four. "I don't like to drive that aggressive but Jeff (Koz) is a great driver," said Sherman. "He kept crossing me up driving back behind after I would get around, but that's how good he is."
Following a restart on lap 13, Sherman and Koz produced some thrilling back and forth action that put the fans on the edge of their seats. Sherman finally made a pass for the lead stick on lap seventeen and held on to grab his fourth win of the season. "I think the crowd surely loved it as it was some great racing from my vantage point," declared the Indiana based veteran standing next to his banged up #65 Modified.
The usual headliner NRA Sprint cars would have a tough act to follow for their 25-lap tussle, but veteran Jared Horstman and Kyle Sauder put on a memorable performance with an emotional backdrop.
Horstman was sporting an unusual #65 on his familiar orange colored machine, as he was honoring the memory of his late friend and neighbor Drew Altenburger, who lost his life a year ago in an off-road motoring accident. A large contingent of supporters gathered for the event and they were not disappointed.
Horstman earned the pole starting position and took full advantage as he rocketed to the front at the start and appeared headed for a flag-to-flag conquest. Eventually, dominant front runners like Horstman have to face the challenge of getting through lapped traffic by around mid-race. Archbold's Kyle Sauder was able to get around Horstman briefly on lap number thirteen, but the #65 machine was fast and furious and not willing to relinquish the lead for long.
Both of the Hammons Motorsports entries, point's leader Max Stambaugh and defending track champion J.R. Stewart were in the hunt for a high finish and did ultimately follow Horstman across the finish line to fill out the podium.
The orange clad t-shirt fans of Horstman roared their approval as he spoke following his second win of the season. "Green to checker felt really good, and I knew Kyle (Sauder) was gonna be tough. I just stayed up top and got the lead back. This one is for Drew (Altenburger) and I know he was with us. He was a great neighbor who loved to race dirt bikes. This one is for him!"
The visiting Tuff Trucks made their annual appearance at the track to finish the evening's program and veteran Mike Hicks proved unstoppable for the 19-truck field through the 15-lap event. Hicks, starting on the inside of row number two, took the lead following a lap three restart and never looked back in securing the coveted win.
"Limaland had a nice track tonight with some moisture in it," said Hicks. "It made a bad driver look good. We love to come here as it's like our Daytona/Talladega event. This one is for Gerry Keysor, who made his debut tonight."
Limaland Motorsports Park returns to action on Friday, August 7, with the 18th Annual Limaland Season Points Championships featuring the K & L Ready Mix NRA Sprint Invaders, K & M UMP Modifieds and the Budweiser Thunderstocks. Gates open at 5:00 p.m. with hot laps at 6:30 p.m. Racing begins promptly at 7:30 p.m.
All the latest news and information about America's premier quarter-mile dirt track can be found at www.limaland.com.
Limaland Motorsports Park - 7/31/2015
Homeland Tech Group Night
McDonald's Dash – Sprints (5 Laps)
22R-Nick Roberts; 2. 57-Mike Dunlap;
12J-Tyler Moore; 4. 8J-Jess Stiger;
Bud Thunderstocks
Heat 1 - (8 Laps - Top 8 Transfer)
21H-Jordon Conover; 2. OOP-Dean Pitts; 3. 82-Chris Douglas;
52G-Stacey Gazarek; 5. 1J-Jj Butler; 6. 22T-Tony Anderson;
71R-Keith Ralston; 8. 17J-Jarrod Klay
Heat 2 - (8 Laps - Top 8 Transfer)
7B-Shawn Valenti; 2. 48-Tim Cole; 3. 71-Barney Craig;
89-Keith Schockery; 5. O1-Trevor Monk; 6. 11-Jared Spalding;
53-Shane Aeschliman
Heat 3 - (8 Laps - Top 8 Transfer)
99-Andy King; 2. 19-Bill Reimund; 3. OO-Paul Norris; 4. 27-Frank Paladino;
2-Shayne Meadows; 6. 26-Justin Long; 7. OOM-Bryan Martin
A-Main - (15 Laps) [#]-Starting Position
21H-Jordon Conover[8]; 2. 71-Barney Craig[1]; 3. 7B-Shawn Valenti[7];
27-Frank Paladino[12]; 5. 82-Chris Douglas[2]; 6. 11-Jared Spalding[17];
2-Shayne Meadows[15]; 8. OO-Paul Norris[9]; 9. 89-Keith Schockery[11];
17J-Jarrod Klay[22]; 11. 26-Tony Anderson[18]; 12. 1J-Jj Butler[13];
OOP-Dean Pitts[5]; 14. O1-Trevor Monk[14]; 15. 19-Bill Reimund[3];
52G-Stacey Gazarek[10]; 17. 48-Tim Cole[4]; 18. 71R-Keith Ralston[19];
53-Shane Aeschliman[20]; 20. OOM-Bryan Martin[21]; 21. 99-Andy King[6]
K&N UMP Modifieds
Heat 1 - (8 Laps - Top 5 Transfer)
22T-Tony Anderson; 2. L5-Casey Luedeke; 3. 4-Jason Kinney;
46-Andy Bibler; 5. 9V-Shawn Valenti; 6. 27H-Tom Hagberg;
17T-Michael Tarlton; 8. 50-Buzz Jacobs; 9. 57-Tyler Fitzpatrick
Heat 2 - (8 Laps - Top 5 Transfer)
65-Todd Sherman; 2. 10-Scott Bowersock; 3. 34X-Brandon Vaughan;
24-Zeke Mckenzie; 5. 71-Joel Ortberg; 6. 18N-Derrick Noffsinger;
30-Jon Raney; 8. 22TL-Bill Lewis; 9. 88-Tod Sturgeon
Heat 3 - (8 Laps - Top 5 Transfer)
20K-Bill Keeler; 2. 16-Jeff Koz; 3. 28-Chad Rosenbeck;
1X-Jerry Bowerscok; 5. 11H-Mike Hohlbein; 6. 17-Nick Rosselit;
41-Jason Mccoy; 8. 71H-Chris Hicks; 9. 1-Andy Galgoci
B-Main - (8 Laps - Top 5 Transfer)
18N-Derrick Noffsinger; 2. 1-Andy Galgoci; 3. 22TL-Bill Lewis;
30-Jon Raney; 5. 50-Buzz Jacobs; 6. 17T-Michael Tarlton;
57-Tyler Fitzpatrick; 8. 41-Jason Mccoy; 9. 17-Nick Rosselit
88-Tod Sturgeon; 11. 27H-Tom Hagberg; 12. 71H-Chris Hicks
A-Main - (20 Laps) [#]-Starting Position
65-Todd Sherman[5]; 2. 16-Jeff Koz[1]; 3. 10-Scott Bowersock[2];
4-Jason Kinney[7]; 5. 71-Joel Ortberg[14]; 6. 9V-Shawn Valenti[13];
28-Chad Rosenbeck[9]; 8. L5-Casey Luedeke[3]; 9. 22T-Tony Anderson[6]; 10. 1X-Jerry Bowerscok[12]; 11. 18N-Derrick Noffsinger[16];
11H-Mike Hohlbein[15]; 13. 22TL-Bill Lewis[18]; 14. 30-Jon Raney[19];
20K-Bill Keeler[4]; 16. 46-Andy Bibler[10]; 17. 1-Andy Galgoci[17];
24-Zeke Mckenzie[11]; 19. 50-Buzz Jacobs[20];
34X-Brandon Vaughan[8]
K&L Ready Mix NRA Sprints
Heat 1 - (8 Laps - Top 8 Transfer)
83-Kyle Sauder; 2. 6S-Jr Stewart; 3. 6M-Max Stambaugh;
23-Devon Dobie; 5. 57-Mike Dunlap; 6. 17H-Hud Horton;
15-Brandon Fergusonj
Heat 2 - (8 Laps - Top 8 Transfer)
65-Jared Horstman; 2. 31N-Rod Henning; 3. 49-Shawn Dancer;
22R-Kevin Roberts; 5. 12J-Tyler Moore
Heat 3 - (8 Laps - Top 8 Transfer)
10-Mitch Brown; 2. 11-Tim Allison; 3. 28H-Phil Gressman;
10J-Jarrod Delong; 5. 5W-Jeff Williams; 6. 12R-Nick Roberts
A-Main - (25 Laps) [#]-Starting Position
65-Jared Horstman[1]; 2. 6M-Max Stambaugh[7]; 3. 6S-Jr Stewart[4];
83-Kyle Sauder[2]; 5. 10-Mitch Brown[3]; 6. 23-Devon Dobie[10];
49-Shawn Dancer[8]; 8. 11-Tim Allison[6]; 9. 31N-Rod Henning[5];
28H-Phil Gressman[9]; 11. 57-Mike Dunlap[13]; 12. 10J-Jarrod Delong[12]; 13. 17H-Hud Horton[16]; 14. 12J-Tyler Moore[14]; 15. 22R-Kevin Roberts[11]; 16. 15-Brandon Fergusonj[18]; 17. 5W-Jeff Williams[15];
12R-Nick Roberts[17]
Trucks
Heat 1 – (8 Laps – Top 7 Transfer)
23-Ken Osborne; 2. 25G-Gabe Twining; 3. 71-Chris Hicks;
67-Kyle Fields; 5. 01H-Randy Hamp; 6. RK1-Gerry Keysor
20K-Bill Keeler
Heat 2 – (8 Laps – Top 6 Transfer)
33-mike Hicks; 2. 1W-Matt Twining; 3. 37j-Roy Miller;
9X-Mike Grigsby; 5. 8-Robbie Tuttle; 6. 00-Brent Boehm
Heat 3 – (8 Laps – Top 6 Transfer0
0-John Sanford; 2. 82-Kevin Knittle; 3. 316-Ben Hower;
711-Dallas Geckle; 5. 08-Jay Roop; 6. 82J-Andy King;
A-Main – (15 Laps) [#]-Starting Position
33-Mike Hicks[3]; 2. 71-Chris Hicks[7]; 3. 25G-Gabe Twining[1];
37J-Roy Miller[8]; 5. 82-Kevin Knittle[6]; 6. 0-John Sanford[2];
67-Kyle Fields[10]; 8. 01H-Randy Hamp[13]; 9. 711-Dallas Geckle[12];
08-Jay Roop[15]; 11. 82J-Andy King[18]; 12. 9X-Mike Grigsby[11];
316-Ben Hower[9]; 14. 00-Brent Boehm[17]; 15. 8-Robbie Tuttle[14];
23-Ken Osborne[4];
Back to News