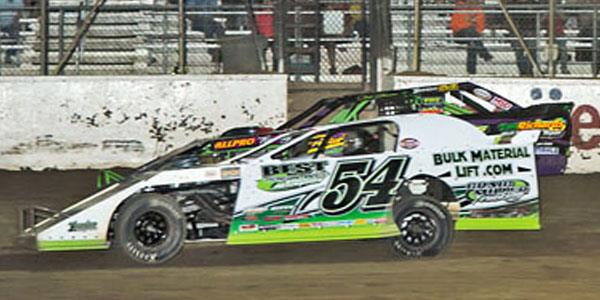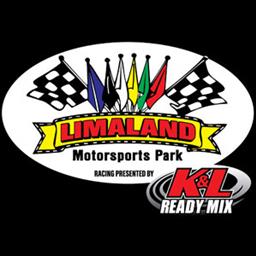 7/18/2014
Limaland Motorsports Park
---
Westfall edges Sherman at the line in Modifieds
(7/18/14) – When weather conditions have been slightly cooler and overcast, it usually serves to create a gripping fast racing surface on a high-banked quarter mile dirt track like Limaland Motorsports Park. Often with a faster track the racing action itself can produce very close competition and on this night it allowed Matt Westfall to edge Todd Sherman at the finish line by a nose. It was a race that saw Westfall trail Sherman by a car length or more with just half a lap remaining in the 20-lap Reineke Modified feature.
Pole starter Brandon Vaughan of Spencerville, Ohio, led the opening couple of laps including a restart on lap number three following an early race caution period. Wapakoneta, Ohio, driver Jerry Bowersock took the lead from Vaughan by lap number four and he held the front running position until a hard charging Todd Sherman stormed past Bowersock for the lead at the event midpoint.
Sherman, the point's leader and defending track champion, was on a tear and decided to take a high line around the track through most of the race. Although unusual for Sherman, he appeared comfortable riding the cushion at the top and was cruising to an apparent third win of the season until a yellow flag came out on lap number sixteen.
Matt Westfall, second in the Modififed point's chase behind Sherman, was in the runner-up position when the green flag came out for the final four circuits. Sherman quickly expanded his margin over Westfall and seemed a certain winner. As the white flag was unfurled for the final lap, Sherman moved to bottom of the track in what seemed like a cautionary move to protect the lead and cruise to the checkers.
Westfall stayed heavy on the gas while storming around the top of the track and coming from the outside off of turn number four, dove to the inside with momentum and somehow edged Sherman at the finish line for the dramatic conquest. "Early in the race I was stuck on the bottom and I was too tight," said Westfall of Pleasant Hill, Ohio. "I went up top, got a little bit of an opening, thought I could maybe slide across and get him (Sherman) and I guess I did. It was darn close!" It was Matt Westfall's second win of the 2014 season.
The K & L Ready Mix NRA Sprint Invaders 25-lap feature was dominated by Benton Ridge, Ohio veteran Greg Wilson. He has won four NRA main events this summer and on this night put on a masterful performance. Wilson was adept at maneuvering around slower cars as he sliced and diced using all off the race track to complete a flag-to-flag caution free journey.
"We got a little lucky with the inversion (outside front row starting position)," admitted Wilson in the winner's circle. "We weren't all that stout, but were good enough to win. I felt Kody (Swanson) in the #12 getting after me a little bit."
The Budweiser Thunderstock 15-lap feature turned quickly into a battle between Tim Cole and Tony Anderson. Cole of Findlay, Ohio, and the veteran Anderson were engaged in a thrilling side-by-side encounter. Cole held the lead until lap number nine and although Anderson moved to the front, at that point Lima's Jeff Koz had joined the fray to make it a spectacular three-car tussle at the front of the field.
Anderson, the point's leader and defending track champion, did not surrender the lead through the final five laps and held off the two challengers to capture the win. It was his second of the season and 32nd of his career at Limaland Motorsports Park. "This track tonight is hammer down fast," exclaimed an excited Anderson. "I'm a little old to be on a track like this. I like it better when it's dry and slick and you slow down a bit. Tonight was my 201st feature win in six different classes through my racing career. I've been blessed to be able to do this for 21 years."
Limaland Motorsports Park returns to action on Friday, July 25, for the Fricke Memorial Thunderstock Select with the Budweiser Thunderstocks. The Elwer Fence Sprints and Reineke Modifieds will also battle on the famed ¼ mile oval. Gates open at 5:00 p.m. with hot laps beginning at 6:30 p.m. Racing begins promptly at 7:30 p.m.
All the latest news and information can be found at www.limaland.com. You can also find 2014 Limaland Motorsports Park on Facebook and Twitter.
Limaland Motorsports Park – 7/18/2014
McDonalds Dash for Cash
Modifieds (5 Laps)
71-Joel Ortberg 2. L5-Casey Luedeke
40-Terry Hull 4. 54-Matt Westfall
Bud Thunderstocks
Heat 1 – (4 Laps – Top 8 Transfer)
OOP-Dean Pitts; 2. 82-Chris Douglas; 3. 71R-Keith Ralston;
1V-Shawn Valenti; 5. 89-Keith Shockency; 6. 26-Justin Long
OO-Kaylynn Simmons; 8. 9-Dave Keysor
Heat 2 – (4 Laps – Top 8 Transfer)
16-Jeff Koz; 2. 2-Charlie Sanborn; 3. 53-Jan Launders
32-Scott Boyd; 5. 1-Amanda Conroy; 6. 1X-Todd Sanders
99-Andy King; 8. 1J-Jj Butler
Heat 3 – (4 Laps – Top 8 Transfer)
71C-Barney Craig; 2. 22T-Tony Anderson; 3. 48-Tim Cole
27-Frank Paladino; 5. 19-Bill Reimund; 6. 7C-Jordan Conover
O1-Shane Aeschlimall
A-Main – (15 Laps) [#]-Starting Position
22T-Tony Anderson[5]; 2. 16-Jeff Koz[9]; 3. 48-Tim Cole[2]
1V-Shawn Valenti[1]; 5. 53-Jan Launders[3]; 6. 26-Justin Long[16]
89-Keith Shockency[13]; 8. 82-Chris Douglas[7]; 9. 27-Frank Paladino[12]
19-Bill Reimund[15]; 11. 7C-Jordan Conover[18]; 12. 71C-Barney Craig[8]
99-Andy King[20]; 14. O1-Shane Aeschlimall[21]; 15. 2-Charlie Sanborn[6]
32-Scott Boyd[11]; 17. 9-Dave Keysor[22]; 18. OOP-Dean Pitts[10]
1J-Jj Butler[23]
NRA Sprints
Heat 1 – (8 Laps – Top 7 Transfer)
6M-Max Stambaugh; 2. 10X-Dustin Stroup; 3. B20-Butch Schroeder
35-Ron Blair; 5. 11-Tim Allison; 6. 15-Brandon Fergueson
17-Jared Horstman
Heat 2 – (8 Laps – Top 7 Transfer)
23-Devon Dobie; 2. 12-Kody Swanson; 3. 6S-Jr Stewart
W20-Greg Wilson; 5. 28H-Hud Horton; 6. 8J-Jess Stiger
Heat 3 – (8 Laps – Top 7 Transfer)
49-Shawn Dancer; 2. 23M-Jack Miller
69-Scott Curren; 4. 27K-Ryan Kirkendall
19-Jimmy Snead; 6. 12B-Don Ryder
A-Main – (25 Laps) [#]-Starting Position
W20-Greg Wilson[2]; 2. 12-Kody Swanson[8]; 3. 6S-Jr Stewart[5]
B20-Butch Schroeder[6]; 5. 49-Shawn Dancer[10]; 6. 10X-Dustin Stroup[9]
6M-Max Stambaugh[12]; 8. 23-Devon Dobie[11]; 9. 35-Ron Blair[3]
8J-Jess Stiger[17]; 11. 28H-Hud Horton[14]; 12. 11-Tim Allison[13]
23M-Jack Miller[7]; 14. 15-Brandon Fergueson[16]; 15. 19-Jimmy Snead[15]
27K-Ryan Kirkendall[1]; 17. 69-Scott Curren[4]; 18. 12B-Don Ryder[18]
17-Jared Horstman[19]
Reineke Modifieds
Heat 1 – (8 Laps – Top 8 Transfer)
40-Terry Hull; 2. 18-Randy Lines; 3. L5-Casey Luedeke
34X-Brandon Vaughan; 5. 4-Taylor Wiles; 6. OO-Robert Rose
O7-Damen Bock; 8. 83K-Josh Kehle
Heat 2 – (8 Laps – Top 8 Transfer)
54-Matt Weswtfall; 2. 71-Joel Ortberg; 3. 5X-Jerry Bowersock
22T-Tony Anderson; 5. 23J-Jeff Koz; 6. 18N-Derrick Noffsinger
11H-Mike Hohlbein; 8. 69-Jim Farris Sr.
Heat 3 – (8 Laps – Top 8 Transfer)
65-Todd Sherman; 2. 3W-Dylan Woodling; 3. 19-Ryan Ordway
42-Bob Baldwin; 5. 91T-Adam Thrush; 6. 39-Heath Gagnon
O1-Anthony Flannery; 8. 22M-Jason Mccoy
A-Main – (20 Laps) [#]-Starting Position
54-Matt Weswtfall[9]; 2. 65-Todd Sherman[8]; 3. 34X-Brandon Vaughan[1]
5X-Jerry Bowersock[3]; 5. L5-Casey Luedeke[4]; 6. 18-Randy Lines[7]
22T-Tony Anderson[11]; 8. 3W-Dylan Woodling[5]; 9. 23J-Jeff Koz[14]
40-Terry Hull[10]; 11. 91T-Adam Thrush[15]; 12. 42-Bob Baldwin[12]
71-Joel Ortberg[6]; 14. O1-Anthony Flannery[21]; 15. 11H-Mike Hohlbein[20]
69-Jim Farris Sr.[23]; 17. OO-Robert Rose[16]; 18. 39-Heath Gagnon[18]
22M-Jason Mccoy[24]; 20. 19-Ryan Ordway[2]; 21. 4-Taylor Wiles[13]
18N-Derrick Noffsinger[17]; 23. O7-Damen Bock[19]
Back to News