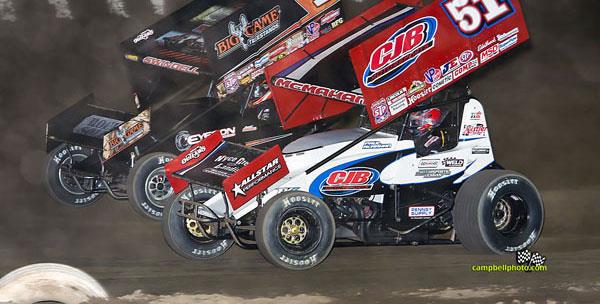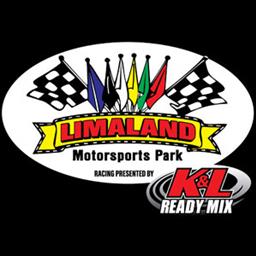 7/9/2014
Limaland Motorsports Park
---
Paul McMahan Wins Emotional Brad Doty Classic
July 9, 2014 – Paul McMahan won an emotional World of Outlaws STP Sprint Car Series victory at Limaland Motorsports Park's annual Brad Doty Classic Wednesday night after a pitched battle with three-time champion Sammy Swindell that lasted much of the 40-lap feature.
McMahan, who earlier in the night talked about what Brad Doty has meant to him as he developed as a driver and person through the years, said this win means a lot to him. 'I tell you what, it took me a little bit to collect my thoughts before I got out of this racecar because this just means the world to me,' McMahan said. 'Brad Doty, like I said, is my hero and I've come here many times and never been able to get a win. It's a normal win, but this is the Brad Doty Classic. This takes every win I've ever won away and this is right up top. 'Man, I won the Brad Doty Classic… I can't believe this, this is the greatest.'
Sammy Swindell started on the front row with Shane Stewart and dominated early. McMahan, who started in fourth, found his way around third place Kerry Madsen early and began working on Shane Stewart. The two battled in the opening laps with McMahan taking the second position by lap two. Following a caution with two laps complete, Madsen drove his American Racing Custom Wheels car around Stewart and moved into the third position.
For the next thirty laps, Swindell and McMahan battled back and forth for the lead. Swindell ran high as McMahan tried both the low line and the high line, riding the cushion until it went away midway through the race. The two even traded position on lap 12 with McMahan taking over the lead briefly.
Farther back, Daryn Pittman was working his way forward in his Great Clips car after starting in the ninth position and Donny Schatz was doing the same after he was forced to use a provisional and started in the back. By lap 25, Pittman had moved to fifth while Schatz worked his way up to the ninth position.
With less than 10 to go, McMahan got the opportunity with his CJB Motorsports car he had been looking for to get around Swindell. 'I was following Sam and I was just kind of staying with him, I wasn't getting nowhere,' McMahan said. 'So I saw some lapped cars down there that were hard to lap and I just said, what the heck, I'll give it a shot and the thing stuck and I just drove off.'
McMahan got around Swindell on the low side in the middle of turn one and two. 'I was a little nervous there at the end if I would get the lapped cars, whether I needed to be at the top or the bottom,' McMahan said. 'But I know if I would have hesitated, Sammy would have pounced on me.'
With much of his family in attendance, McMahan scored his third win of the season and the 21st win of his career. He sits just 91 points out of the championship lead in third place. Swindell fell back in the closing laps. He finished the race in seventh.
For second place finishing Madsen, this was his 22nd top-five of the year and his fifth podium finish in a row.
'Great car, we had a good run,' Madsen said. 'I felt like in the middle stages we had opportunities but the yellows would keep coming out. We had a great run. We had our chance – we didn't take advantage of it but a great second place. 'It's always an exciting race at Lima and I'm sure tonight was no different. I feel a little disappointed but we're still really, really pleased with a second place run.'
Pittman, who closed out his night in third after advancing six positions from the start, credited his team, his car and a little positive thought for the success his team has had this season. He said tonight he just did not find the right line early enough. 'Early in the race, the top was fast, I probably just didn't do a good enough job hustling the car and running it as hard as I needed to up on the fence,' Pittman said. 'Just stuck with the middle and the bottom early and that wasn't very fast and the top finally slowed down and we got going pretty good there at the end. I just need to do a better job trusting my car.'
'All and all it was a good night, you just want to win… We'll think about it and move on to Friday and hopefully we'll get a little better.'
Schatz, who finished fourth, took the KSE Hard Charger Award after advancing his STP/Armor All car 21 positions through the field.
In addition to McMahan closing the gap on Schatz, so did second place Pittman who is now just 70 points away from the five-time champion in the race for the 2014 championship.
World of Outlaws STP Sprint Car Series Statistical Report; Limaland Motorsports Park
Ohio Logistics – Racing Optics A-Main – (40 Laps) – 1. 51-Paul McMahan [4] [$10,000]; 2. 29-Kerry Madsen [3] [$5,500]; 3. 9-Daryn Pittman [9] [$3,200]; 4. 15-Donny Schatz [25] [$2,000]; 5. 3G-James McFadden [12] [$2,500]; 6. 24-Rico Abreu [5] [$2,300]; 7. 1-Sammy Swindell [1] [$2,200]; 8. 11K-Kraig Kinser [8] [$2,100]; 9. 2-Shane Stewart [2] [$2,050]; 10. 49-Brad Sweet [21] [$2,000]; 11. 11-Steve Kinser [24] [$700]; 12. 11N-Randy Hannagan [17] [$1,200]; 13. 71M-Joey Saldana [11] [$1,100]; 14. 7S-Jason Sides [20] [$1,050]; 15. 83-David Gravel [6] [$1,000]; 16. 99-Brady Bacon [23] [$900]; 17. 9W-Jac Haudenschild [18] [$800]; 18. 93-Sheldon Haudenschild [26] [$800]; 19. 14K-Dale Blaney [16] [$800]; 20. 18-Ian Madsen [13] [$800]; 21. 10H-Danny Holtgraver [10] [$800]; 22. 21M-Dallas Hewitt [7] [$800]; 23. 24H-Brandon Wimmer [14] [$800]; 24. 4-Cody Darrah [22] [$800]; 25. 97-Brian Sebetto [19] [$800]; 26. 28D-Kevin Swindell [15] [$800]. Lap Leaders: Sammy Swindell 1-11, 13-31; Paul McMahan 12, 32-40. KSE Hard Charger Award: 15-Donny Schatz [+21]
Qualifying – 1. 83-David Gravel, 10.411; 2. 51-Paul McMahan, 10.469; 3. 24-Rico Abreu, 10.519; 4. 29-Kerry Madsen, 10.522; 5. 9-Daryn Pittman, 10.536; 6. 11K-Kraig Kinser, 10.608; 7. 71M-Joey Saldana, 10.618; 8. 10H-Danny Holtgraver, 10.626; 9. 21M-Dallas Hewitt, 10.642; 10. 2-Shane Stewart, 10.659; 11. 1-Sammy Swindell, 10.668; 12. 35AU-Jamie Veal, 10.669; 13. 18-Ian Madsen, 10.684; 14. 3G-James McFadden, 10.703; 15. 28D-Kevin Swindell, 10.706; 16. 24H-Brandon Wimmer, 10.722; 17. 11N-Randy Hannagan, 10.729; 18. 14K-Dale Blaney, 10.742; 19. 97-Brian Sebetto, 10.747; 20. 9W-Jac Haudenschild, 10.756; 21. 49-Brad Sweet, 10.770; 22. 1s-Logan Schuchart, 10.772; 23. 7S-Jason Sides, 10.772; 24. 63-Chad Kemenah, 10.773; 25. 99-Brady Bacon, 10.784; 26. 15-Donny Schatz, 10.797; 27. 93-Sheldon Haudenschild, 10.854; 28. 16-Danny Mumaw, 10.871; 29. W20-Greg Wilson, 10.878; 30. 11-Steve Kinser, 10.902; 31. 40-Caleb Helms, 10.905; 32. 33B-Christopher Bell, 10.932; 33. 19M-Brent Marks, 10.943; 34. 59-Tim Kaeding, 10.968; 35. 46AU-Stuart Williams, 11.038; 36. 4S-Danny Smith, 11.091; 37. 1A-Jacob Allen, 11.119; 38. 4-Cody Darrah, 11.141; 39. 35-Stuart Brubaker, 11.283; 40. 44W-Austen Wheatley, 11.371; 41. 6M-Max Stambaugh, 11.450; 42. 25AU-Jack Lee, 11.495; 43. 5QB-Quentin Blonde, 12.294
UNOH Heat 1 – (10 Laps – Top 5 finishers transfer to the A-feature) – 1. 21M-Dallas Hewitt [2]; 2. 18-Ian Madsen [1]; 3. 9-Daryn Pittman [3]; 4. 83-David Gravel [4]; 5. 49-Brad Sweet [6]; 6. 11N-Randy Hannagan [5]; 7. 99-Brady Bacon [7]; 8. W20-Greg Wilson [8]; 9. 19M-Brent Marks [9]; 10. 1A-Jacob Allen [10]; 11. 6M-Max Stambaugh [11]
UNOH Heat 2 – (10 Laps – Top 5 finishers transfer to the A-feature) – 1. 2-Shane Stewart [2]; 2. 51-Paul McMahan [4]; 3. 3G-James McFadden [1]; 4. 11K-Kraig Kinser [3]; 5. 4-Cody Darrah [10]; 6. 59-Tim Kaeding [9]; 7. 11-Steve Kinser [8]; 8. 15-Donny Schatz [7]; 9. 14K-Dale Blaney [5]; 10. 1s-Logan Schuchart [6]; 11. 25AU-Jack Lee [11]
UNOH Heat 3 – (10 Laps – Top 5 finishers transfer to the A-feature) – 1. 1-Sammy Swindell [2]; 2. 28D-Kevin Swindell [1]; 3. 71M-Joey Saldana [3]; 4. 24-Rico Abreu [4]; 5. 7S-Jason Sides [6]; 6. 40-Caleb Helms [8]; 7. 93-Sheldon Haudenschild [7]; 8. 97-Brian Sebetto [5]; 9. 46AU-Stuart Williams [9]; 10. 35-Stuart Brubaker [10]; 11. 5QB-Quentin Blonde [11]
UNOH Heat 4 – (10 Laps – Top 5 finishers transfer to the A-feature) – 1. 35AU-Jamie Veal [2]; 2. 24H-Brandon Wimmer [1]; 3. 10H-Danny Holtgraver [3]; 4. 29-Kerry Madsen [4]; 5. 9W-Jac Haudenschild [5]; 6. 33B-Christopher Bell [8]; 7. 63-Chad Kemenah [6]; 8. 4S-Danny Smith [9]; 9. 16-Danny Mumaw [7]
Callies Dash – (8 Laps, finishing order determined first 8 starting positions of A-feature) – 1. 1-Sammy Swindell [2]; 2. 2-Shane Stewart [3]; 3. 29-Kerry Madsen [5]; 4. 51-Paul McMahan [7]; 5. 24-Rico Abreu [6]; 6. 83-David Gravel [8]; 7. 21M-Dallas Hewitt [4]; 8. 35AU-Jamie Veal [1]
C-Main – (10 Laps – Top 2 finishers transfer to the B-feature) – 1. 59-Tim Kaeding [1] [-]; 2. 46AU-Stuart Williams [2] [-]; 3. 44W-Austen Wheatley [6] [$125]; 4. 1A-Jacob Allen [4] [$125]; 5. 35-Stuart Brubaker [5] [$125]; 6. 5QB-Quentin Blonde [9] [$100]; 7. 25AU-Jack Lee [8] [$100]; 8. 4S-Danny Smith [3] [$100]; 9. 6M-Max Stambaugh [7] [$100]
C & R Racing Last Chance Showdown – (12 Laps – Top 4 finishers transfer to the A-feature) – 1. 14K-Dale Blaney [2] [-]; 2. 11N-Randy Hannagan [1] [-]; 3. 97-Brian Sebetto [3] [-]; 4. 99-Brady Bacon [6] [-]; 5. 35AU-Jamie Veal [8] [$200] (Disqualified from A-main, scored 5th in the B for pay/point purposes.); 6. 15-Donny Schatz [7] [$180]; 7. 33B-Christopher Bell [13] [$175]; 8. 1s-Logan Schuchart [4] [$160]; 9. 63-Chad Kemenah [5] [$150]; 10. 59-Tim Kaeding [15] [$150]; 11. W20-Greg Wilson [10] [$150]; 12. 11-Steve Kinser [11] [$150]; 13. 40-Caleb Helms [12] [$150]; 14. 19M-Brent Marks [14] [$150]; 15. 46AU-Stuart Williams [16] [$150]; 16. 16-Danny Mumaw [9] [$150]
Back to News