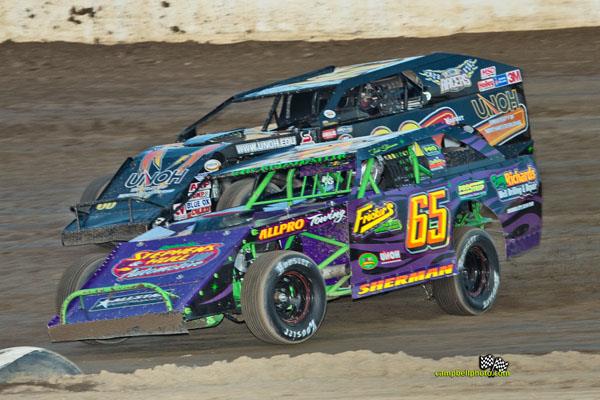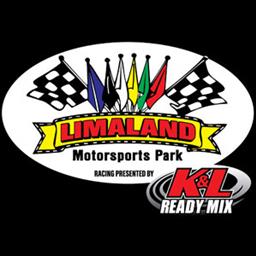 6/6/2014
Limaland Motorsports Park
---
Sherman holds off Wallace to win Reineke Modified Feature
(6/6/14) – A highlight of 2013 at Limaland Motorsports Park was a three-car Modified showdown between track champion Todd Sherman, Kenny Schrader and Kenny Wallace. It resulted in a thrilling race to the finish with Schrader taking the checkered flag. While Schrader had a prior commitment this season, Wallace made his annual stop at the western Ohio speed plant and it produced another stellar chase to the finish. This time Sherman successfully defended the local honor as he held off Wallace following a pair of late race restarts that served to create some genuine drama.
UNOH racer Anthony Flannery led the 20-car field around for the opening circuit in the 20-lap Reineke Modified feature. A three-car pileup in turn one brought out an early race yellow flag. Following a restart on lap number two, Todd Sherman executed a defining inside pass on the back straight to take the lead by the third lap of the event.
The veteran Sherman paced the field, but the previous week's winner Matt Westfall and racing great Kenny Wallace grabbed the attention of the large crowd as they became engaged with a stirring side-by-side battle just behind Sherman. Eventually Wallace got the better of Westfall and he started to nip at Sherman's tail as both drivers were forced to navigate through slower traffic.
A pair of late race restarts gave Kenny Wallace a couple of opportunities to move past Sherman. As Wallace tried aggressive inside dive moves, Sherman was able to hold off Wallace coming out of the turns and went on to take the 38th checkered flag of his Limaland Motorsports Park career and second of 2014.
"The racing was unbelievable again tonight," exclaimed Sherman from the front straight winner's circle. "My son was signaling me that you better get on the gas. I knew Kenny (Wallace) was gonna be coming up underneath me trying a slider and he just didn't quite have enough. It was good clean racing."
Wallace lost some momentum earlier with a slight spin out when battling Westfall. "If you spin out and come to a stop, you essentially start 20th" explained Wallace following a second straight podium finish in the event including last season. "I spun out and kept on the gas and kept going. Shermanator (Todd Sherman) was just too much. I sure wanted to win this year, but I always have a great time when I come racing here."
The 25-lap K & L Ready Mix NRA Sprint Invaders feature was front loaded at the start with powerhouse veterans Greg Wilson, Jared Horstman and the track's most recent sprint car winner Max Stambaugh, from one week earlier.
Wilson took full advantage of his pole starting position and immediately took a high racing line. Horstman followed him at the top of the racing surface and eventually Randy Hannagan joined Horstman in a spectator friendly battle for the second position. A mechanical issue forced Hannagan from the race and that left only a restart with two laps remaining to decide whether Horstman could catch Wilson. As good as Jared Horstman was on this night, there wasn't much of a genuine chance to pass Wilson. The Benton Ridge, Ohio star held the lead for those final two trips around the oval and posted the 11th win of his Limaland career in his first appearance at the track this season.
"Its pretty cool to come back to Lima and be in front of this heckuva crowd," said an excited Wilson. "I hope we diced it up with a little traffic and put on a show for you fans. This track and facility is one of my two favorite in the whole country. It's a privilege to race here and I put a lot of pressure on myself to run up front at this place."
The Budweiser Thunderstocks division has had different winners through each of the three feature races contested so far this season. This night's 15-lap main event would produce a first two-time victor for 2014. Front row starter Justin Long managed to grab the lead for the opening four laps until a spin out allowed Tim Cole to take the front running position.
Cole had to maintain his hold on the front with fellow 2014 winners Jeff Koz and Tony Anderson hot on his rear bumper. A restart on lap number 11 did not slow Cole's momentum as the Findlay, Ohio pilot rolled around the final four laps to post that coveted second win of the season. "My guys changed a bunch of stuff after we struggled last time out," revealed Cole. "They were all about getting this car right and I think it's now right. My crew does 99 percent of the work, I just pay the bills."
Limaland Motorsports Park returns to action on Friday, June 13, for the 13th Annual Keysor Memorial with the Budweiser Thunderstocks. The Elwer Fence Sprints and Reineke Modifieds will also battle on the famed ¼ mile oval. Gates open at 5:00 p.m. with hot laps beginning at 6:30 p.m. Racing begins promptly at 7:30 p.m.
All the latest news and information can be found at www.limaland.com. You can also find 2014 Limaland Motorsports Park on Facebook and Twitter.
Limaland Motorsports Park – 6/6/2014
McDonalds Dash for Cash
Stocks (5 Laps)
48-Tim Cole 2. 71C-Barney Craig
27-Frank Paladino 4. 89-Keith Shockency
NRA Sprints
Heat 1 – (8 Laps – Top 7 Transfer)
23-Devon Dobie; 2. W20-Greg Wilson; 3. 22H-Randy Hannagan;
10X-Dustin Stroup; 5. 8J-Jess Stiger; 6. 23M-Jack Miller; 7. 11N-Ed Neumeister
Heat 2 – (8 Laps – Top 7 Transfer)
17-Jared Horstman; 2. 22R-Kevin Roberts; 3. 12R-Nick Roberts;
83-Kyle Sauder; 5. B20-Butch Schroeder; 6. 49-Shawn Dancer; 7. 1-Jimmy Snead
Heat 3 – (8 Laps – Top 7 Transfer)
6M-Max Stambaugh; 2. 6S-Jr Stewart; 3. 11-Tim Allison;
18-Todd Heuerman; 5. 28H-Hud Horton; 6. 22D-Dennis Yoakam
A-Main – (25 Laps) [#]-Starting Position
W20-Greg Wilson[1]; 2.17-Jared Horstman[3]; 3.6S-Jr Stewart[6];
B20-Butch Schroeder[14]; 5. 6M-Max Stambaugh[2]; 6. 23-Devon Dobie[4];
11-Tim Allison[9]; 8. 18-Todd Heuerman[12]; 9. 49-Shawn Dancer[17];
8J-Jess Stiger[13]; 11. 28H-Hud Horton[15]; 12. 22D-Dennis Yoakam[18];
23M-Jack Miller[16]; 14. 1-Jimmy Snead[20]; 15. 1N-Ed Neumeister[19];
12R-Nick Roberts[8]; 17. 10X-Dustin Stroup[10]; 18. 22R-Kevin Roberts[5];
22H-Randy Hannagan[7]; 20. 83-Kyle Sauder[11]
Reineke Modifieds
Heat 1 – (8 Laps – Top 7 Transfer)
36-Kenny Wallace; 2. L5-Casey Luedeke; 3. 18N-Derrick Noffsinger;
83K-Josh Kehle; 5. 11H-Mike Hohlbein; 6. 22T-Tony Anderson;
10-Scott Bowersock
Heat 2 – (8 Laps – Top 7 Transfer)
54-Matt Westfall; 2. 5X-Jerry Bowersock; 3. OO-Anthony Flannery; 4. 23J-Jeff Koz; 5. O7-Damen Bock; 6. 28-Chad Rosenbeck; 7. 8R-Jesse Rush
Heat 3 – (8 Laps – Top 7 Transfer)
O1-Joel Ortbergt; 2. 65-Todd Sherman; 3. 3W-Dylan Woodling;
34X-Brandon Vaughan; 5. 40-Terry Hull; 6. 19-Ryan Ordway
A-Main – (20 Laps) [#]-Starting Position
65-Todd Sherman[4]; 2. 36-Kenny Wallace[9]; 3. 40-Terry Hull[15];
54-Matt Westfall[8]; 5. 23J-Jeff Koz[11]; 6. 34X-Brandon Vaughan[12];
10-Scott Bowersock[19]; 8. 22T-Tony Anderson[16]; 9. 83K-Josh Kehle[10];
11H-Mike Hohlbein[13]; 11. 28-Chad Rosenbeck[17]; 12. O7-Damen Bock[14];
OO-Anthony Flannery[2]; 14. 5X-Jerry Bowersock[5];
18N-Derrick Noffsinger[3]; 16. 3W-Dylan Woodling[1]; 17. 19-Ryan Ordway[18]; 18. O1-Joel Ortbergt[7]; 19. 8R-Jesse Rush[20]
Bud Thunderstocks
Heat 1 – (4 Laps – Top 10 Transfer)
22T-Tony Anderson; 2. 48-Tim Cole; 3. 89-Keith Shockency;
OO-Charlie Sanborn; 5. O1-Shane Aeschliman; 6. 17J-Jarrod Klay;
501-Emily Gade; 8. 77-Corey Wooten; 9. 1-Colton Glaicar; 10. 7C-Jordan Conover
Heat 2 – (4 Laps – Top 10 Transfer)
27-Frank Paladino; 2. 16-Jeff Koz; 3. 1X-Jerry Butler; 4. 7W-Dan Wooten;
26-Justin Long; 6. 32-Scott Boyd; 7. 2-Bridgett Clifford; 8. 9-Dave Keysor;
71C-Barney Craig
A-Main – (15 Laps) [#]-Starting Position
48-Tim Cole[9]; 2. 16-Jeff Koz[8]; 3. 22T-Tony Anderson[11];
27-Frank Paladino[10]; 5. O1-Shane Aeschliman[3]; 6. 7C-Jordan Conover[19];
OO-Charlie Sanborn[5]; 8. 26-Justin Long[2]; 9. 89-Keith Shockency[7];
1X-Jerry Butler[6]; 11. 17J-Jarrod Klay[1]; 12. 2-Bridgett Clifford[14];
32-Scott Boyd[12]; 14. 7W-Dan Wooten[4]; 15. 77-Corey Wooten[15]
Back to News