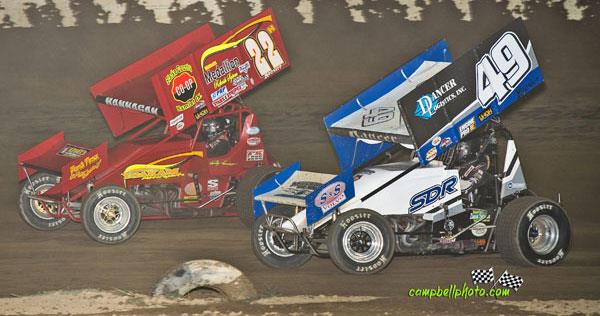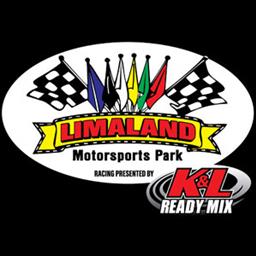 8/9/2014
Limaland Motorsports Park
---
Dancer goes back-to-back with NRA Sprints
(8/8/14) – When you're hot you're hot, and veteran sprint car racer Shawn Dancer is in the midst of the finest streak of success in his motorsports career. Dancer made it two wins in a row with the NRA Sprint Invaders feature at Limaland Motorsports Park and again did it by leading the field flag-to-flag through the 25-lap event.
Starting from the pole position was an advantage for Dancer and he proceeded to fully capitalize. The blue colored #49 car blasted to the cushion of the racing surface and rolled along, while the rest of the field produced some classic sprint car drama with the next handful of positions. The Hammons team cars with J.R. Stewart and Max Stambaugh as well as Kody Swanson fought over who might ultimately provide a challenge to Dancer.
At the race midpoint, Kody Swanson, a 2014 part-time newcomer at the track, decided to follow Dancer around the top side line. Swanson stayed close to Dancer but in the meantime J.R. Stewart was working to the inside of Dancer and had effectively pulled even. It was a stirring battle that also saw Stambaugh and Dustin Stroup join the already three-car mix near the front of the field.
A pair of late race restarts made for even more drama, but may have slowed the momentum of the group of challengers to Shawn Dancer. He stayed strong with his machine on the high side of the track and made it stick during a three-lap dash to the checkered flag. NRA point's leader Stewart and Swanson followed him across the finish line.
"This one wore me out a little bit," said a relieved Shawn Dancer. "I saw J.R. underneath me and on the last restart I was thinking about going to the bottom, but I had good momentum and was doing well so I just stayed there and ran it even harder. From four years of not getting a win to back-to-back. It's awesome!'
The Reineke Modified division has been quite a playground for Indiana ace Todd Sherman as he has captured the past four season titles. He may well be on the way to a record fifth consecutive championship, especially after one of the most dominating performances in recent memory to win going flag-to-flag with race leadership. It was another 20-lap showdown that saw the veteran Sherman disdain his usual preferred bottom line racing and instead keep the #65 machine hard and fast at the top of the high-banked ¼-mile.
Sherman had virtually checked out on the field with the exception of Jerry Bowersock, while Brandon Vaughan, Casey Luedeke and Matt Westfall engaged in some competitive pack racing. Unfortunately for everyone but Sherman it was for the consolation of a high finish, but not a coveted checkered flag. Sherman easily posted a fourth win of 2014 and a record extending 40th of his career at the track.
"The track was fast as they watered it just before this race," said Sherman. "My signal guy (his son) said stay up high. It worked and when I got into lapped traffic I just tried to be careful. Next week with the King of the Quarters is gonna be really something!"
The most emotional racing of the evening proved to be the 15-lap Budweiser Thunderstocks main event as it produced a first-time feature winner. Lima's Frank Paladino gave himself a night to remember with a hard earned triumph. It left the usual large crowd of race fans roaring their approval. Although Paladino was afforded the pole starting position after the heat racing and inversion, the race itself left everyone on the edge of their seats.
Point's leader Tony Anderson led the opening three laps until Paladino moved to the front of the field with a pass coming off of turn number two. 2014 four-time winner Jeff Koz was coming hard and seemed likely to take control of the race as he has done many times previous in recent seasons. On this night it was not to be as Paladino held the lead through the halfway mark, and similar to the sprints and modifieds became comfortable racing up against outside wall.
A restart with six laps remaining allowed ample time for Koz, Anderson and Shawn Valenti to make their case and possibly overtake Paladino. Jeff Koz was rolling hard in the middle of the track, and Valenti became hitched to Paladino's tail at the top. It was a double threat for Frank Paladino, but one that he proved capable of contending with and eventually mastering. With the crowd sensing that they might be witnessing a first-time winner for the second week in a row, Paladino did his part by maintaining composure and hanging on for the popular result.
"Eight seasons and finally after going hard all of this time, I got one!" said Paladino during a rowdy on-track celebration. "I have a lot of training following these guys and it was time to let them follow me. I have to thank everyone including my crew chief who actually couldn't be here tonight."
The visiting Compact cars saw Terry Eaton Jr. overtake primary race leader Austin Eaton to capture a 12-lap feature. A field of 13 cars proved to be very competitive with a collection of about a half a dozen cars battling until a lap number 11 restart separated the pack.
Limaland Motorsports Park returns to action on Friday, August 15, for the 17th Annual Limaland Season Points & NRA Championship. The night will also feature the King of the Quarter-Mile races with an additional $6,000 in prize money up for grabs. Gates open at 5:00 p.m. with hot laps beginning at 6:30 p.m. Racing begins promptly at 7:30 p.m.
All the latest news and information can be found at www.limaland.com. You can also find 2014 Limaland Motorsports Park on Facebook and Twitter.
Limaland Motorsports Park - 8/8/2014
NRA Challenge Night
McDonalds Dash for Cash
Stocks (5 Laps)
82-Chris Douglas 2. 32-Scott Boyde Jr.
26-Justin Long 4. 9-Dave Keysor
Reineke Modifieds
Heat 1 - (8 Laps - Top 5 Transfer)
L5-Casey Luedeke; 2. 19-Ryan Ordway; 3. 18N-Derrick Noffsinger
10-Scott Bowersock; 5. 11H-Mike Hohlbein; 6. 71-Joel Ortberg
22M-Jason Mccoy; 8. O7-Damen Beck; 9. 17-Scott Fitzpatrick
Heat 2 - (8 Laps - Top 5 Transfer)
65-Todd Sherman; 2. 54-Matt Westfall; 3. 40-Terry Hull
3W-Dylan Woodling; 5. 23J-Jeff Koz; 6. 17T-Michael Tarlton
44-Zack Schroeder; 8. OO-Andy Galgoci
Heat 3 - (8 Laps - Top 5 Transfer)
34X-Brandon Vaughan; 2. 5X-Jerry Bowersock; 3. X-Bill Lewis
22T-Tony Anderson; 5. PO-Brody Pompe; 6. O1-Anthony Flannery
19B-Brandon Ordway; 8. 96-Pat Wormcastle
B-Main - (10 Laps - Top 5 Transfer)
71-Joel Ortberg; 2. 17T-Michael Tarlton; 3. 44-Zack Schroeder
O1-Anthony Flannery; 5. OO-Andy Galgoci; 6. 22M-Jason Mccoy
96-Pat Wormcastle; 8. 19B-Brandon Ordway; 9. O7-Damen Beck
17-Scott Fitzpatrick
A-Main - (20 Laps) [#]-Starting Position
65-Todd Sherman[2]; 2. 5X-Jerry Bowersock[6]; 3. 34X-Brandon Vaughan[1]
54-Matt Westfall[5]; 5. L5-Casey Luedeke[3]; 6. 40-Terry Hull[8]
10-Scott Bowersock[10]; 8. X-Bill Lewis[9]; 9. 19-Ryan Ordway[4]
23J-Jeff Koz[14]; 11. 22T-Tony Anderson[12]; 12. 3W-Dylan Woodling[11]
11H-Mike Hohlbein[13]; 14. OO-Andy Galgoci[20];
17T-Michael Tarlton[17]; 16. 18N-Derrick Noffsinger[7];
PO-Brody Pompe[15]; 18. O1-Anthony Flannery[19]; 19. 71-Joel Ortberg[16]
44-Zack Schroeder[18]
NRA Sprints
Heat 1 - (8 Laps - Top 7 Transfer)
12R-Nick Roberts; 2. 6M-Max Stambaugh; 3. 28H-Hud Horton
17-Jared Horstman; 5. 10X-Dustin Stroup; 6. 12J-Tyler Moore
22R-Kevin Roberts
Heat 2 - (8 Laps - Top 7 Transfer)
49-Shawn Dancer; 2. 11-Tim Allison; 3. 12H-Tim Hunter
B20-Butch Schroeder; 5. 15-Brandon Ferguson; 6. 87-Paul Dues
Heat 3 - (8 Laps - Top 7 Transfer)
23-Devon Dobie; 2. 12-Kody Swanson; 3. 33M-Beau Stewart
6S-Jr Stewart; 5. 35-Ron Blair; 6. 69-Scott Curren
A-Main - (25 Laps) [#]-Starting Position
49-Shawn Dancer[1]; 2. 6S-Jr Stewart[12]; 3. 12-Kody Swanson[6]
10X-Dustin Stroup[13]; 5. 6M-Max Stambaugh[4];
B20-Butch Schroeder[11]; 7. 11-Tim Allison[5]; 8. 17-Jared Horstman[10]
33M-Beau Stewart[9]; 10. 28H-Hud Horton[7]; 11. 23-Devon Dobie[3]
35-Ron Blair[15]; 13. 22R-Kevin Roberts[19]; 14. 12J-Tyler Moore[16]
15-Brandon Ferguson[14]; 16. 87-Paul Dues[17]; 17. 12H-Tim Hunter[8]
12R-Nick Roberts[2]; 19. 69-Scott Curren[18]
Bud Thunderstocks
Heat 1 - (8 Laps - Top 8 Transfer)
1W-Mark Wooten; 2. 71R-Keith Ralston; 3. 82-Chris Douglas
26-Justin Long; 5. 501-Emily Gade; 6. 89-Keith Shockency
32-Scott Boyde Jr.; 8. 99-Andy King
Heat 2 - (8 Laps - Top 8 Transfer)
7B-Shawn Valenti; 2. 22T-Tony Anderson; 3. 48-Tim Cole
7C-Jordan Conover; 5. 21H-Dave Hollon; 6. OO-Mike Learman
9-Dave Keysor; 8. 327-Jeremy Garrettson
Heat 3 - (8 Laps - Top 8 Transfer)
16-Jeff Koz; 2. 27-Frank Paladino; 3. 25-Nick Bowers
O1-Charlie Sanborn; 5. 1-Kyle Peterson; 6. 19-Bill Reimund
17J-Jarrod Klay
A-Main - (15 Laps) [#]-Starting Position
27-Frank Paladino[1]; 2. 7B-Shawn Valenti[5]; 3. 16-Jeff Koz[4]
22T-Tony Anderson[2]; 5. 25-Nick Bowers[9]; 6. 48-Tim Cole[8]
82-Chris Douglas[7]; 8. O1-Charlie Sanborn[12]; 9. 1-Kyle Peterson[15]
26-Justin Long[10]; 11. OO-Mike Learman[17]; 12. 99-Andy King[22]
17J-Jarrod Klay[21]; 14. 32-Scott Boyde Jr.[19]; 15. 89-Keith Shockency[16]
501-Emily Gade[13]; 17. 1W-Mark Wooten[6]; 18. 71R-Keith Ralston[3]
327-Jeremy Garrettson[23]; 20. 7C-Jordan Conover[11];
21H-Dave Hollon[14]; 22. 19-Bill Reimund[18]; 23. 9-Dave Keysor[20]
Compacts
Heat 1 - (6 Laps - Top 7 Transfer)
518-Jordan Iiams; 2. 2-Austin Eaton; 3. 66Z-Matt Mckinnon
92-Brandon Mcdaries; 5. 27S-Cody Sanders; 6. 1H-Jeff Zwiebel
13-Brian Pitson
Heat 2 - (6 Laps - Top 7 Transfer)
95-David Yoder; 2. 4-Terry Eaton Jr.; 3. 82-Harvey Yoder
16L-Jason Long; 5. 27X-Robbie Tuttle; 6. 74-Lucas Fuller
A-Main - (12 Laps) [#]-Starting Position
4-Terry Eaton Jr.[3]; 2. 95-David Yoder[5]; 3. 2-Austin Eaton[4]
518-Jordan Iiams[6]; 5. 27S-Cody Sanders[9]; 6. 1H-Jeff Zwiebel[11]
82-Harvey Yoder[1]; 8. 16L-Jason Long[8]; 9. 92-Brandon Mcdaries[7]
13-Brian Pitson[13]; 11. 66Z-Matt Mckinnon[2]; 12. 27X-Robbie Tuttle[10]
Back to News