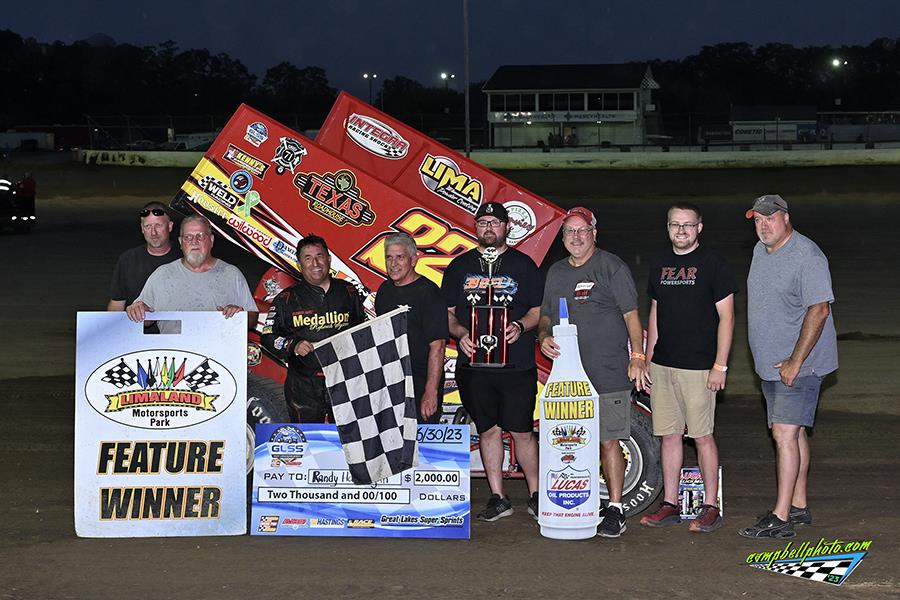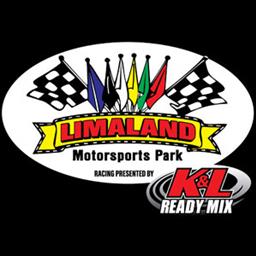 6/30/2023
Limaland Motorsports Park
---
Vaughan wins second Modified feature of season, Valenti bags first Thunderstock win of year, and Hannagan sings in the rain in NRA Sprints.
Limaland Motorsports Park opened the Independence Day weekend with "Firecracker Friday" presented by T&D Interiors. The fans were treated to an action packed evening of racing that saw Spencerville, Ohio's Brandon Vaughan grabbing his second Midwest Shooting Center DIRTcar UMP Modified A Main win of the season in his No. 36. No. 28V Shawn Valenti of Fostoria won the Lock Sixteen Thunderstock A Main, and No. 22H Randy Hannagan, originally of San Jose, California picked up an exciting NRA Sprint invader feature win.
Before racing action started the Honor Guard of Marine Corp League PFC Leonard F Mason Detachment 1063 presented colors, and a moment of silence was held for Dennis Kaser, the former co-promoter of Limaland, long time car owner and huge supporter of racing. Dennis will be sorely missed by all of his friends and family, and our hearts are with the Kaser family at this time. Lock Sixteen Thunderstock ace Frank Paladino performed the Star Spangled Banner in front of a great crowd, and racing kicked off at the quarter mile of thunder.
First out on the track were the Midwest Shooting Center Modifieds for their 20 lap feature. Brandon Vaughan and No. 16 Jeff Koz would bring the field to green with Vaughan grabbing the lead. Koz, No 5X Jerry Bowersock and No. 65 Todd Sherman would battle early for second but Bowersock was on the prowl on the bottom of the racetrack throughout the 20 lap feature, nearly getting underneath Vaughan on lap 19, but the caution flag would wave for a spin on the backstretch, setting up a 1 lap dash to the finish. Vaugha would hold off Bowersock for the win, Bowersock, Koz, No. 34X Shane O'Connor and No. 22T Tony Anderson completing the top 5.
Next up were the Lock Sixteen Thunderstocks for their 15 lap A Main. Shawn Valenti and No. 18 Brendan Rassel would make up the front row to start the A Main with Valenti wasting no time in grabbing the lead. Rassel would keep the leader in striking distance and looked to be setting up for a late race run but the front bumper of the No 18 would fold under the front of the car, upsetting the handling. That was enough for "T-Bone" Tony Anderson to slip by and grab the second position, but that's far as he would get as Valenti picked up the victory over Anderson, Rassel, No. 82 Chris Douglas and No. 11 UNOH Racer Sean Verwys.
The NRA Sprint Invaders would wrap up racing action for the evening with their 25 lap feature event under the banner of the Great Lakes Super Sprints. No. 22M Dan McCarron, and Randy Hannagan would bring the field to green, with McCarron taking the lead into the back straightaway, but the caution flag would wave for the 97X of Rodney Hurst spinning and the No. 73 of Cody Fendley spinning and coming to a stop on the back straghtaway, forcing a complete restart of the feature event. On the restart, Hannagan grabbed the advantage and set sail. No. 17 Jared Horstman made his way to second on lap 2, and kept Hannagan in striking distance until the leaders got into lapped traffic. Hannagan appeared to pull away and have an easy win, but the caution flag would wave on lap 23 for No. 23 Devon Dobie spinning in turn 4. That set up a green-white-checkered finish, allowing Horstman one more shot without lapped traffic, but Hannagan would pick up the win over Horstman. McCarron would finish third, No. X Mike Keegan fourth, and No 11G Luke Griffith would finish 5th.
Limaland Motorsports Park will be closed next Friday night July 7th, but will reopen on Friday July 14th for Meet The Drivers Night presented by the Stolly Insurance Group. Pit gates open at 4:30PM, Grandstand gates open at 5PM, Hotlaps at 6:30 and Racing at 7:30. General Admission is $12 for ages 16 and older, $6 for ages 11-15, and kids 10 and under are admitted FREE. Pit passes for all ages are $30. For details on this and all events at Limaland, visit Limaland.com, or check out our page on Facebook.
MIDWEST SHOOTING CENTER UMP MODIFIEDS
A Feature (20 Laps): 1. 36-Brandon Vaughan[1]; 2. 5X-Jerry Bowersock[3]; 3. 16-Jeff Koz[2]; 4. 34X-Shane O'Connor[7]; 5. 22T-Tony Anderson[9]; 6. 82B-Brennan Sherman[10]; 7. 82-Dalton Lane[6]; 8. 9C-Troy Cattarene[8]; 9. 9R-Garrett Rons[13]; 10. 72H-Wayne Gibson[12]; 11. 65-Todd Sherman[5]; 12. 11G-Kevin Grilliot[14]; 13. 71T-Chris Hicks[17]; 14. 0-Dylan Murray[18]; 15. 1-Randy Giroux[11]; 16. 4M-Dustin Moore[16]; 17. C4-Alex Siefer[22]; 18. 32-Scott Boyd Jr[21]; 19. 316-Devon Hower[20]; 20. 21-Roger South[23]; 21. 9PG-Percy Gendreau[4]; 22. 22C-Chad Coleman[19]; 23. 1X-Jerry Butler[15]
Heat 1 (8 Laps): 1. 82-Dalton Lane[2]; 2. 5X-Jerry Bowersock[5]; 3. 34X-Shane O'Connor[4]; 4. 82B-Brennan Sherman[3]; 5. 9R-Garrett Rons[6]; 6. 4M-Dustin Moore[7]; 7. 22C-Chad Coleman[1]; 8. 32-Scott Boyd Jr[8]
Heat 2 (8 Laps): 1. 65-Todd Sherman[3]; 2. 16-Jeff Koz[4]; 3. 9C-Troy Cattarene[2]; 4. 1-Randy Giroux[1]; 5. 11G-Kevin Grilliot[5]; 6. 71T-Chris Hicks[6]; 7. 316-Devon Hower[7]; 8. C4-Alex Siefer[8]
Heat 3 (8 Laps): 1. 9PG-Percy Gendreau[2]; 2. 36-Brandon Vaughan[4]; 3. 22T-Tony Anderson[3]; 4. 72H-Wayne Gibson[1]; 5. 1X-Jerry Butler[6]; 6. 0-Dylan Murray[5]; 7. 19-Ryan Ordway[8]; 8. 21-Roger South[7]
LOCK SIXTEEN THUNDERSTOCKS
A Feature 1 (15 Laps): 1. 28V-Shawn Valenti[1]; 2. 22T-Tony Anderson[3]; 3. 18-Brenden Rassel[2]; 4. 82-Chris Douglas[6]; 5. 11-Sean Verwys[7]; 6. 89-Keith Shockency[9]; 7. 45W-Houston Null[8]; 8. 87-Andy Welch[5]; 9. 00-Brayden Weller[11]; 10. 17J-Jarrod Klay[4]; 11. 26-Justin Long[14]; 12. 7W-Dan Wooten[12]; 13. 92-Brandon McDaries[13]; 14. (DNS) 27-Frank Paladino
Heat 1 (8 Laps): 1. 18-Brenden Rassel[3]; 2. 22T-Tony Anderson[4]; 3. 87-Andy Welch[1]; 4. 11-Sean Verwys[2]; 5. 89-Keith Shockency[5]; 6. 00-Brayden Weller[6]; 7. 92-Brandon McDaries[7]
Heat 2 (8 Laps): 1. 28V-Shawn Valenti[4]; 2. 17J-Jarrod Klay[5]; 3. 82-Chris Douglas[3]; 4. 45W-Houston Null[7]; 5. 27-Frank Paladino[2]; 6. 7W-Dan Wooten[6]; 7. 26-Justin Long[1]
Qualifying 1: 1. 22T-Tony Anderson, 00:15.714[11]; 2. 28V-Shawn Valenti, 00:15.843[8]; 3. 18-Brenden Rassel, 00:15.884[6]; 4. 82-Chris Douglas, 00:16.031[5]; 5. 11-Sean Verwys, 00:16.246[4]; 6. 27-Frank Paladino, 00:16.313[2]; 7. 87-Andy Welch, 00:16.328[14]; 8. 26-Justin Long, 00:16.372[9]; 9. 89-Keith Shockency, 00:16.372[3]; 10. 17J-Jarrod Klay, 00:16.388[7]; 11. 00-Brayden Weller, 00:16.548[13]; 12. 7W-Dan Wooten, 00:16.645[12]; 13. 92-Brandon McDaries, 00:17.147[1]; 14. 45W-Houston Null, 55:55.555[10]
NRA SPRINT INVADERS
A Feature (25 Laps): 1. 22H-Randy Hannagan[2]; 2. 17-Jared Horstman[4]; 3. 22M-Dan McCarron[1]; 4. X-Mike Keegan[8]; 5. 11G-Luke Griffith[3]; 6. 24-Kobe Allison[9]; 7. 31-Jac Nickles[7]; 8. 23-Devon Dobie[6]; 9. 13S-Drew Siferd[13]; 10. 11H-Caleb Harmon[11]; 11. 73C-Cody Fendley[5]; 12. 0-Brayton Phillips[10]; 13. 2B-Noah Dunlap[12]; 14. 97X-Rodney Hurst[14]
Heat 1 (8 Laps): 1. 73C-Cody Fendley[1]; 2. 22M-Dan McCarron[3]; 3. 22H-Randy Hannagan[4]; 4. 31-Jac Nickles[2]; 5. 24-Kobe Allison[6]; 6. 11H-Caleb Harmon[5]; 7. 13S-Drew Siferd[7]
Heat 2 (8 Laps): 1. 17-Jared Horstman[3]; 2. 23-Devon Dobie[4]; 3. 11G-Luke Griffith[1]; 4. X-Mike Keegan[6]; 5. 0-Brayton Phillips[2]; 6. 2B-Noah Dunlap[5]; 7. 97X-Rodney Hurst[7]
Qualifying (8 Laps): 1. 22H-Randy Hannagan, 00:11.995[7]; 2. 23-Devon Dobie, 00:12.127[4]; 3. 22M-Dan McCarron, 00:12.170[13]; 4. 17-Jared Horstman, 00:12.293[14]; 5. 31-Jac Nickles, 00:12.336[2]; 6. 0-Brayton Phillips, 00:12.436[9]; 7. 73C-Cody Fendley, 00:12.483[10]; 8. 11G-Luke Griffith, 00:12.502[3]; 9. 11H-Caleb Harmon, 00:12.504[1]; 10. 2B-Noah Dunlap, 00:12.633[6]; 11. 24-Kobe Allison, 00:12.642[8]; 12. X-Mike Keegan, 00:12.858[5]; 13. 13S-Drew Siferd, 00:13.137[11]; 14. 97X-Rodney Hurst, 00:14.122[12]
---
Article Credit: Gerry Keysor
Article Media
Back to News