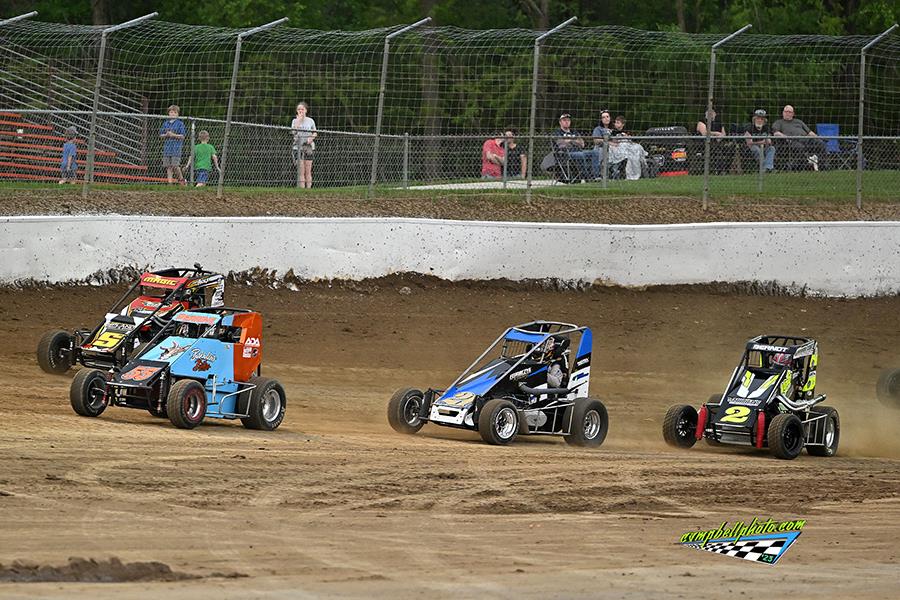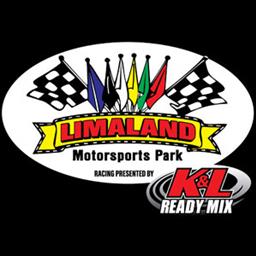 5/12/2023
Limaland Motorsports Park
---
Rassel wins Thunderstock feature before rains wash out Limaland
Rains forced the rescheduling of the 3rd Annual Mike Streicher Memorial Race at Limaland Motorsports Park on Friday night, but not before one of Streicher's former students, Brendan Rassel, picked up is first career Lock Sixteen Thunderstock feature win in the Razzle Dazzle Racing No. 18
Kicking off feature action were the Lock Sixteen Thunderstocks, with perennial favorite Tony Anderson starting on the pole in the Troy Breidenbach owned No.22T. No. 17 Jarrod Klay would start alongside Anderson as they brought the field to green. Anderson would grab the point on the start, but Klay would use a big slide job in turns 3 and 4 to slip past Anderson briefly. Anderson would charge back to the point in turns one and two on lap 2 with Klay in tow. As the leaders headed into turns 3 and 4, Klay would attempt to power around the outside of Anderson, but made contact with the 22T causing Anderson to nearly spin, which would allow the No. 18 of Rassel to slip by and grab the lead. Rassel would stretch out his lead and garner his first career Lock Sixteen Thunderstock victory, dedicating the win to Mike Streicher in an emotional victory lane interview. Anderson would finish second, with No. 28V Shawn Valenti third, No. 11 Sean Verwys 4th and No. 27 Frank Paladino fifth.
Before cars could come out on the track for the USAC Midwest Thunder Midget A Main, the skies opened up and officials were forced to cancel the rest of the evening's racing program. The USAC Midwest Thunder Midgets, Midwest Shooting Center UMP Modifieds, and Dirt Track Truck Series feature lineups are set, and will be ran at the start of the evening on Friday June 16th, prior to the regularly scheduled event.
Limaland Motorsports Park will be back in action next Friday May 19th with the "Run For The Rabbit", the annual event honoring the memory of the late Travis "The Rabbit" Miller from Elida Ohio. Miller was a regular and a fan favorite at Limaland in his brightly colored No. 17M Sprint Car, and this race is always one that is on the calendar of some of the best 360 sprint racers around. The NRA Sprint Invaders will be in competition, along with the Midwest Shooting Center DIRTcar UMP Modifieds, and Lock Sixteen Thunderstocks. Pit Gates open at 4:30PM, Grandstand gates open at 5PM, Hot laps start at 6:30PM and racing begins at 7:30PM. General Admission for ages 16 and older is $12, ages 11 to 15 $6, and kids 10 and younger admitted FREE. Pit passes for all ages are $30.
For detail on all events, visit Limaland Motorsports Park on Facebook, or check out our website at limaland.com
LOCK SIXTEEN THUNDERSTOCKS
A Feature 1 (15 Laps): 1. 18-Brenden Rassel[4]; 2. 22T-Tony Anderson[1]; 3. 28V-Shawn Valenti[8]; 4. 11-Sean Verwys[6]; 5. 27-Frank Paladino[5]; 6. 82-Chris Douglas[3]; 7. 87-Andy Welch[11]; 8. 89-Keith Shockency[7]; 9. 26-Justin Long[9]; 10. 17J-Jarrod Klay[2]; 11. 7W-Dan Wooten[10]
Heat 1 (8 Laps): 1. 17J-Jarrod Klay[1]; 2. 82-Chris Douglas[3]; 3. 27-Frank Paladino[2]; 4. 89-Keith Shockency[4]; 5. 26-Justin Long[6]; 6. 87-Andy Welch[5]
Heat 2 (8 Laps): 1. 22T-Tony Anderson[4]; 2. 18-Brenden Rassel[5]; 3. 11-Sean Verwys[1]; 4. 28V-Shawn Valenti[3]; 5. (DNF) 7W-Dan Wooten[2]
MIDWEST SHOOTING CENTER DIRTcar UMP MODIFIEDS
Heat 1 (8 Laps): 1. 9C-Troy Cattarene[1]; 2. 16-Jeff Koz[2]; 3. 4L-Mike Learman[6]; 4. 82-Dalton Lane[5]; 5. 1X-Jerry Butler[4]; 6. 82B-Brennan Sherman[7]; 7. 29C-Chris Bitters[3]
Heat 2 (8 Laps): 1. 65-Todd Sherman[7]; 2. 1-Randy Giroux[4]; 3. 9R-Garrett Rons[2]; 4. 71T-Chris Hicks[3]; 5. 22C-Chad Coleman[1]; 6. 316-Devon Hower[5]
Heat 3 (8 Laps): 1. 9PG-Percy Gendreau[1]; 2. 22T-Tony Anderson[2]; 3. 5X-Jerry Bowersock[6]; 4. 36-Brandon Vaughan[4]; 5. 100-Dylan Murray[5]; 6. 4M-Dustin Moore[7]; 7. 34X-Shane O'Connor[3]
DIRT TRACK TRUCK SERIES
Heat 1 (8 Laps): 1. 9R-Justin Rapp[3]; 2. 78-Dan Ramey[7]; 3. 17-Phil Hicks[6]; 4. 82T-Eddie Tucker Jr[8]; 5. 22T-Tony Anderson[4]
Heat 2 (8 Laps): 1. 10-Rolly Heyder[6]; 2. 711-Dallas Geckle[2]; 3. 499-Dustin Cover[7]; 4. 21-Caitlyn Wagoner[8]; 5. 29C-Chris Bitters[4]; 6. 2-Dustin Ratliff[5]; 7. 44W-Vincent Wagoner[1]; 8. (DNS) 1S-Mike Sawmiller
---
Article Credit: Gerry Keysor
Article Media
Back to News