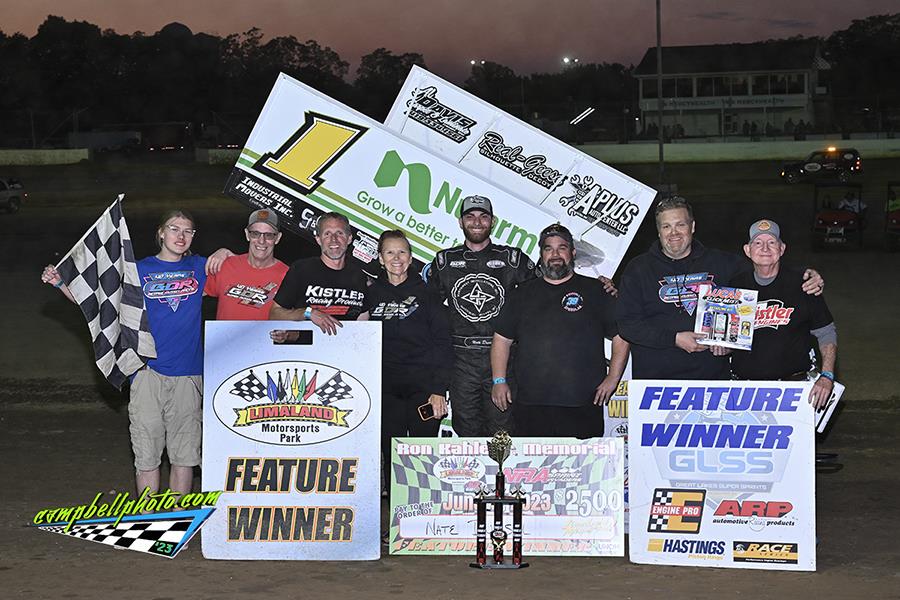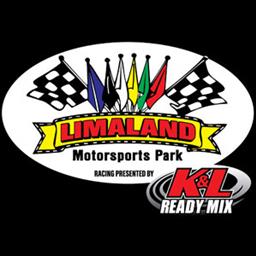 6/9/2023
Limaland Motorsports Park
---
Anderson wins his 4th Keysor Memorial, Dussel picks up Kahle Jr Memorial feature, Cattarene gets 1st Modified win and Rassel picks up 2nd Thunderstock
After being plagued with weather issues and freak power outages the past several weeks, everyone held their breath at Limaland Motorsports Park on Friday night, but the only action was on the racetrack as all divisions put on a tremendous show for the attending fans. No. 22T Tony Anderson picked up his 4th Keysor Memorial victory by winning the makeup feature that was started on June 2. Gibsonburg, Ohio's Nate Dussel picked up the 25 lap NRA Sprint Invader feature honoring the memory of Ron Kahle Jr., The Midwest Shooting Center DIRTcar feature saw a first time winner in No. 9C Troy Cattarene, and the regular Lock Sixteen Thunderstock feature was won by No. 18 Brendan Rassel.
Kicking off racing action were the Lock Sixteen Thunderstocks with the final 13 laps of last weeks 21st Keysor Memorial feature. Tony Anderson led when the lights went out, and he led when the checkered flag flew, winning his 4th career Keysor Memorial feature. Anderson thanked the fans and mentioned 1990 Limaland Stock Car champion Bobby Keysor in victory lane, as Bobby encouraged Tony to get behind the wheel of his own race car 30 years ago. Anderson would win over Woonsocket South Dakota's Brendan Rassel who tried multiple times to get by Anderson to no avail. 2018 Keysor Memorial Champ No. 74 Craig Dippman was 3rd, No. 17J Jarrod Klay was 4th, and UNOH Racer Sean Verwys finishd fifth in the UNOH No. 11.
Starting off the regularly scheduled program were the NRA Sprint Invaders. The 25 lap feature would go green to checkered with No. 1 Nate Dussel putting on a clinic, winning by a full straightaway over 2nd place No. 17 Jared Horstman. No 71H Max Stambaugh would come home 3rd, with No. 22M Dan McCarron 4th and Lindsay Oklahoma's Harli White rounding out the top five in the Ed Neumeister owned No. 11N.
Next up were the Midwest Shooting Center DIRTcar UMP Modifieds in their 20 lap feature. No 9C Troy Cattarene and No. 57 Jeffrey Jessup would bring the field to the green flag with Cattarene taking the early race lead. Churubusco Indiana's Todd Sherman moved all over the track in his Vision Hmoz sponsored No. 65 but couldn't find the line to run Cattarene down. An emotional Cattarene dedicated his first career Limaland Modified victory to his Dad and asked the fans to say a prayer as his Dad prepares for triple bypass surgery. Sherman would finish second, with No 22T Tony Anderson third, No. 36 Brandon Vaughan 4th, and No. 16 Jeff Koz completing the top 5.
The Lock Sixteen Thunderstocks would bookend the night with their second feature event. No. 74D Craig Dippman, and No 28V Shawn Valenti would lead the field to green but it was No. 18 Brendan Rassel powering his way to the front on lap 3 and going on to survive multiple caution flags to win his second Lock Sixteen Thunderstock feature of the year. Dippman would finish second after battling side by side nearlhy the whole race with third place finisher Valenti. No. 7W Dan Wooten would finish fourth and No. 82 Chris Douglas would finish fifth.
Limaland roars back to life next Friday June 16th for Family Fun Night, presented by the University of Northwestern Ohio. 4 divisions will take to the quarter mile of thunder as the USAC Midwest Thunder Midgets, Midwest Shooting Center DIRTcar UMP Modifieds, Lock Sixteen Thunderstocks, and the Advance Machine Solutions Dirt Track Truck Series will all be in action. It will be double features for the USAC Midwest Thunder Midgets and the Dirt Track Truck Series as their make up features from the rain shortened May 12th racing program will be ran at the start of racing action for the night. Just $12 for ages 16 and older general admission, ages 11 to 15 admitted for $6, and kids 10 and under admitted FREE! Pit passes for all ages $30. Pit gates open at 4:30PM, Grandstand gates open at 5PM, Hotlaps at 6:30PM and racing at 7:30 PM sharp. For details on this and all events at Limaland Motorsports Park, visit limaland.com , or check us out on Facebook.
LOCK SIXTEEN THUNDERSTOCKS – 17 entries
21st Keysor Memorial Make up feature - 15 laps
22T-Tony Anderson[1]; 2. 18-Brenden Rassel[3]; 3. 74D-Craig Dippman[7]; 4. 17J-Jarrod Klay[5]; 5. 11-Sean Verwys[2]; 6. 28V-Shawn Valenti[6]; 7. 82-Chris Douglas[8]; 8. 27-Frank Paladino[9]; 9. 7W-Dan Wooten[16]; 10. 4-Gabe Mueller[13]; 11. 87-Andy Welch[11]; 12. 89-Keith Shockency[14]; 13. 00-Brayden Weller[10]; 14. 92-Brandon McDaries[12]; 15. 1W-Mark Wooten[15]; 16. 21D-Kyle Moore[4]; 17. J1-Jeff Matheny[17]
NRA SPRINT INVADERS – 24 entries - Ron Kahle Jr. Memorial
A Feature 1 (25 Laps): 1. 1-Nate Dussel[1]; 2. 17-Jared Horstman[3]; 3. 71H-Max Stambaugh[5]; 4. 22M-Dan McCarron[2]; 5. 11N-Harli White[7]; 6. 16C-Tylar Rankin[6]; 7. 66-Chase Dunham[4]; 8. 23-Devon Dobie[10]; 9. X-Mike Keegan[8]; 10. 24-Kobe Allison[9]; 11. 7C-Phil Gressman[14]; 12. 49T-Gregg Dalman[17]; 13. 11G-Luke Griffith[16]; 14. 2-Kyle Sauder[12]; 15. 88N-Frank Neill[20]; 16. 83-Adam Cruea[19]; 17. 70-Eli Lakin[13]; 18. 20I-Kelsey Ivy[18]; 19. 0-Brayton Phillips[15]; 20. 22H-Randy Hannagan[11]
B Feature 1 (12 Laps): 1. 11G-Luke Griffith[1]; 2. 49T-Gregg Dalman[4]; 3. 20I-Kelsey Ivy[3]; 4. 83-Adam Cruea[2]; 5. 88N-Frank Neill[7]; 6. 31-Jac Nickles[5]; 7. 19-Ben Varner[8]; 8. 99-Steve Niese[9]; 9. 11H-Caleb Harmon[6]
Heat 1 (8 Laps): 1. 1-Nate Dussel[3]; 2. 71H-Max Stambaugh[2]; 3. 11N-Harli White[4]; 4. 23-Devon Dobie[1]; 5. 70-Eli Lakin[6]; 6. 11G-Luke Griffith[7]; 7. 49T-Gregg Dalman[5]; 8. 88N-Frank Neill[8]
Heat 2 (8 Laps): 1. 17-Jared Horstman[4]; 2. 16C-Tylar Rankin[2]; 3. X-Mike Keegan[1]; 4. 22H-Randy Hannagan[3]; 5. 7C-Phil Gressman[5]; 6. 83-Adam Cruea[6]; 7. 31-Jac Nickles[7]; 8. 19-Ben Varner[8]
Heat 3 (8 Laps): 1. 22M-Dan McCarron[1]; 2. 66-Chase Dunham[4]; 3. 24-Kobe Allison[2]; 4. 2-Kyle Sauder[3]; 5. 0-Brayton Phillips[5]; 6. 20I-Kelsey Ivy[7]; 7. 11H-Caleb Harmon[6]; 8. 99-Steve Niese[8]
Qualifying 1: 1. 11N-Harli White, 00:11.763[12]; 2. 17-Jared Horstman, 00:11.804[22]; 3. 66-Chase Dunham, 00:11.848[11]; 4. 1-Nate Dussel, 00:11.859[8]; 5. 22H-Randy Hannagan, 00:11.878[19]; 6. 2-Kyle Sauder, 00:11.947[23]; 7. 71H-Max Stambaugh, 00:11.969[10]; 8. 16C-Tylar Rankin, 00:11.976[20]; 9. 24-Kobe Allison, 00:12.009[18]; 10. 23-Devon Dobie, 00:12.026[5]; 11. X-Mike Keegan, 00:12.087[13]; 12. 22M-Dan McCarron, 00:12.173[21]; 13. 49T-Gregg Dalman, 00:12.238[1]; 14. 7C-Phil Gressman, 00:12.242[4]; 15. 0-Brayton Phillips, 00:12.267[9]; 16. 70-Eli Lakin, 00:12.283[7]; 17. 83-Adam Cruea, 00:12.291[16]; 18. 11H-Caleb Harmon, 00:12.431[6]; 19. 11G-Luke Griffith, 00:12.487[2]; 20. 31-Jac Nickles, 00:12.562[14]; 21. 20I-Kelsey Ivy, 00:12.595[17]; 22. 88N-Frank Neill, 00:12.700[3]; 23. 19-Ben Varner, 00:12.722[24]; 24. 99-Steve Niese, 00:12.897[15]
MIDWEST SHOOTING CENTER UMP MODIFIEDS – 21 entries
A Feature (20 Laps): 1. 9C-Troy Cattarene[1]; 2. 65-Todd Sherman[3]; 3. 22T-Tony Anderson[6]; 4. 36-Brandon Vaughan[10]; 5. 16-Jeff Koz[5]; 6. 9R-Garrett Rons[4]; 7. 57-Jeffery Jessup[2]; 8. 71T-Chris Hicks[9]; 9. 9PG-Percy Gendreau[7]; 10. 82-Dalton Lane[11]; 11. 1X-Jerry Butler[13]; 12. 82B-Brennan Sherman[18]; 13. 0-Dylan Murray[16]; 14. 22C-Chad Coleman[14]; 15. 32-Scott Boyd Jr[19]; 16. 29C-Chris Bitters[17]; 17. 4M-Dustin Moore[20]; 18. 34X-Shane O'Connor[12]; 19. C4-Alex Siefer[15]; 20. 1-Randy Giroux[8]; 21. (DNS) 19-Ryan Ordway
Heat 1 (8 Laps): 1. 22T-Tony Anderson[1]; 2. 65-Todd Sherman[4]; 3. 9PG-Percy Gendreau[2]; 4. 36-Brandon Vaughan[3]; 5. 1X-Jerry Butler[6]; 6. 0-Dylan Murray[5]; 7. 32-Scott Boyd Jr[7]
Heat 2 (8 Laps): 1. 16-Jeff Koz[4]; 2. 57-Jeffery Jessup[1]; 3. 1-Randy Giroux[5]; 4. 82-Dalton Lane[3]; 5. 22C-Chad Coleman[2]; 6. 29C-Chris Bitters[7]; 7. 4M-Dustin Moore[6]
Heat 3 (8 Laps): 1. 9R-Garrett Rons[1]; 2. 9C-Troy Cattarene[2]; 3. 71T-Chris Hicks[5]; 4. 34X-Shane O'Connor[3]; 5. C4-Alex Siefer[6]; 6. 82B-Brennan Sherman[4]; 7. 19-Ryan Ordway[7]
LOCK SIXTEEN THUNDERSTOCKS – 17 entries
A Feature 1 (15 Laps): 1. 18-Brenden Rassel[3]; 2. 74D-Craig Dippman[1]; 3. 28V-Shawn Valenti[2]; 4. 7W-Dan Wooten[4]; 5. 82-Chris Douglas[6]; 6. 11-Sean Verwys[15]; 7. 89-Keith Shockency[8]; 8. 27-Frank Paladino[10]; 9. 4-Gabe Mueller[11]; 10. 00-Brayden Weller[9]; 11. 92-Brandon McDaries[12]; 12. 22T-Tony Anderson[5]; 13. 17J-Jarrod Klay[7]; 14. 87-Andy Welch[13]; 15. 26-Justin Long[16]; 16. T18-Thomas Foust[17]; 17. 1W-Mark Wooten[14]
Heat 1 (8 Laps): 1. 82-Chris Douglas[3]; 2. 18-Brenden Rassel[6]; 3. 17J-Jarrod Klay[4]; 4. 27-Frank Paladino[2]; 5. 87-Andy Welch[5]; 6. 26-Justin Long[1]
Heat 2 (8 Laps): 1. 22T-Tony Anderson[4]; 2. 28V-Shawn Valenti[2]; 3. 89-Keith Shockency[1]; 4. 4-Gabe Mueller[3]; 5. 1W-Mark Wooten[5]; 6. T18-Thomas Foust[6]
Heat 3 (8 Laps): 1. 7W-Dan Wooten[3]; 2. 74D-Craig Dippman[4]; 3. 00-Brayden Weller[5]; 4. 92-Brandon McDaries[1]; 5. 11-Sean Verwys[2]
Qualifying 1 (2 Laps): 1. 17J-Jarrod Klay, 00:16.475[1]; 2. 28V-Shawn Valenti, 00:17.042[4]; 3. 89-Keith Shockency, 00:17.509[5]; 4. 87-Andy Welch, 00:17.889[3]; 5. (DQ) 18-Brenden Rassel, 00:16.058[2]
Qualifying 2 (2 Laps): 1. 74D-Craig Dippman, 00:16.634[2]; 2. 82-Chris Douglas, 00:16.779[3]; 3. 7W-Dan Wooten, 00:16.889[5]; 4. 11-Sean Verwys, 00:17.166[1]; 5. 92-Brandon McDaries, 00:17.861[4]
Qualifying 3 (2 Laps): 1. 22T-Tony Anderson, 00:16.524[3]; 2. 4-Gabe Mueller, 00:16.847[2]; 3. 27-Frank Paladino, 00:16.927[1]; 4. 26-Justin Long, 00:17.457[5]; 5. 00-Brayden Weller, 00:18.489[4]
Qualifying 4 (2 Laps): 1. 1W-Mark Wooten, 00:18.219[1]; 2. T18-Thomas Foust[2]
---
Article Credit: Gerry Keysor
Article Media
Back to News