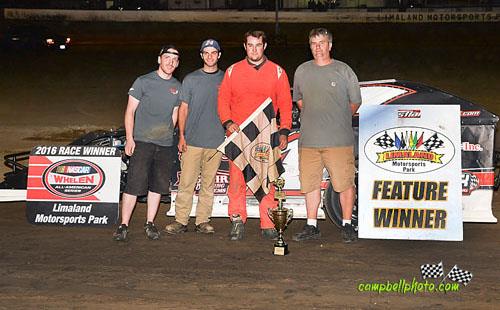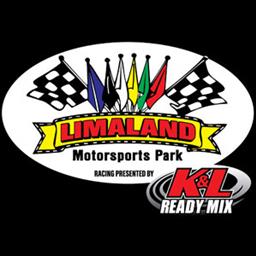 7/16/2016
Limaland Motorsports Park
---
Weaver, Horstman, and Learman pick up inaugural Clash wins
07/15/2016
Lima, OH
Another beautiful sky welcomed teams and fans alike as they arrived at Limaland Motorsports Park for the first ever "Open Wheel Clash" presented by K&L Ready Mix. No. 1w Paul Weaver picked up the inaugural JLH General Contractor F.A.S.T. 305 Sprints feature, No. 17 Jared Horstman bagged his 5th K&L Ready Mix NRA Sprint feature win, and #4L Mike Learman of Woodstock Illinois won his first career K&N Filters UMP MOdified A Main.
The night started with the K&N Filters UMP Modifieds in the McDonald's Dash for Cash, sponsored by Lewis Family McDonalds of Lima/Allen County. No. 10L Nathan Loney would win the $100 dash, and the McDonalds hood plaque.
In feature action, the JLH General Contractor F.A.S.T. 305 Sprints would start the show. No. 77I John Ivy, and No. 12 Kyle Capodice would lead the field to gree, with Capodice grabbing the early advantage. Fremont Ohio's Paul Weaver would waste no time moving from his 6th staring spot to 3rd on lap 1 and would move to 2nd on lap 3. on lap 4, the caution flag would wave for the No. 5J of Jake Hesson of Marysville, OH. The No. 2F of Matt Foos also stopped in turn 4 with both cars done for the night. On the restart, Weaver would pull the trigger on a slide job to get teh lead from Capodice, and never look back. Despite heavy lapped traffic, and a late red flag for a flip involving No. 1x Dustin Dinan, Weaver would win big over No.22m Dan McCarron, No. 1 Nate Dussel, Capodice, and No. 99 Alvin Roepke, who charged from 18th to finish 5th. Weaver was offered the opportunity to tag the tail of the NRA 360 feature, but was unable to make the call due to a damaged Jacobs ladder.
Next up were the K&L ready Mix NRA Sprint Invaders in their $3000 to win A Main. No. 49 Shawn Dancer, and No. 5m Max Stambaugh would lead the field to green with Dancer jumping out front early, using the high side of the racetrack. No. 17 Jared Horstman would slide past Stambaugh to grab the 2nd spot on lap 4, then use the lapped car of No. 12 Nick Roberts as a pick to grab the lead over Dancer on lap 10. Caution would wave on lap 13 for the No. 6 of Sean hosey as he spun out in turn 2. On the restart, Horstman would pull away once again and charge to his 5th win of the season, with Archbold, Ohio's Kyle Sauder moving to 2nd on lap 16. No. B20 Butch Schroeder would make his way past Sauder on lap 23, but Sauder would battle back nearly getting past Schoreder at the line, but falling just short and finishing 3rd. Dancer would finish 4th and Germantown Ohio's Hud Horton would finish 5th in the Mike Castrucci Ford No. 30.
Completing racing action for the night were the K&N Filters UMP Modifieds. No. 3W Dylan Woodling, and #116 Jimmie haager would bring the field to green with Woodling taking the early advantage. No. 4L Mike Learman took his car to the high side of the track and moved to 2nd on lap 4, and take the lead on lap 6. Meanwhile, great racing was taking place behind the top 2, as Churubusco, Indiana's Todd Sherman charged his way to battle for 3rd with Haager, No. 162 Logan Moody, and No. 10L Nathan Loney. Caution would wave on lap 18 for the No. 01 driven by Jared Spaulding spinning in turn 4, and again on the restart for Haager spinning in turn 1. In the end it was Learman grabbing his first career feature win over Woodling, Loney, No. 16 Jeff Koz, and No. 65 Todd Sherman.
Limaland Motorsports Park will be back in action next Friday night, July 22nd, when Menke Brothers Construction presents Four Banger Friday II. In action will be the K&L Ready Mix NRA Sprint Invaders, The K&N Filters UMP Modifieds, The Bud Thunderstocks, and returning for their second and final visit of 2016, the Ulm's Inc. Tuff Trucks. Visit www.limaland.com for details on this and all of the events at Limaland Motorsports Park.
Limaland Motorsports Park - 7/15/2016
K&L Ready Mix Open Wheel Clash
F.A.S.T 305 Sprints
Heat 1 - (8 Laps - Top 4 Transfer)
12-Kyle Capodice; 2. 1X-Dustin Dinan; 3. 25-Jason Keckler; 4. 7M-Brandon Moore; 5. 66-Jamie Miller; 6. 2L-Landon Lalorde; 7. 11G-Luke Griffith; 8. 94K-Kevin Mingus
Heat 2 - (8 Laps - Top 4 Transfer)
1W-Paul Weaver; 2. 2F-Matt Foos; 3. 20B-Cody Bova; 4. 1-Nate Dussel; 5. 36-Seth Schneider; 6. 99-Alvin Roepke; 7. 4*-Tyler Street; 8. 45-Trevor Baker
Heat 3 - (8 Laps - Top 4 Transfer)
77I-John Ivy; 2. 2-Ricky Peterson; 3. 19R-Steve Rando; 4. 9R-Dustin Rall; 5. 75-Jerry Dahms; 6. 32H-Dan Hennig; 7. 12H-Luke Hall
Heat 4 - (8 Laps - Top 4 Transfer)
10X-Dustin Stroup; 2. 22M-Dan Mccarnon; 3. 47-Matt Lucius; 4. 20I-Kelsey Ivy; 5. 14-Rick Daugherty; 6. 5J-Jake Hesson; 7. 44-Kyle Farmer
B-Main - (10 Laps - Top 4 Transfer)
66-Jamie Miller; 2. 99-Alvin Roepke; 3. 5J-Jake Hesson; 4. 36-Seth Schneider; 5. 11G-Luke Griffith; 6. 94K-Kevin Mingus; 7. 45-Trevor Baker; 8. 2L-Landon Lalorde; 9. 4*-Tyler Street; 10. 12H-Luke Hall; 11. 44-Kyle Farmer; 12. 75-Jerry Dahmns; 13. 32H-Dan Hennig; 14. 14-Rick Daugherty
A-Main - (15 Laps) [#]-Starting Position
1W-Paul Weaver[6]; 2. 22M-Dan McCarron[4]; 3. 1-Nate Dussel[14]; 4. 12-Kyle Capodice[2]; 5. 99-Alvin Roepke[18]; 6. 77I-John Ivy[1]; 7. 19R-Steve Rando[10]; 8. 10X-Dustin Stroup[12]; 9. 20B-Cody Bova[5]; 10. 7M-Brandon Moore[13]; 11. 66-Jamie Miller[17]; 12. 25-Jason Keckler[11]; 13. 36-Seth Schneider[20]; 14. 9R-Dustin Rall[15]; 15. 20I-Kelsey Ivy[16]; 16. 47-Matt Lucius[7]; 17. 2-Ricky Peterson[3]; 18. 1X-Dustin Dinan[8]; 19. 2F-Matt Foos[9]; 20. 5J-Jake Hesson[19]
K&L Ready Mix NRA Sprints
Qualifying -
17-Jared Horstman, 11.52; 2. 30-Hud Horton, 11.61; 3. 23-Devon Dobie, 11.61; 4. 2-Kyle Sauder, 11.62; 5. 11-Tim Allison, 11.69; 6. 5M-Max Stambaugh, 11.69; 7. 49-Shawn Dancer, 11.71; 8. B20-Butch Schroeder, 11.71; 9. 35R-Ron Blair, 11.73; 10. 6S-Jr Stewart, 11.74; 11. 5W-Jeff Williams, 11.79; 12. 22R-Kevin Roberts Jr, 12.02; 13. 1-Luke Hall, 12.10; 14. 12-Nick Roberts, 12.21; 15. 6-Sean Hosey, 12.27; 16. 57-Mike Dunlap, 12.36; 17. 23J-Zane Devault, 12.42; 18. 10J-Jarrod Delong, 12.44
Heat 1 - (8 Laps - Top 7 Transfer)
49-Shawn Dancer; 2. 6S-Jr Stewart; 3. 17-Jared Horstman; 4. 2-Kyle Sauder; 5. 57-Mike Dunlap; 6. 1-Luke Hall
Heat 2 - (8 Laps - Top 7 Transfer)
B20-Butch Schroeder; 2. 11-Tim Allison; 3. 30-Hud Horton; 4. 5W-Jeff Williams; 5. 23J-Zane Devault; 6. 12-Nick Roberts
Heat 3 - (8 Laps - Top 7 Transfer)
35R-Ron Blair; 2. 5M-Max Stambaugh; 3. 6-Sean Hosey; 4. 22R-Kevin Roberts Jr; 5. 10J-Jarrod Delong; 6. 23-Devon Dobie
A-Main - (25 Laps) [#]-Starting Position
17-Jared Horstman[6]; 2. B20-Butch Schroeder[7]; 3. 2-Kyle Sauder[4]; 4. 49-Shawn Dancer[1]; 5. 30-Hud Horton[5]; 6. 5M-Max Stambaugh[2]; 7. 6S-Jr Stewart[9]; 8. 11-Tim Allison[3]; 9. 35R-Ron Blair[8]; 10. 22R-Kevin Roberts Jr[11]; 11. 57-Mike Dunlap[16]; 12. 23-Devon Dobie[13]; 13. 10J-Jarrod Delong[18]; 14. 1-Luke Hall[14]; 15. 5W-Jeff Williams[10]; 16. 6-Sean Hosey[12]; 17. 12-Nick Roberts[15]; 18. 23J-Zane Devault[17]
K&N Filters UMP Modifieds
Heat 1 - (8 Laps - Top 5 Transfer)
10L-Nathon Loney; 2. 162-Logan Moody; 3. L5-Casey Luedeke; 4. 4G-Bill Griffith; 5. 11H-Mike Hoblein; 6. 19-Ryan Ordway; 7. 92-Kyle Shaffer; 8. 12-Tom Jacobs; 9. 1X-Jj Butler
Heat 2 - (8 Laps - Top 5 Transfer)
65-Todd Sherman; 2. 116-Jimmy Haager; 3. 10B-Scott Bowersock; 4. 36-Brandon Vaughon; 5. 95J-Jerry Bowersock; 6. 58P-Jim Post; 7. 17-Nick Rosselit; 8. 17R-Brandon Ramsey; 9. 50-Buzz Jacobs
Heat 3 - (8 Laps - Top 5 Transfer)
4-Mike Learman; 2. 3W-Dylan Woodling; 3. 22T-Tony Anderson; 4. 16-Jeff Koz; 5. 34X-Andy Bibler; 6. 45P-Brian Post; 7. O1-Jared Spalding; 8. 1-Will Norris; 9. 12B-Kelly Bowlby
B-Main - (8 Laps - Top 5 Transfer)
45P-Brian Post; 2. 1-Will Norris; 3. 12B-Kelly Bowlby; 4. O1-Jared Spalding; 5. 19-Ryan Ordway; 6. 58P-Jim Post; 7. 92-Kyle Shaffer; 8. 1X-Jj Butler; 9. 50-Buzz Jacobs; 10. 17-Nick Rosselit; 11. 12-Tom Jacobs; 12. 17R-Brandon Ramsey
A-Main - (20 Laps) [#]-Starting Position
4-Mike Learman[4]; 2. 3W-Dylan Woodling[1]; 3. 10L-Nathon Loney[6]; 4. 16-Jeff Koz[12]; 5. 65-Todd Sherman[5]; 6. L5-Casey Luedeke[7]; 7. 22T-Tony Anderson[9]; 8. 10B-Scott Bowersock[8]; 9. 162-Logan Moody[3]; 10. 45P-Brian Post[16]; 11. 11H-Mike Hoblein[13]; 12. 1-Will Norris[17]; 13. 34X-Andy Bibler[15]; 14. 12B-Kelly Bowlby[18]; 15. 36-Brandon Vaughon[11]; 16. 116-Jimmy Haager[2]; 17. 19-Ryan Ordway[20]; 18. 95J-Jerry Bowersock[14]; 19. O1-Jared Spalding[19]; 20. 4G-Bill Griffith[10]
Back to News