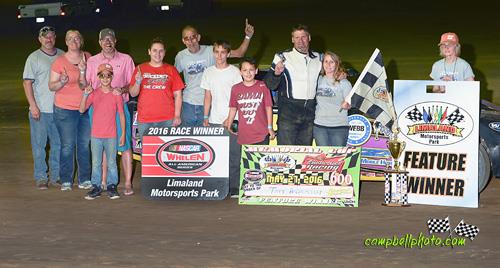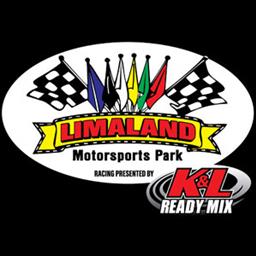 5/28/2016
Limaland Motorsports Park
---
Horstman, Koz, Anderson start Memorial Day weekend with wins
Lima OH
May 27, 2016
Memorial Day weekend brings the unofficial start to summer, and the traditional triple header for the K&L Ready Mix NRA Sprint Invaders. The 360 sprints took to the highbanks at Limaland Motorsports Park for the 17th Annual Memorial Cup, presented by Anheuser Busch Sales of Lima, with #17 Jared Horstman, picking up the win. The K&N Filters UMP Modifieds feature was won by #16 Jeff Koz, and the Bud Thunderstock feature was picked up by #22T Tony Anderson.
Kicking off the night was the 5 lap McDonalds Dash for Cash featuring the Bud Thunderstoks this week. #67 "Chili Dog" Eddie Shaner grabbed the $100 dash win courtesy of Lima/Allen County McDonalds restaurants.
Features were led off by the NRA Sprint Invaders. #B20 Butch Schroeder and #49T Gregg Dalman would lead the field to green with Schroeder grabbing the early advantage. Elida Ohio's Max Stambaugh in the family owned #5m would move to 2nd early before fading to finish 4th. A lap 3 red flag for #11 Tim Allison tipping over would be the only caution in the 25 lap A Main with Allison able to refire and rejoin the field. #2 Kyle Sauder methodically picked his way through the field from his 8th place starting position to grab the lead on lap 8, but all eyes were on Horstman, as he headed up to the high side of the track and began his march to the front. On lap 12, Horstman would throw a big slidejob on Sauder for the lead but Sauder crossed over and regained the point with Horstman in tow. As the duo made their way through lapped traffic, Horstman would use the lapped car of #11 Tim Allison as a pick to grab the lead from Sauder for good on lap #20. Horstman would win over Sauder, with Schroeder, Stambaugh, and #85 Dustin Daggett rounding out the top 5.
Next up were the K&N Filters UMP Modifieds in their 20 lap A Main. A Pair of 18 cars, driven by Randy Lines and Ryan Sutter would lead the field to the green flag, after a spin on the intial start causing a complete restart. Lines would grab the early advantage, but Sutter would stay close with defending track champion, Jeff Koz in the Jared and Wendy Bennett owned #16 in 3rd. Sutter would grab the lead from Lines with Koz working the high side to make it a 3 way battle for the lead. Koz would work by Sutter, but #9 Ken Schrader would start his march to the front, getting by Sutter for 2nd on lap 14. Schrader, the longtime NASCAR competitior would grab the lead briefly from Koz with a lap 16 slidejob, but Koz would cross back over, with the 2 running wheel to wheel through lap 17 when Schrader tried again to get by Koz, this time using the middle of the track and drifting high thru turn 4, leaving no room for error for Koz, who would "thread the needle" between the turn 4 wall and Schrader's car, getting a great run off the corner and pulling away to grab his 3rd win of the season in defense of his 2015 track championship. Schrader would be 2nd, with Sutter 3rd, #11H Mike Hohlbein 4th, and #L5 Casey Luedeke completing the top 5.
Completing the Memorial Cup event were the Bud Thunderstocks in their 15 lap A Main. The current points leader #22T Tony Anderson and #21D Bob Daugherty would bring the field to green with Anderson leading Daugherty on the bottom of the track while #82 Chris Douglas would head to the high grabbing the 2nd spot. Anderson seemed to have the race well in hand even after restarts bunched the field back up, but on lap 12, Anderson narrowly avoided disaster, as he nearly collided with #32 Scott Boyd Jr, as Boyd went a lap down. This would allow Douglas to close in for one final challenge on the high side, but the cushion let Douglas down in turn one, as he would skim the wall, losing precious momentum, and allowing Anderson to get away for the win. Douglas would come home 2nd, with Daugherty 3rd, after a hard fought battle with 4th and 5th place finishers #00 Dean Pitts, and #67 Eddie Shaner.
The K&L Ready Mix Sprint Invaders hit the track at Waynesfield Raceway Park on Saturday May 28th and Eldora Speedway on Sunday May 29th for the remainder of their triple header weekend. find details at www.waynesfieldracewaypark.net, and www.eldoraspeedway.com
Limaland Motorsports Park is back in action next Friday with 4 Banger Friday, presented by St. Rita's Health Partners, and featuring 4 classes of racing action, including the K&L Ready Mix NRA Sprint Invaders, the K&N Filters UMP Modifieds, the Bud Thunderstocks, and special guests 4cylinder Tough Trucks, brought to you by Ulms Inc. Visit www.limaland.com for more details
Limaland Motorsports Park - 5/27/2016
Anheuser Busch Night
K&L Ready Mix NRA Sprints
Heat 1 - (8 Laps - Top 4 Transfer)
49T-Gregg Dalman
17-Jared Horstman
3-Kyle Locke
49-Shawn Dancer
77X-Alex Hill
12-Nick Roberts
10P-Jim Perricone
23J-Zane Devault
Heat 2 - (8 Laps - Top 4 Transfer)
B20-Butch Schroeder
11R-Chase Ridenhour
23-Devon Dobie
31-Andy Teunessen
5W-Jeff Williams
23G-Joe Geibe
22R-Kevin Roberts Jr
91L-Alexis Adgate
Heat 3 - (8 Laps - Top 4 Transfer)
85-Dustin Daggett
11-Tim Allison
30-Hud Horton
10J-Jarrod Delong
28-Phil Gressman
27-Brad Lamberson
23M-Jack Miller
67-Chris Durand
Heat 4 - (8 Laps - Top 4 Transfer)
5M-Max Stambaugh
2-Kyle Sauder
6S-Jr Stewart
57-Mike Dunlap
38-Matt Westfall
6-Sean Hosey
16-Ryan Ruhl
B-Main #1 - (10 Laps - Top 2 Transfer)
77X-Alex Hill
5W-Jeff Williams
22R-Kevin Roberts Jr
23J-Zane Devault
10P-Jim Perricone
23G-Joe Geibe
91L-Alexis Adgate
12-Nick Roberts
B-Main #2 - (10 Laps - Top 2 Transfer)
28-Phil Gressman
38-Matt Westfall
23M-Jack Miller
27-Brad Lamberson
6-Sean Hosey
67-Chris Durand
16-Ryan Ruhl
A-Main - (25 Laps) [#]-Starting Position
17-Jared Horstman[5]
2-Kyle Sauder[8]
B20-Butch Schroeder[1]
5M-Max Stambaugh[4]
85-Dustin Daggett[3]
6S-Jr Stewart[12]
23-Devon Dobie[10]
11R-Chase Ridenhour[6]
57-Mike Dunlap[16]
49T-Gregg Dalman[2]
49-Shawn Dancer[13]
30-Hud Horton[11]
28-Phil Gressman[18]
77X-Alex Hill[17]
31-Andy Teunessen[14]
11-Tim Allison[7]
10J-Jarrod Delong[15]
38-Matt Westfall[20]
5W-Jeff Williams[19]
3-Kyle Locke[9]
K&N UMP Modifieds
Heat 1 - (4 Laps - Top 4 Transfer)
9-Ken Schrader
18S-Ryan Sutter
L5-Casey Luedeke
3W-Dylan Woodling
12B-Kelly Bowlby
22L-Bill Lewis
5-Scott Fitzpatrick
1-Will Norris
Heat 2 - (4 Laps - Top 4 Transfer)
34X-Andy Bibler
18-Randy Lines
17T-Mike Tarlton
4G-Bill Griffith
36D-Tom Conrad Jr.
52-Jordon Bailey
97A-Rodney Hurst
10L-Nathon Loney
Heat 3 - (4 Laps - Top 4 Transfer)
16-Jeff Koz
65-Todd Sherman
17N-Dillon Nusbaum
19B-Brandon Ordway
36-Brandon Vaughon
20K-Bill Keeler
O1-Jared Spalding
Heat 4 - (4 Laps - Top 4 Transfer)
11H-Mike Hoblein
22T-Tony Anderson
10B-Scott Bowersock
4-Mike Learman
19-Ryan Ordway
31M-Ed Minnich
7-Jeff Geis
B-Main #1 - (8 Laps - Top 2 Transfer)
12B-Kelly Bowlby
10L-Nathon Loney
36D-Tom Conrad Jr.
22L-Bill Lewis
52-Jordon Bailey
5-Scott Fitzpatrick
97A-Rodney Hurst
1-Will Norris
B-Main #2 - (8 Laps - Top 2 Transfer)
36-Brandon Vaughon
O1-Jared Spalding
20K-Bill Keeler
31M-Ed Minnich
7-Jeff Geis
19-Ryan Ordway
A-Main - (20 Laps) [#]-Starting Position
16-Jeff Koz[4]
9-Ken Schrader[6]
18S-Ryan Sutter[2]
11H-Mike Hoblein[3]
L5-Casey Luedeke[9]
34X-Andy Bibler[5]
18-Randy Lines[1]
10B-Scott Bowersock[12]
65-Todd Sherman[7]
22T-Tony Anderson[8]
36-Brandon Vaughon[18]
3W-Dylan Woodling[13]
4-Mike Learman[16]
10L-Nathon Loney[19]
4G-Bill Griffith[14]
17N-Dillon Nusbaum[11]
O1-Jared Spalding[20]
12B-Kelly Bowlby[17]
19B-Brandon Ordway[15]
17T-Mike Tarlton[10]
Bud Thunderstocks
Heat 1 - (8 Laps - Top 8 Transfer)
21D-Bob Daugherty
67-Eddie Shaner
OOP-Dean Pitts
O1-Dalton Bayer
26-Justin Long
OO-Daniel Sanchez
Heat 2 - (8 Laps - Top 8 Transfer)
22T-Tony Anderson
21H-Jordan Conover
19-Bill Reimund
1-Justin Hamilton
2-Blake Spalding
1W-Mark Wooten
Heat 3 - (8 Laps - Top 8 Transfer)
82-Chris Douglas
89-Keith Shockency
27-Frank Paladino
17J-Jarrod Klay
1J-Jason Jimison
32-Scott Boyd Jr.
A-Main - (15 Laps) [#]-Starting Position
22T-Tony Anderson[1]
82-Chris Douglas[3]
21D-Bob Daugherty[2]
OOP-Dean Pitts[7]
67-Eddie Shaner[4]
19-Bill Reimund[8]
27-Frank Paladino[9]
26-Justin Long[13]
1-Justin Hamilton[11]
OO-Daniel Sanchez[16]
17J-Jarrod Klay[12]
1J-Jason Jimison[15]
2-Blake Spalding[14]
89-Keith Shockency[6]
32-Scott Boyd Jr.[18]
O1-Dalton Bayer[10]
21H-Jordan Conover[5]
1W-Mark Wooten[17]
Back to News