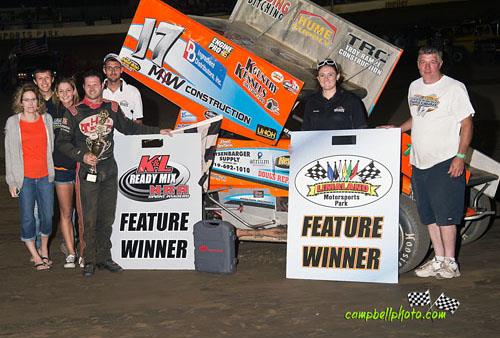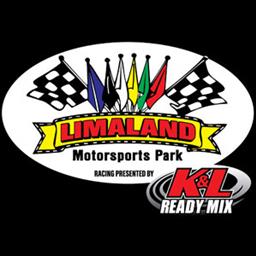 6/6/2015
Limaland Motorsports Park
---
Mesurall, Horstman, Valenti triumph at Open Wheel Shootout
(6/5/15) – The first Friday in June brought a large crowd and a first-ever appearance of the BOSS (Buckeye Outlaw Sprint Series) to Limaland Motorsports Park. A packed pit area welcomed 43 entries for the BOSS cars along with a healthy compliment of NRA Sprint Invaders as well as the K & N Modifieds to the western Allen County speed plant.
There were 24 wingless sprint cars for the BOSS 25-lap main event as it rolled around for the opening feature of the evening. Cooper Clouse of Ohio City led the field successfully through the opening circuit before spinning in turn two and surrendering the lead.
From there, the top finishers from earlier heat races began to quickly establish themselves as the genuine contenders. By lap number twelve, a couple of Californians were among the top three runners. Thomas Mesurall of San Jose and 2014 Silver Crown Champion Kody Swanson of Kingsburg, a part time NRA competitor at Limaland, were battling with Ohioan Joe Liguori.
Mesurall was able to separate from the field following a restart on lap fifteen. He eventually crossed under the checkered flag in first position, but it wasn't as easy as it may have appeared. "With about four laps to go I hit the big cushion," echoed Mesurall on the front straight winner's circle. "I killed my right rear wheel and the car was really shaking. My chest and head both hurt as the car was shaking so bad. I just went for broke because I was leading and heading for the flag."
It was a BOSS record tying fourth career win in his first ever appearance at Limaland Motorsports Park. "This is super exciting," declared Mesurall. "Anytime I can roll around the top and be fast at a place like this…I'm happy!"
The K & L Ready Mix NRA Sprint Invaders brought their 21-car starting field next onto the ¼-mile oval with point's leader Max Stambaugh aiming for a third consecutive win. Point's runner-up Jared Horstman led the field to green from his pole starting position. Horstman took a noticeably lower line around the track than normal for the high-riding veteran from nearby Putnam County.
Defending track champion J.R. Stewart stuck close to Horstman through the opening four circuits before taking the lead. It was a clean yet tight pass outside of Horstman near the bottom of the track in turn number two. The Bellefontaine based veteran chose a middle of the corners and high in the straights racing groove and made it work. He was pressured mostly by returning former Limaland campaigner Luke Hall, although Horstman stayed in contention in the third position.
The race was thick with congested lapped traffic and it seemed to slow Stewart a bit more than Horstman. Finally with five laps remaining, Horstman was able to pass Stewart in traffic. A restart on lap twenty two was enough to allow Horstman to drive away from the field and roll to a first win for this 2015 season.
"I definitely didn't give up with this one," said a relieved Horstman. "I've raced with Luke (Hall) for a number of years and I knew he was a fast car. When J.R. got around me early I knew I had to straighten the car out and get some speed somewhere. I went from the bottom to top and made some things happen."
It was Jared Horstman's first win at the track since 2013 and he becomes the fifth different winner this season.
The 20-lap K & N UMP Modifieds was the final feature of the action-packed evening and it would prove to also produce a first-time winner for the 2015 season. Observers knew with defending track champion Todd Sherman starting on the pole, it would be difficult to deny him a potential fourth win of the season.
Sherman led for the opening nine laps and seemed destined for another checkered flag outing. Following a caution period, the race restart on lap ten saw Fostoria's Shawn Valenti, a multiple time winner in the stock car division, literally blast around Sherman and take over the race. Valenti rode the cushion near the wall and made it work dramatically. "I thought after that first caution I only had a shot by running the top," stated Valenti. "That's where I went, it stuck, and I couldn't be happier."
Valentini becomes the fourth different winner in the ultra-competitive Modified division. "Winning in modifieds is tough with Todd (Sherman) and the others," said Valenti. "My crew really busts their buns putting this thing together especially with my pulling double duty." Valenti also competes full-time in the Thunderstocks division.
Limaland Motorsports Park returns to action on Friday, June 12, with 14th Annual Keysor Memorial for the Budweiser Thunderstocks. NASCAR veteran Kenny Wallace will compete with the K & N Filters UMP Modifieds and the NRA Sprint Invaders will also do battle. Gates open at 5:00 p.m. with hot laps at 6:30 p.m. Racing begins promptly at 7:30 p.m.
All the latest news and information about America's premier quarter-mile dirt track can be found at www.limaland.com.
Limaland Motorsports Park - 6/5/2015
Fritchie Asphalt Night
McDonald's Dash (5 Laps)
31N-Rod Henning; 2. 49-Shawn Dancer
22R-Kevin Roberts; 4. 22H-Randy Hannagan
Buckeye Outlaw Sprint Series
Heat 1 – (8 Laps – Top 4 Transfer)
57B-Brandon Spithaler; 2. 91x-Aaron Middaugh; 3. 1st Gary Taylor
31W-Chuck Wilson; 5. 51G-Todd Gant; 6. 2m-Logan Hupp
3-Joe Butera; 8. 17-Kevin Myers; 9.87-Paul Dues
Heat 2 – (8 Laps – Top 4 Transfer)
82-Mike Miller; 2. 16-Dallas Hewitt; 3. 31R-Tom Rhodes
26-Justin Owen; 5. 59J-Kirk Jeffries; 6. 12-Kent Wolters
5-Bob McMillin; 8. 14d-Daryl Daugherty; 9. 2B-Mike Dunlap
Heat 3 – (8 Laps – Top 4 Transfer)
18-Thomas Mesurall; 2. 77-Dustin Smith; 3. 39-Matt Goodnight
14-Chad Wilson; 5. 46-Cody Gardner; 6. 18sr-Bob Distel
97-Scott Hardman; 8. 7m-Brandon Moore; 9. 7x-Evan Gindling
Heat 4 – (8 Laps – Top 4 Transfer)
63-Kody Swanson; 2. 16rr-Joe Liguori; 3. 89-Shawn Westerfeld
12g-Chris Gurley; 5. 2DI-Dustin Ingle; 6. 4-Michael Fischesser
63d-Jim Dues; 8. 53-Steve Little
Heat 5 – (8 Laps – Top 4 Transfer)
23s-Kyle Simon; 2. 14c-Cooper Clouse; 3. 69R-Todd Kahne
9n-Luke Hall; 5. 83-Adam Cruea; 6. 24L-Lee Underwood
14D-Daryl Daugherty; 8. 17R-kyle Robbins
B-Main-(10 Laps – Top 2 Transfer)
46-Cody Gardner; 2. 4-Michael Fischesser; 3. 53-Steve Little
97-Scott Hardman; 5. 14-Chad Wilson; 6. 87-Paul Dues;
12-Kent Wolters; 8. 83-Adam Cruea; 9. 14D-Daryl Daugherty
51G-Todd Gant
B-Main – (10 Laps – Top 2 Transfer)
2DI-Dustin Ingle; 2. 2m-Logan Hupp; 3. 59J-Kirk Jeffries
63d-Jim Dues; 5. 18sr-Bob Distel; 6. 5-Bob McMillin
7m-Brandon Moore; 8. 17-Kevin Myers; 9.17R-Kyle Robbins
24L-Lee Underwood; 11. 7x-Evan Gindling
A-Main – (25 Laps)
18-Thomas Mesurall; 2. 63-Kody Swanson; 3. 16rr-Joe Liguori
77-Dustin Smith; 5. 82-Mike Miller; 6. 69r-Todd Kahne
39-Matt Goodnight; 8. 89-Shawn Westerfeld; 9. 23-Kyle Smith
31R-Tom Rhodes; 11. 91x-Aaron Middaugh; 12. 2m-Logan Hupp
12g-Chris Gurley; 14. 46-Cody Gardner; 15. 2DI-Dustin Ingle
9n-Luke Hall; 17. 4T-Josh Turner 18. 26-Justin Owen;
31W-Chuck Wilson; 20. 4F-Michael Fischesser; 21. 14c-Cooper Clouse;
16H-Dallas Hewitt; 23. 57B-Brandon Spithaler; 24. 1st-Gary Taylor
K&L Ready Mix NRA Sprints
Heat 1 - (8 Laps - Top 8 Transfer)
6S-Jr Stewart; 2. 17-Jared Horstman; 3. 83-Kyle Sauder;
12R-Nick Roberts; 5.12J-Tyler Moore; 6. 57-Mike Dunlap;
21-Kody Swanson; 8. 22H-Randy Hannagon
Heat 2 - (8 Laps - Top 8 Transfer)
11-Tim Allison; 2. 23-Devon Dobie; 3. 6M-Max Stambaugh;
15-Brandon Ferguson; 5. 8J-Jess Stiger; 6. 10X-Dustin Stroup;
28H-Hud Horton; 8.19-Jimmy Snead
Heat 3 - (8 Laps - Top 8 Transfer)
1-Luke Hall; 2. 31N-Rod Henning; 3. 11S-Trey Smith; 4. 49-Shawn Dancer;
22R-Kevin Roberts; 6. 5W-Jeff Williams; 7. 27R-Kyle Locke
A-Main - (25 Laps) [#]-Starting Position
17-Jared Horstman[1]; 2. 6S-Jr Stewart[4]; 3. 1-Luke Hall[2];
11-Tim Allison[3]; 5. 83-Kyle Sauder[7]; 6. 10X-Dustin Stroup[17];
12J-Tyler Moore[13]; 8. 31N-Rod Henning[6]; 9. 11S-Trey Smith[9];
8J-Jess Stiger[14]; 11. 49-Shawn Dancer[12]; 12. 28H-Hud Horton[20];
57-Mike Dunlap[16]; 14. 22R-Kevin Roberts[15];
15-Brandon Ferguson[11]; 16. 5W-Jeff Williams[18];
12R-Nick Roberts[10]; 18. 6M-Max Stambaugh[8]; 19. 21-Kody Swanson[19]; 20. 19-Jimmy Snead[23]; 21. 23-Devon Dobie[5]
K&N UMP Modifieds
Heat 1 - (8 Laps - Top 5 Transfer)
28-Chad Rosenbeck; 2. 65-Todd Sherman; 3. 24-Zeke Mckenzie;
34X-Brandon Vaughan; 5. X-Jerry Bowersock; 6. 10-Scott Bowersock;
OO-Jared Spalding; 8. 18N-Derrick Noffsinger; 9. 88-Tod Sturgeon;
10L-Nathan Loney
Heat 2 - (8 Laps - Top 5 Transfer)
9V-Shawn Valenti; 2. 22TL-Bill Lewis; 3. 1-Andy Galgoci; 4. 71-Joel Ortberg; 5. L5-Casey Luedeke; 6. 20K-Bill Keeler; 7. 57-Tyler Fitzpatrick;
5-Scott Fitzpatrick; 9. 17-Nick Felkey; 10. 7M-Lon Mcintyre
Heat 3 - (8 Laps - Top 5 Transfer)
18S-Ryan Sutter; 2. 16-Jeff Koz; 3. 22T-Tony Anderson;
2B-Darryl Banks; 5. 11H-Mike Hohlbein; 6. 17T-Michael Tarlton;
19B-Brandon Ordway; 8. 30-Jon Raney; 9. 17N-Dillion Nusbaum
B-Main - (8 Laps - Top 5 Transfer)
10-Scott Bowersock; 2. 20K-Bill Keeler; 3. 17T-Michael Tarlton;
OO-Jared Spalding; 5. 19B-Brandon Ordway; 6. 30-Jon Raney;
57-Tyler Fitzpatrick; 8. 17-Nick Felkey; 9. 88-Tod Sturgeon;
5-Scott Fitzpatrick; 11. 18N-Derrick Noffsinger
A-Main - (20 Laps) [#]-Starting Position
9V-Shawn Valenti[3]; 2. 65-Todd Sherman[1]; 3. 22TL-Bill Lewis[5];
24-Zeke Mckenzie[7]; 5. 1-Andy Galgoci[8]; 6. 71-Joel Ortberg[11];
L5-Casey Luedeke[14]; 8. 34X-Brandon Vaughan[10];
10-Scott Bowersock[16]; 10. 28-Chad Rosenbeck[4];
22T-Tony Anderson[9]; 12. 2B-Darryl Banks[12];
11H-Mike Hohlbein[15]; 14.OO-Jared Spalding[19];
17T-Michael Tarlton[18]; 16. 19B-Brandon Ordway[20];
20K-Bill Keeler[17]; 18. X-Jerry Bowersock[13]; 19. 18S-Ryan Sutter[2];
16-Jeff Koz[6]
Back to News