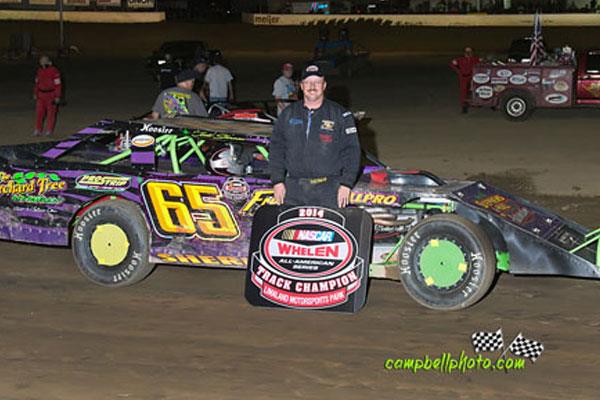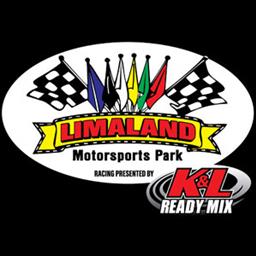 10/9/2014
Limaland Motorsports Park
---
Anderson, Sherman, Stewart are 2014 Limaland Champions
(8/15/14) - Limaland Motorsports Park concluded its 17th season under the ownership and operation of the University of Northwestern Ohio by crowning track champions in all three racing divisions and the touring K & L Ready Mix NRA Sprint Invaders. Ideal weather conditions greeted another huge crowd at the pristine facility on Dutch Hollow Rd and the racing action did not disappoint.
The evening's features began with the 25-lap K & L Ready Mix NRA season final. Pole starter Hud Horton led the 20-car field to green and proceeded to set the pace through the first half of the feature. Horton chose the cushion to make his way around with Dustin Stroup and point's leader J.R. Stewart in tow. Also Jared Horstman was making an impressive charge through the field from his outside row six starting position.
At the event midpoint, Stroup produced a superb inside pass of Horton heading down the backstretch and took over race leadership. It was a lead he would not surrender, although Horstman continued to push towards the front. Stroup, of Fremont, held on for a first ever triumph at the track with Horstman and visiting Michigan veteran Dustin Daggett rounding out the podium finishers.
J.R. Stewart recorded an eighth place result that handed him a fifth track championship and the NRA title. "This is a great feeling," said the normally reserved Stewart. "I can't thank (car owner) Ron Hammons enough. My crew busts their tails so I can go out here and be successful. I drove conservative to win a championship tonight, but Dustin (Stroup) was really impressive."
A twenty-car field of Reineke modifieds took to the track and with returning Indiana ace Randy Lines and Jeff Babcock starting up front, long time observers thought it may be a battle primarily among those two. Point's leader Todd Sherman opened from the third row and was expected to choose a safe driving strategy to protect his numerical advantage and lock down the championship.
Lines, of Marion, Indiana, ran his usual up-against-the wall style with Babcock doing all he could to rattle the leader and possibly slip around for the lead. He was unable to do so as Lines survived a series of late race cautions to capture his second feature win in two attempts at the track this season. Afterward Lines said, "keeping the right amount of heat in the tires was important as I knew (Jeff) Babcock was right on my tail and I just held him off."
Sherman posted a solid fourth place result and sealed the 2014 Modified championship, the record sixth of his career. "Childhood dreams are made of this for me," said the humble Hoosier Sherman. "I pretended to be a race car driver as a kid and now I am one. I didn't really race in this one as I was just cruising around to finish and win a championship."
Veteran Terry Hull, a three-time former champion, was making his final start at the track where he had won 34 features over the year. Hull finished fifth and spoke to the appreciative crowd. "This is bittersweet as Limaland has been home for me," he declared. "Everyone here has treated me well here over the years and I just hope I've earned a little respect from them."
The Budweiser Thunderstocks 15-lap main was again dominated by the front row starters. Shawn Valenti and four-time season winner Jeff Koz swapped the lead during the race a with Valenti leading the opening circuit while Koz took over the point on laps two and three. Valenti returned the favor with an inside pass and nearly checked out on the field before a caution period at lap ten brought the two leaders together again.
Point's leader Tony Anderson was performing solidly but never threatened to claim the front. He wound up finishing fourth behind the dominant winner Valenti, Tim Cole and Jeff Koz. "To be able to come out here and put these last two weeks together shows what kind of a team we have," said Valenti, a 17-time winner at the track. "There was a nice cushion and I simply went up there and set sail."
Anderson did claim a record ninth track championship and reflected on it following the race. "This one was hard earned after our early season struggles. After Lima missed a few weeks early (rainouts), we took this thing to some other tracks and got it dialed in. We've been real fast until we broke a few weeks ago and haven't been the same since. At this point all that matters is we won the championship!"
The night of racing also saw the 16th edition of the King of Quarter Mile ten-lap contests. They matched all feature winners throughout the season for a total of $6,000 in additional prize money.
Randy Lines of Marion, Indiana, a perfect two for two in features at the track this season, also won the $2,000 Modified King race.
Max Stambaugh of Elida, who won a pair of features at the track during the season, finished runner-up in both the track sprint car and NRA point's standings. Stambaugh, to the delight of his hometown crowd, outlasted veteran Randy Hannagan in a thrilling four lap dash to the finish to win the $3,000 Sprints King crown.
Shawn Valenti of Fostoria added to his feature win from earlier in the evening to take the $1,000 Thunderstocks King race.
The 2014 racing season wraps up in it's entirety with the Limaland Motorsports Park Awards Banquet on October 18 at the UNOH Event Center.
All the latest news and information about America's premier quarter-mile dirt track, can be found at www.limaland.com. You can also find 2014 Limaland Motorsports Park on Facebook and Twitter.
Limaland Motorsports Park - 8/15/2014
NRA Sprints
Heat 1 - (8 Laps - Top 7 Transfer)
10X-Dustin Stroup; 2. 6S-Jr Stewart; 3. 23-Devon Dobie;
49-Shawn Dancer; 5. 6M-Max Stambaugh; 6. B20-Butch Schroeder;
8J-Jess Stiger
Heat 2 - (8 Laps - Top 7 Transfer)
12J-Tyler Moore; 2. 12R-Nick Roberts; 3. 22H-Randy Hannagan;
22R-Kevin Roberts; 5. W20-Greg Wilson; 6. 49T-Gregg Dalman;
15-Brandon Ferguson
Heat 3 - (8 Laps - Top 7 Transfer)
28H-Hud Horton; 2. 35-Ron Blair; 3. 2M-Dustin Daggett;
17-Jared Horstman; 5. 11-Tim Allison; 6. 87-Paul Dues
A-Main - (25 Laps) [#]-Starting Position
10X-Dustin Stroup[3]; 2. 17-Jared Horstman[12]; 3. 2M-Dustin Daggett[9];
22H-Randy Hannagan[8]; 5. 28H-Hud Horton[1]; 6. W20-Greg Wilson[14];
49-Shawn Dancer[10]; 8. 6S-Jr Stewart[4]; 9. 35-Ron Blair[6];
12R-Nick Roberts[5]; 11. B20-Butch Schroeder[16];
6M-Max Stambaugh[13]; 13. 11-Tim Allison[15]; 14. 8J-Jess Stiger[19];
15-Brandon Ferguson[20]; 16. 22R-Kevin Roberts[11]; 17. 87-Paul Dues[18]; 18. 49T-Gregg Dalman[17]; 19. 12J-Tyler Moore[2]; 20. 23-Devon Dobie[7]
King of the Quarter Mile (10 Laps)
Max Stambaugh 2. Randy Hannagan 3. Greg Wilson
J.R. Stewart 5. Dustin Stroup 6. Shawn Dancer
Reineke Modifieds
Heat 1 - (8 Laps - Top 4 Transfer)
19-Ryan Ordway; 2. 65-Todd Sherman; 3. 5X-Jerry Bowersock;
54-Matt Westfall; 5. O1-Anthony Flannery; 6. 22T-Tony Anderson;
71-Joel Ortberg; 8. 17T-Michael Tarlton; 9. 65X-Brennan Sherman
Heat 2 - (8 Laps - Top 4 Transfer)
40-Terry Hull; 2. 23J-Jeff Koz; 3. 11H-Mike Hohlbein; 4. 4T-Terry Elliott;
12-Tom Jacobs; 6. 15G-Jacob Ganber; 7. 31-Ed Minnich;
O5-Dean Taylor; 9. OO-Kyle Peterson
Heat 3 - (8 Laps - Top 4 Transfer)
7B-Jeff Babcock; 2. 6M-Tony Elliott; 3. L5-Casey Luedeke;
18N-Derrick Noffsinger; 5. 3W-Dylan Woodling; 6. 4J-Josh Elliott;
63-Troy Stewart; 8. 96-Pat Wormcastle
Heat 4 - (8 Laps - Top 4 Transfer)
18-Randy Lines; 2. 4-Jason Kinney; 3. 34X-Brandon Vaughan;
10-Scott Bowersock; 5. 2B-Daryl Banks; 6. 89M-Tyler Fitzpatrick;
8R-Jesse Rush; 8. O7-Damen Beck
B-Main #1 - (10 Laps - Top 2 Transfer)
O1-Anthony Flannery; 2. 22T-Tony Anderson; 3. 17T-Michael Tarlton;
71-Joel Ortberg; 5. 15G-Jacob Ganber; 6. OO-Kyle Peterson;
12-Tom Jacobs; 8. 31-Ed Minnich; 9. O5-Dean Taylor;
65X-Brennan Sherman
B-Main #2 - (10 Laps - Top 2 Transfer)
3W-Dylan Woodling; 2. 2B-Daryl Banks; 3. 8R-Jesse Rush;
89M-Tyler Fitzpatrick; 5. 96-Pat Wormcastle; 6. 63-Troy Stewart;
4J-Josh Elliott; 8. O7-Damen Beck
A-Main - (20 Laps) [#]-Starting Position
18-Randy Lines[1]; 2. 7B-Jeff Babcock[2]; 3. 54-Matt Westfall[13];
65-Todd Sherman[5]; 5. 40-Terry Hull[3]; 6. 4-Jason Kinney[8];
22T-Tony Anderson[19]; 8. 34X-Brandon Vaughan[12]; 9. 23J-Jeff Koz[6];
L5-Casey Luedeke[11]; 11. 10-Scott Bowersock[16]; 12. 2B-Daryl Banks[20]; 13. O1-Anthony Flannery[17]; 14. 4T-Terry Elliott[14];
18N-Derrick Noffsinger[15]; 16. 6M-Tony Elliott[7];
3W-Dylan Woodling[18]; 18. 19-Ryan Ordway[4]; 19. 11H-Mike Hohlbein[10]; 20. 5X-Jerry Bowersock[9]
King of the Quarter Mile (10 Laps)
Randy Lines 2. Jeff Babcock 3. Matt Westfall
Terry Hull 5. Todd Sherman 6. Jerry Bowersock
Bud Thunderstocks
Heat 1 - (8 Laps - Top 8 Transfer)
48-Tim Cole; 2. 7B-Shawn Valenti; 3. 7C-Jordon Conover;
OO-Mike Learman; 5. 1W-Mark Wooten; 6. 89-Keith Shockency;
26-Justin Long; 8. 9-Dave Keysor
Heat 2 - (8 Laps - Top 8 Transfer)
1-Andy Galgoci; 2. 27-Frank Paladino; 3. 71R-Keith Ralston;
17J-Jarrod Klay; 5. 32-Scott Boyd Jr.; 6. 77-Dan Wooten;
71C-Barney Craig
Heat 3 - (8 Laps - Top 8 Transfer)
16-Jeff Koz; 2. 25-Nick Bowers; 3. 22T-Tony Anderson;
O1-Charlie Sanborn; 5. 23-Chad Barr; 6. 19-Bill Reimund;
327-Jeremy Garrettson
A-Main - (15 Laps) [#]-Starting Position
7B-Shawn Valenti[1]; 2. 48-Tim Cole[4]; 3. 16-Jeff Koz[2];
22T-Tony Anderson[9]; 5. 7C-Jordon Conover[7]; 6. 71R-Keith Ralston[8];
27-Frank Paladino[5]; 8. 1-Andy Galgoci[3]; 9. 25-Nick Bowers[6];
OO-Mike Learman[10]; 11. O1-Charlie Sanborn[12]; 12. 23-Chad Barr[15]; 13. 89-Keith Shockency[16]; 14. 32-Scott Boyd Jr.[14]; 15. 9-Dave Keysor[22]; 16. 327-Jeremy Garrettson[21]; 17. 1W-Mark Wooten[13];
26-Justin Long[19]; 19. 19-Bill Reimund[18]; 20. 71C-Barney Craig[20];
17J-Jarrod Klay[11]
King of the Quarter Mile (10 laps)
Shawn Valenti 2. Tim Cole 3. Tony Anderson
Frank Paladino 5. Jeff Koz 6. Jordon Conover
Back to News